Is Diego Luna Playing Biggs Darklighter In 'Star Wars: Rogue One'?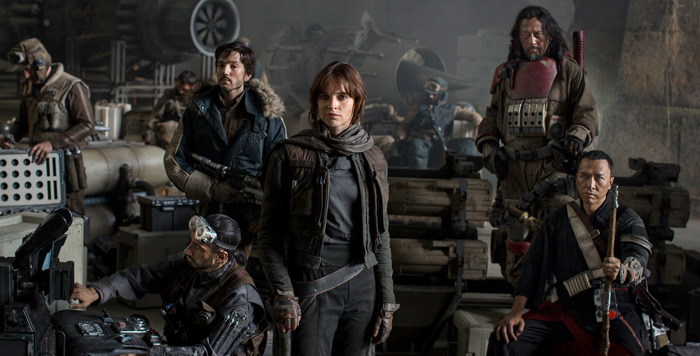 Over the weekend, one of the reveals from Disney's D23 Expo 2015 was the first photo of the primary cast from Star Wars: Rogue One, giving us a good first look at the s about a band of rebels tasked with stealing the plans to the first Death Star.
Now that a super high-resolution version of the photo has hit the web, fans are noticing some cool details in the photo, mostly with the costumes and props of the pictured cast, which includes Felicity Jones, Diego Luna, Riz Ahmed, Jiang Wen and Donnie Yen.
In fact, one particular cast member's appearance has sparked a very interesting  theory, albeit one without much substantial evidence. Some believe that we'll see Diego Luna as Biggs Darklighter in the movie.
This tweet has been making the rounds, and several fans have also made the same observation:
There's no way. Right? Please tell me there's no way. #RogueOne pic.twitter.com/a23cOVG7gM

— Eleven-ThirtyEight (@eleventhirtyate) August 15, 2015
Is there a chance that Diego Luna is playing Biggs Darklighter in Star Wars: Rogue One? Sure, their hairstyle seems to be similar, and they've got that sweet mustache, but this seems like a pretty weak theory for now. However, it would be a nice link to the original trilogy, especially since Darklighter has a history with Luke Skywalker. The two of them were childhood friends on Tatooine, but Biggs left to join the academy before Luke did. If you want more information on Biggs Darklighter, check out his Wookieepedia entry right here.
While this would be interesting if it turned out to be true, if the recent rumor that Felicity Jones' character also has ties to a character from the original Star Wars trilogy turns out to also be true, then it just feels like there's too many overt ties to familiar characters. The point of these spin-off movies should be to start creating new stories that introduce entirely new characters to expand the universe, and not have a contrived tie to characters from the original movies.
But again, we don't know if either of these proposed ties to characters from the original trilogy are true, so it's not worth getting bent out of shapeover just yet. Plus, there's also some other cool details to notice in the Rogue One photo. Here's the full photo for reference:
Looking at the background, this looks like the ruins where the rebels were stationed on Yavin IV.
And there's this backpack that's pretty much a black version of a Hoth soldier's gear: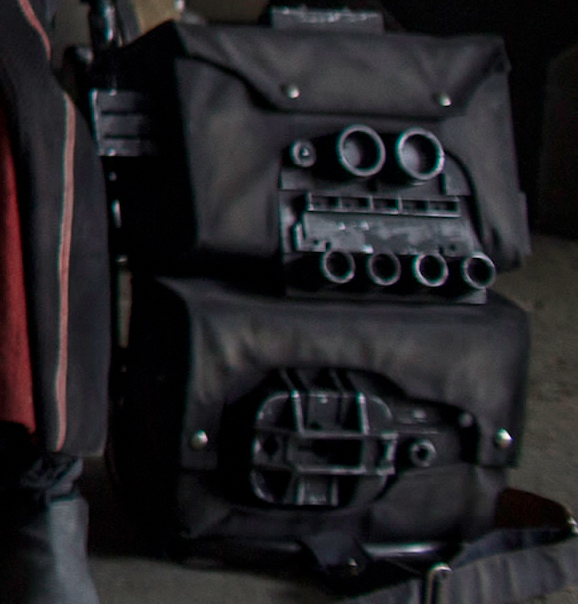 Riz Ahmed has an interesting computer that he's using to program other gear. And that patch on his arm looks an awful lot like the emblem of the Galactic Empire. Is he a double agent? Maybe he's preparing to go undercover?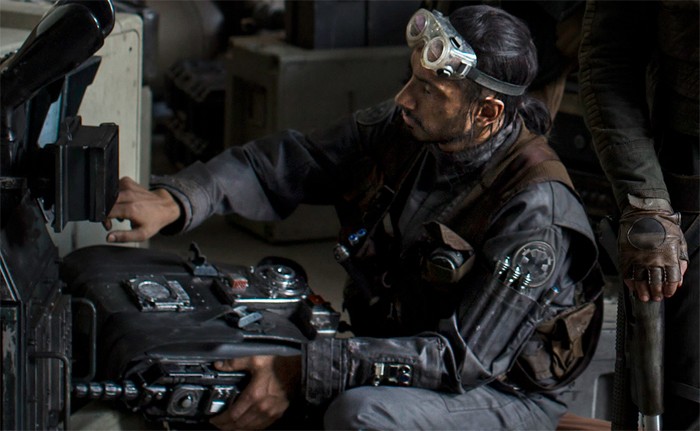 Jiang Wen's character has some pretty cool armor, and it also looks like he has a pretty big gun that is connected to whatever he's wearing on his back:
But the most intriguing part is Donnie Yen's character: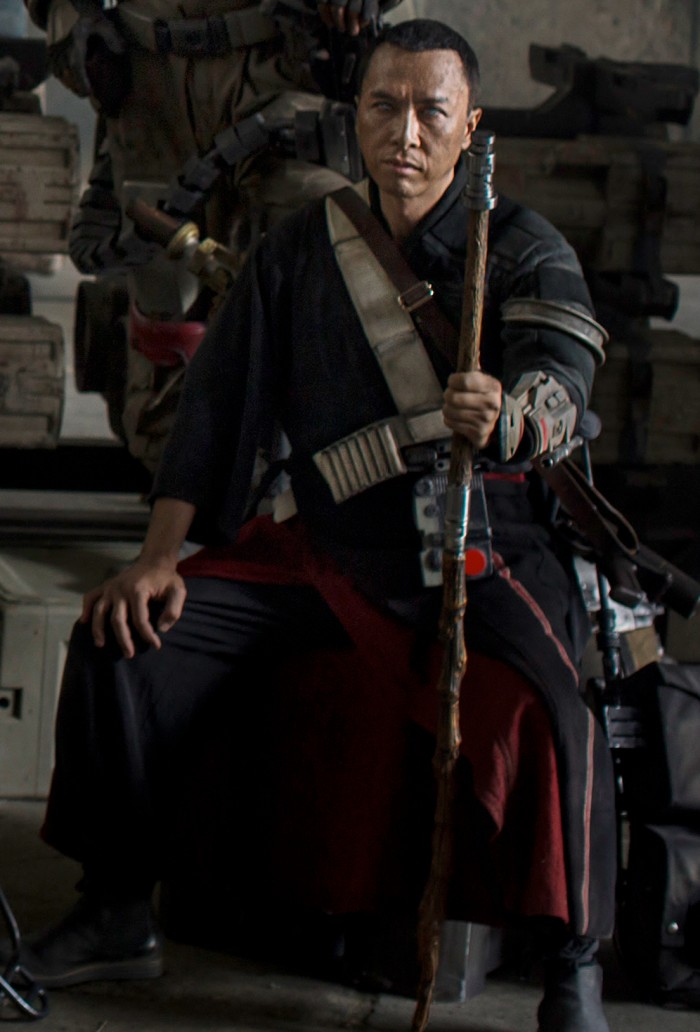 If you take a closer look at his eyes, it appears that he's blind. But obviously he's still useful to the rebels in some capacity. How does he see? Is he a former Jedi in hiding maybe, using the Force to see? (We've been told that this is a story that has no Jedi in it, so probably not.) He's got that wooden staff with metal modifications, and I wonder if it has any concealed sort of energy or power. In addition, on his wrist there's a device not unlike what Boba Fett wears as part of his armor. This character is easily the most interesting one in this picture.
The spin-off is now being designated with the moniker of "A Star Wars Story" instead of "Star Wars Anthology," which I'm not really a fan of, but it doesn't really change my feelings on the movie itself. With production underway in the United Kingdom, with Godzilla helmer Gareth Edwards at the helm, hopefully we'll hear more about Rogue One very soon.
Star Wars: Rogue One hits theaters on December 16th, 2016.