HBO's 'Doll & Em' Season Two Trailer: Emily Mortimer And Dolly Wells Are Working On A Play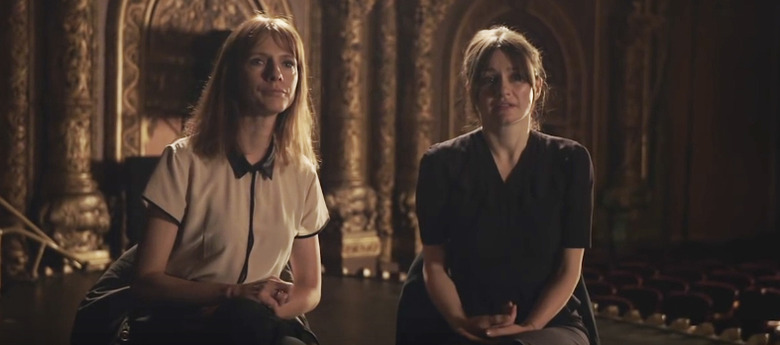 Though there may not be as much pomp and circumstance about HBO's comedy series Doll & Em as there is surrounding Game of Thrones or the cable network's other comedy series like Silicon Valley and Veep, the show starring Emily Mortimer (The Newsroom) and Dolly Wells (Some Girls) has enough of a following and acclaim for a second season coming in September.
The first trailer for season two of Doll & Em has just arrived, showing off what's in store for Mortimer and Wells as fictional versions of themselves. This season they're writing and hoping to produce a play, and they've even got Olivia Wilde and Evan Rachel Wood, also playing themselves, on board to star.
Watch the Doll and Em season 2 trailer below!
As you can see, the play Mortimer and Wells are working on follows a fictionalized version of the show's fictionalized version of the actresses, so things are getting very meta in the show. And there are plenty of cool guest stars popping up again, including Ewan McGregor, Harvey Weinstein and plenty more.
Honestly, I haven't taken the time to watch the first season of this show, but this trailer actually made me want to check it out. So I just might have to catch up on HBO Go before the second season premieres on September 13th at 10:30pm Eastern.
Doll & Em is an intimate and innovative half-hour HBO comedy series created, written and starring real-life best friends Emily Mortimer [The Newsroom] and Dolly Wells [Some Girls] as (slightly) fictionalized versions of themselves. With their friendship having nearly ended in Season 1 after Emily hired Dolly to be her personal assistant in L.A., the two women look to rekindle their mutual admiration in Season 2 by sequestering themselves in a lighthouse to write a play, which they hope to produce on Broadway or, at least, off-Broadway. Having secured a venue through ballet legend Mikhail Baryshnikov, and with two Hollywood stars, Olivia Wilde and Evan Rachel Wood, agreeing to play the lead roles in the play, Doll and Em excitedly make preparations for the show. But as always, life seems to get in the way. Doll bristles while living in the basement of Em's family's brownstone, Em becomes sidetracked by an enticing film offer and Wood and Wilde begin to lose faith in the project as the two creators start rewriting the play to reflect their growing frustrations with each other.