'The Night Before' Set Visit: Seth Rogen And Jonathan Levine Embrace The Christmas Spirit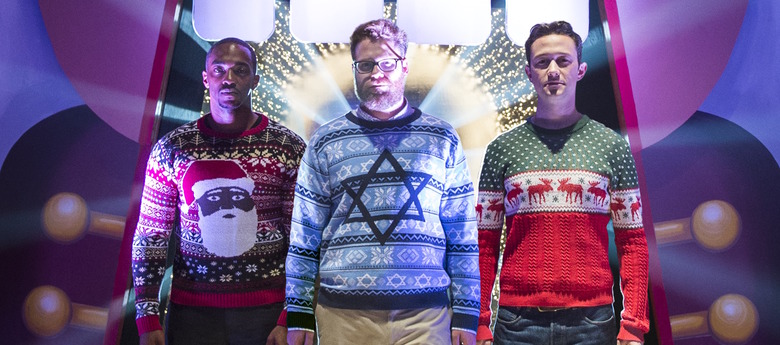 It was a balmy September afternoon when I left my house to visit the Queens, New York set of Jonathan Levine's The Night Before, on the second to last day of a 35-day shoot. But when I got there, I was greeted with a scene that looked like Christmas on steroids, replete with colorful lights, harried shoppers, and of course, ugly sweaters.
Seth Rogen, Joseph Gordon-Levitt, and Anthony Mackie were prancing around a fake Manhattan toy store (don't call it FAO Schwarz), performing Kanye West's "Runaway" on an enormous Big-style keyboard. If you've seen the trailer for the film, you're likely familiar with the scene, which has already "instant classic" written all over it.
In between takes, Levine, his cast, and more clued us in on their R-rated entry into the Christmas movie canon. Get the full report from our The Night Before set visit after the jump. 
The Story
The Night Before follows three childhood friends ready to close the book on a holiday tradition. For over a decade, Ethan (Joseph Gordon-Levitt), Isaac (Seth Rogen), and Chris (Anthony Mackie) have reunited every Christmas Eve for a night of debauchery. But adulthood looms: Isaac's about to become a father, Chris is a famous athlete moving onto the next stage in his career, and Ethan... well, Ethan's still adrift.
The three men come together for one last night of partying, with the ultimate goal of attending the legendary, super-exclusive Nutcracka Ball. "It is their kind of white whale," said Levine. As the night goes on the party takes on an almost mythic quality, with each man seeing it, in a way, as the solution to his problems.
And while the Nutcracka Ball isn't quite that, it does earn its epic reputation. "It's Burning Man meets Coachella meets Tron" is how producers Evan Goldberg and James Weaver describe it. Simply getting into the party is "almost an adventure movie" in itself, as the guys go on what is essentially a scavenger hunt to get invites.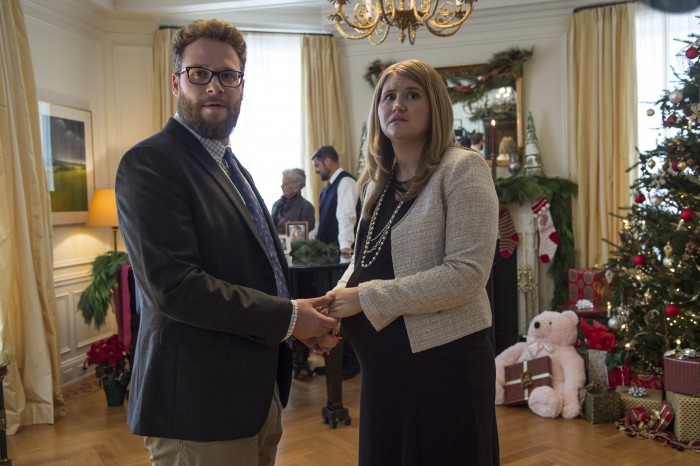 The Christmas Canon
The Night Before fits into a long tradition of Christmas movies, and Levine and his team readily pulled from them for The Night Before. The references ranged from the obvious (It's a Wonderful Life, Love, Actually, the Home Alones) to the offbeat (Die Hard, Kiss Kiss Bang Bang) to the downright outrageous ("Basically our main visual reference is Eyes Wide Shut, and a little bit of Bringing Out the Dead," said Levine).
"What's nice about making a Christmas movie is you get to hang your hat on a lot of known Christmas tropes," said Goldberg. "There are certain things people expect at Christmas. They expect a little magic. They expect a family. They expect Santa Claus. There are some of these things that we embrace a vision of, and deliver a version of that, but we're going to do it in an R-rated sort of crazy version, essentially."
"There is a void when it comes to Christmas movies aimed at our generation and just generally the type of [Christmas] movie that people like us would go see" noted Rogen. The Night Before aims to fill that void, drawing from Levine's real-life tradition of Christmas Eve debauchery. "It's for people who aren't served by the traditional Christmas movie or the traditional family structure," explained Levine.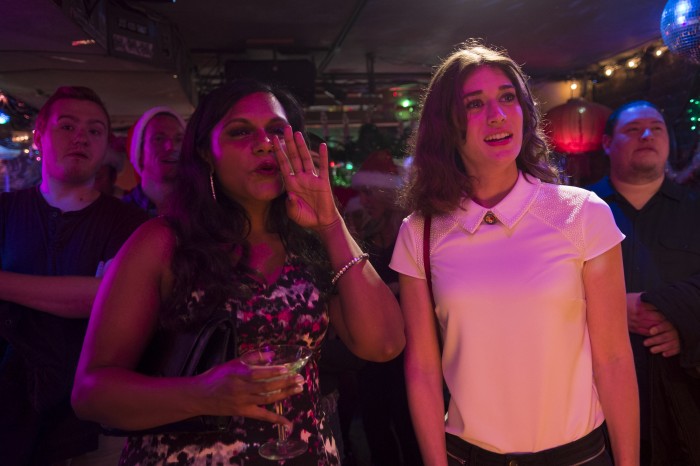 The Tone
The Night Before seems to have taken a sort of kitchen-sink approach to the Christmas movie, cramming in as much into this one crazy night as the three leads can handle. That includes four to six musical sequences — "about as much music as you could have without it being a musical," as Gordon-Levitt put it — including a choreographed karaoke rap routine set to Run-DMC's "Christmas in Hollis."
There's also plenty of action. "There's fighting, there's chasing, there's car chases," revealed Rogen. "Anthony Mackie is a Marvel star. You can't not use that." And while The Night Before doesn't get Bad Santa-dark, exactly, it does get pretty wild. "We probably have more dick-jokes than most dick-joke movies," teased Levine. "We have the most dick jokes of any Christmas movie, safe to say, and the most dicks on screen, by far."
And of course, there's magic. While The Night Before isn't a fantasy per se, it gets surreal, even psychedelic at times, thanks in part to the massive quantities of drugs that Isaac is taking. One subplot involves a drug dealer played by Michael Shannon, who Levine describes as "kind of the Clarence from It's a Wonderful Life of our movie."
Shannon's character sells the guys "the weed of Christmas past, the weed of Christmas present, and the weed of Christmas future," which Levine says "may or may not be magical." In one scene, for example, the narcotics give Isaac a Flashdance-inspired hallucination of his as-yet-unborn daughter as a stripper, utterly freaking him out.
The Supporting Cast
As if the combined charms of Rogen, Gordon-Levitt, and Mackie weren't enough to sell The Night Before, the central trio will be surrounded by an all-star supporting cast. "Neighbors was the first movie we really did, where we were like, what if we filled every single tiny role with the funniest person we could possibly find," said Rogen. For The Night Before, he tapped the likes of Mindy Kaling, Ilana Glazer, Randall Park, Jason Mantzoukas, Jason Jones, and Nathan Fielder.
Also among the key supporting players is Lizzy Caplan as Ethan's ex-girlfriend, which got Rogen sounding a bit nostalgic. "We started together," he recalled. "The first time Lizzy ever acted on camera was in a scene with me and [James] Franco, in Freaks and Geeks, 15 years ago, which is horrible."
The filmmakers also looked outside the usual comedy field to cast actors like Shannon, who's better known for his dramatic intensity than his comedy chops. "I think that's why we kind of liked him," said the director. "We wanted that role to be a straight kind of thing, and the humor was from how straight he took it."
But some of the highest praise was saved for Jillian Bell, who plays Isaac's wife. "She destroys me," said Rogen. "I have a hard time, I've ruined, I wasted several good hours of a scene we were shooting a couple weeks ago, because I couldn't stop laughing." Levine agreed. "She's the best. She's the only person I've ever seen in a scene with Seth where he was just like, he kept cracking, he broke so many times."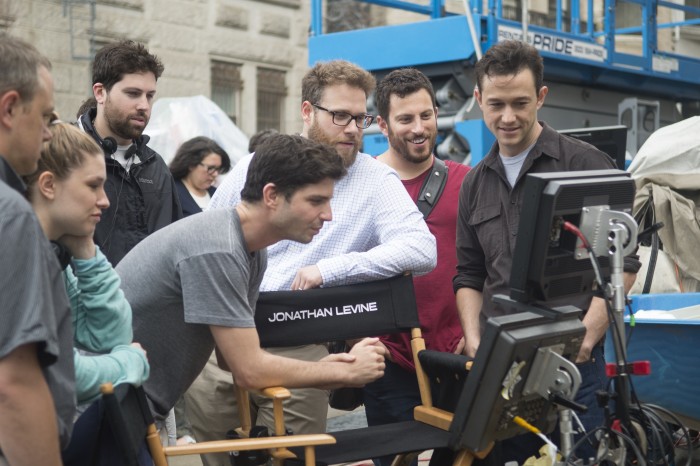 The Improv
As you'd expect from its pedigree, The Night Before is heavy on jokes, with many of them changed at the last minute or even improvised on the spot. Actor Gordon-Levitt was quick to credit the writers with most of the funny: "[Exec producers / writers] Evan and Kyle [Hunter] and Ariel [Shaffir] are writing alt jokes and constantly feeding us with stuff, so it's not like we just have to keep coming up with new one-liners. There are many comedy writers on set providing them for us."
Levine explained the process as follows:
What generally happens is, when we're doing a dialogue scene where we need a lot of jokes, it'll be like Seth, Evan, Kyle and Ariel [on set]. [...] Every producer has a yellow pad on his chair, and they just write alt jokes for me. I'll get like 20 per scene and then I'll throw out whichever ones I don't like, and the ones I do like I'll pass on to the actors.
In at least one instance, Levine revealed, that led to scenes that were almost entirely rewritten or improvised. "Yesterday we did it and the scene changed 100%, literally nothing that was on the script that was written," he recalled. He praised the approach for giving the film a more "naturalistic" feel.
Weaver concurred. "We do take a lot of pride in trying to create an environment that is super, relatively casual and casual feeling, and gives people the opportunity to kind of improv, pitch ideas," he said. "There's no idea too silly and nothing is too precious to think about changing, and I think we were able to bring that to this movie."
The Goal
While there are plenty of different ways to make a Christmas movie, The Night Before is aiming squarely for the feel-good approach. "A Christmas movie, its final goal is to make people happy. It's incredibly liberating to just want to make people happy," said Levine. "It can be bittersweet. It can be kind of sad sometimes, but it always ends up being happy."
Under all the jokes, there's a strong emotional core to the story. "In the broadest strokes, it's about how you can get older with your friends," said Levine. Added Gordon-Levitt, "It's rooted in a sincerity that you would also find in 50/50." Rogen similarly praised Levine for that honest feeling. "He's willing to have an emotional earnestness that I think as people who explicitly grew up in comedy, we shy away from."
Initially, Rogen admitted, he was reluctant to embrace the spirit. "I think at first we were shying away from [Christmas movies] a little bit and not fully embracing, like it's a fucking Christmas movie," said Rogen. But they eventually learned to lean into the tropes, and in the end, Mackie says, "We definitely went full Christmas."
If all goes well, The Night Before will stand alongside its own influences as part of the annual holiday canon. "[Levine] thought we should do something that would get played every Christmas and that it's a cool place to have a movie you made, because it perpetuates forever," said Goldberg.