'Oculus' Director To Summon Spirits With 'Ouija 2'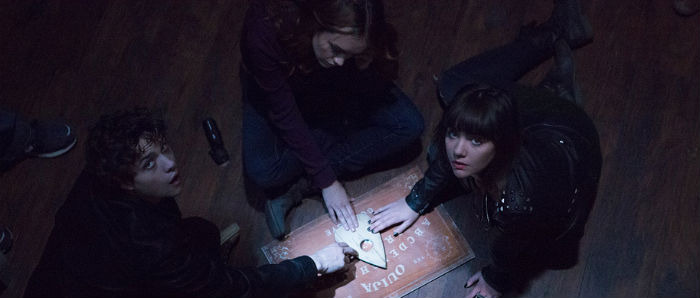 Even though the horror flick Ouija, inspired by the spirit board that has been said to allow users to speak to people in the afterlife, wasn't a massive hit at the box office last year, it still pulled in $100 million worldwide on a budget of just $5 million. That made it profitable enough for Universal Pictures, Blumhouse Productions, Platinum Dunes and Hasbro to move forward with a sequel, which was announced back in January.
The first movie was absolutely terrible, and the paltry 7% on Rotten Tomatoes reinforces that. However, now there's a chance that the sequel could be better with with Oculus helmer Mike Flanagan directing Ouija 2. Plus, one of his stars from the aforementioned superior psychological horror flick is coming with him.
THR reports Flanagan is on board as director after already being part of the production as co-writer with his Oculus writing partner Jeff Howard. In addition, actress Annalise Basso is also coming with Flanagan. Basso played a young version of Karen Gillan in Oculus, and since there were quite a lot of flashbacks in the movie, she was a pivotal part of the movie.
Beware of spoilers from the first Ouija movie from here on out (even though it's a movie that spoils itself by not being very good).
The first movie centered on five teenagers (Olivia Cooke, Ana Coto, Daren Kagasoff, Douglas Smith, and Bianca A. Santos) who gather around a Ouija board to reach out to a recently deceased friend. Of course, they end up being haunted by a mysterious supernatural force that starts picking them off. While the main character believed the board to be destroyed at the end, it reappeared in her room, prompting a scream and a cliffhanger.
However, this new sequel doesn't sound like it will utilize any of the characters from that story. In Ouija 2, Basso plays a young girl grieving the death of her father, and we're betting that when she tries to contact him with the Ouija board that all hell breaks loose again. Didn't we just see this in the plot of Insidious: Chapter 3 though, just with a daughter wanting to reconnect with her mother?
Anyway, here's hoping that adding Flanagan, who constructed a very original and compelling psychological horror movie in Oculus, to the Ouija formula actually shakes things up enough to make this kind of familiar story more interesting than its immediate predecessor and all the stories that came before it.