NBC Turning Action Comedy 'RED' Into A TV Series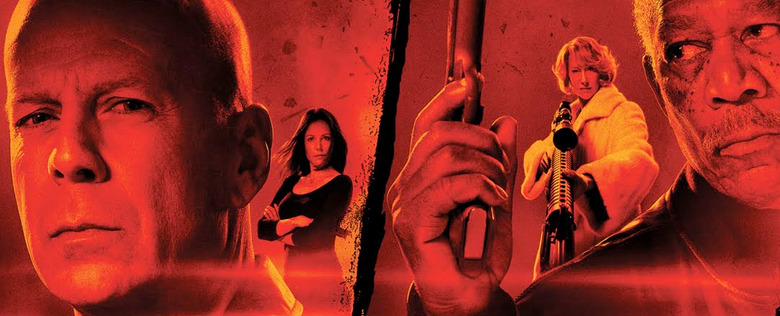 The quality of television in the past few years has been most impressive, even outpacing film as the place to find the highest quality entertainment right now. And that means some filmmakers are bringing their own film properties to the small screen for a second chance at finding an audience.
The newest attempt to bring a movie to television is RED, the action comedy franchise starring Bruce Willis, Morgan Freeman, John Malkovich, Mary-Louise Parker, Helen Mirren and more. NBC is developing an hour-long RED TV series, and we've got early details on the developing project.
Deadline has the news on the small screen adaptation of the film franchise that began in 2010 and had a sequel following a few years later in 2013. Franchise producers Lorenzo di Bonaventura and Mark Vahradian and writers Jon Hoeber and Erich Hoeber are all on board the project set up at Lionsgate TV, inheriting the franchise from their sibling company Summit Entertainment.
For those who don't know, the film franchise followed a group of CIA operatives who have been classified as RED (Retired Extremely Dangerous), but find themselves forced back into action when the agency that employed them sends an assassin after one of them.
Whereas the film version of RED got a little wild with some of the action sequences, aiming more for stylized gunfights and fighting blended with comedy, the TV adaptation will be a little more grounded in the real world. The story will focus on retired CIA operatives who have darkly hilarious struggles living a normal civilian life outside of the agency. But don't worry, they still end up having to fight against the CIA, just like the movie.
As you've likely already assumed, the film cast will not be coming on board the TV series. This show will basically act as a television reboot of RED with a whole new cast. Though it would be cool if these RED agents existed in the same world as the film franchise to allow for cameos in the future. But I imagine that would be pretty difficult to make happen with such high profile talent from the movies.
The film version of RED was a fun adaptation of the comic book series of the same name by Warren Ellis and Cully Hamner, published by the DC Comics arm Homage, but the story does seem to lend itself better to television. Of course, with NBC at the reins, we're not holding our breath for this to be something worth watching. If it was on FX our tune might change a little, but there's not much greatness at the Peacock right now.
Anyone out there interested in a RED TV series?