Meet The T-Rexes From Pixar's 'The Good Dinosaur' [D23 Expo 2015]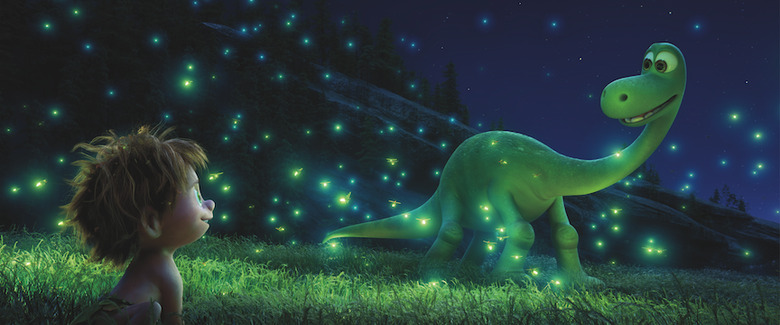 Pixar Animation had plenty to show off at this weekend's D23 Expo, and one of the projects we'll get to see sooner than later (this November actually) is The Good Dinosaur. While we've already seen a bit of the lead character Arlo and his best friend Spot, Pixar unveiled a first look at three other key characters today. Meet the Good Dinosaur T-Rexes after the jump.
Pixar shared a new photo at the The Good Dinosaur D23 Expo.
An Apatosaurus named Arlo must face his fears—and 3 T-Rexes—in our upcoming film, @TheGoodDinosaur. #D23EXPO pic.twitter.com/7mA1FZ8PPJ

— Pixar (@Pixar) August 15, 2015
Here's a bigger version: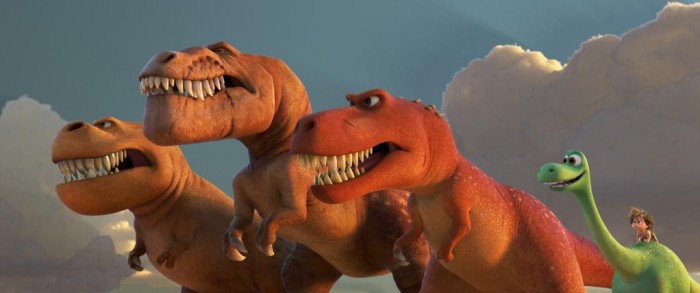 While the photo itself doesn't tell us much about these new characters, we got the details on the trio at a preview presentation in June. Here's a quick rundown of the three characters:
Butch: A tough T-Rex voiced by Sam Elliott, whom Sohn says has "the perfect voice for a T-Rex."
Ramsey: Butch's daughter, described by Sohn as a "firecracker." Voiced by Anna Paquin.
Nash: Buch's son. Voiced by AJ Buckley with a charming drawl.
The voice cast for The Good Dinosaur (which was changed drastically back in June) also includes Raymond Ochoa as Arlo, Jeffrey Wright as Arlo's father, Frances McDormand as Arlo's mother, Marcus Scribner as Arlo's brother Buck, Steve Zahn as a pterodactyl named Thunderclap, and Jack Bright as Arlo's human friend Spot.
The film was originally scheduled for release in 2014, but in late August 2013 director Bob Peterson dropped out and the film is now being helmed by Peter Sohn, director of the Pixar short film Partly Cloudy. Watch the previous theatrical trailer for the film right here.
The Good Dinosaur arrives on November 25th.
The Good Dinosaur asks the question: What if the asteroid that forever changed life on Earth missed the planet completely and giant dinosaurs never became extinct?  Pixar Animation Studios takes you on an epic journey into the world of dinosaurs where an Apatosaurus named Arlo (voice of Raymond Ochoa) makes an unlikely human friend. While traveling through a harsh and mysterious landscape, Arlo learns the power of confronting his fears and discovers what he is truly capable of.