Star Wars Bits: John Williams, Star Wars: Battlefront, Shattered Empire, ILMxLab, CoverGirl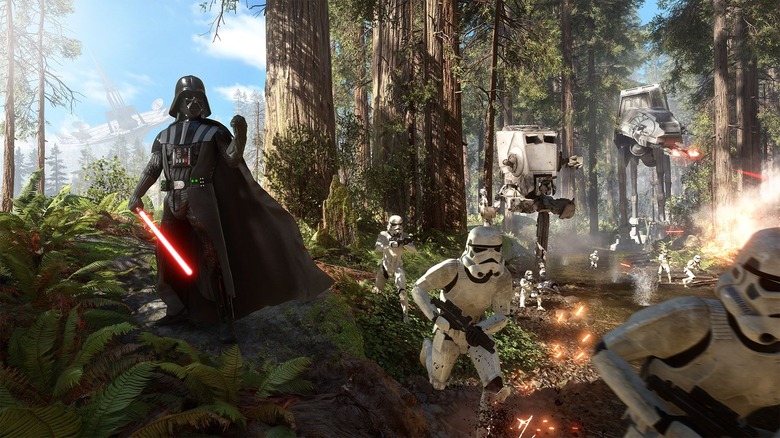 We may receive a commission on purchases made from links.
Had enough Star Wars yet this week? Surely not. After the jump:
Check out another new image from Star Wars: Battlefront
... and get details on the game's just-announced "Supremacy" mode
The Battlefront tie-in novel Twilight Company gets an official synopsis
Ooh and aah over the pretty colors of the Star Wars CoverGirl makeup collection
... and find out which other brands are partnering with Lucasfilm for The Force Awakens
Go inside ILM's VR and augmented reality think tank, xLab (Rogue One's Gareth Edwards is a fan)
An anonymous insider reports from a John Williams recording session
Force Awakens returns to Skellig Michael for more shooting this fall
Are the new Star Wars: The Force Awakens 3.75" toys hinting at something?
See a preview of Kanan: The Last Padawan #5 and Star Wars #8
Shattered Empire #1 gets pushed back a week (boo), and reveals a variant cover (yay!)
***
Darth Vader takes a strong stance in a new promo image from Star Wars: Battlefront.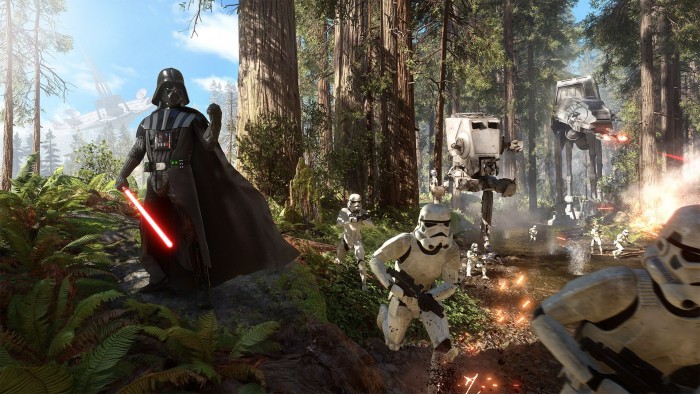 In addition, EA has announced a "Supremacy" mode for the game. Here's how they describe it:
Supremacy centers on five control points scattered across the map. The objective is gaining control of all five, or the majority of them, before the 10 minute round is over. Each team starts the match controlling two of these control points, initially fighting for control of the fifth one in the center. After this is determined, the control points need to be claimed in a set order. This means the action will be taking place on two control points at a time – one for each team.
Star Wars: Battlefront will be available for PlayStation 4, Xbox One, and PC on November 17. Those who pre-order will be able to experience the Battle of Jakku one week early starting December 1; all other players will get access on December 8. [EA via Coming Soon]
***
Random House has unveiled a long, detailed official synopsis for Star Wars Battlefront: Twilight Company, written by Alexander Freed. Check it out below:
A companion novel inspired by the hotly anticipated videogame Star Wars: Battlefront, this action-packed adventure follows a squad of soldiers caught in the trenches of the ultimate galactic war between good and evil.
The bravest soldiers. The toughest warriors. The ultimate survivors.
Among the stars and across the vast expanses of space, the Galactic Civil War rages. On the battlefields of multiple worlds in the Mid Rim, legions of ruthless stormtroopers—bent on crushing resistance to the Empire wherever it arises—are waging close and brutal combat against an armada of freedom fighters. In the streets and alleys of ravaged cities, the front-line forces of the Rebel Alliance are taking the fight to the enemy, pushing deeper into Imperial territory and grappling with the savage flesh-and-blood realities of war on the ground.
Leading the charge are the soldiers—men and women, human and nonhuman—of the sixty-first mobile infantry, better known as Twilight Company. Hard-bitten, war-weary, and ferociously loyal to one another, the members of this renegade outfit doggedly survive where others perish, and defiance is their most powerful weapon against the deadliest odds. When orders come down for the Rebels to fall back in the face of superior opposition numbers and firepower, Twilight reluctantly complies. Then an unlikely ally radically changes the strategic equation—and gives the Alliance's hardest-fighting warriors a crucial chance to turn retreat into resurgence.
Orders or not, alone and outgunned but unbowed, Twilight Company locks, loads, and prepares to make its boldest maneuver—trading down-and-dirty battle in the trenches for a game-changing strike at the ultimate target: the very heart of the Empire's military machine.
Star Wars Battlefront: Twilight Company hits shelves November 3. [Random House]
***
Star Wars: The Force Awakens is teaming with CoverGirl for a limited-edition makeup collection, including lipsticks, nail polishes, and mascaras. Glance over a few of 'em below, and then see the full lineup here.
And if you're wondering just what to do with these otherworldly colors, maybe these promotional campaign teaser images from makeup artist Pat McGrath will give you some ideas.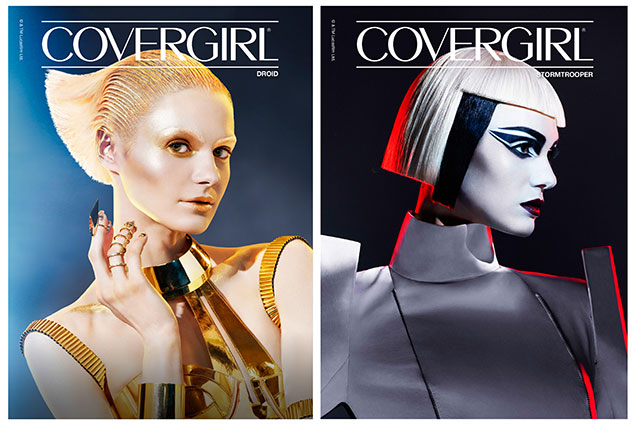 The CoverGirl Star Wars collection launches September 4. [Allure]
***
Besides CoverGirl & Max Factor (as teased above), Lucasfilm unveiled a long list of other promotional partners for Star Wars: The Force Awakens. That includes Duracell, FCA US (Fiat Chrysler Automobiles), General Mills, Hewlett-Packard, Subway, and Verizon. Each company will unveil custom Star Wars campaigns to be revealed in the months leading up to Star Wars: The Force Awakens' release on December 18. [Deadline]
***
Go inside ILMxLab, the VR and augmented reality think-tank from Industrial Light & Magic. It's already got some big fans — director Gareth Edwards has been using an xLab Oculus Rift set-up to help design Star Wars: Rogue One.
"He was in virtual reality for the first time," said Lucasfilm's head of New Media, Rob Bredow. "When he, two minutes into having the headset on, referred to it as 'real life,' I was like, 'okay, we're on to something here.'"
***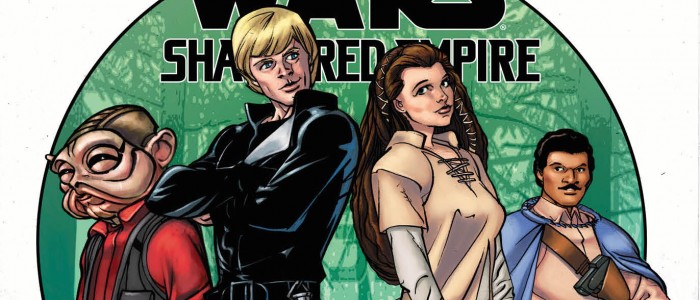 An anonymous source claiming to have been involved in a recording session for Star Wars: The Force Awakens gushes about John Williams' work:
I did go to one of the sessions in June and it was beyond anything I have experienced musically in my life. It was a true "full circle" moment. This man has done more to introduce people to music than anyone on the planet. And here was a room full of us, all with our own Star Wars music story, being part of this historic recording session. I still can't believe how lucky I was to be there for that one session.
Not very informative, honestly, but pretty cool nonetheless. [JWFan via Jedi News]
***
Star Wars: The Force Awakens is returning to Ireland's Skellig Michael to shoot extended footage this fall, according to a new report. Says an insider, "It's definitely happening alright. They'll be here for four days in September, maybe even seven."
Last year the shoot attracted criticism for potentially disrupting the birds' nesting season on the UNESCO World Heritage site. However, the source insists that won't be a problem in the fall: "It isn't breeding season when they're filming, so it is the best time to do it." [Irish Mirror]
***
Check out the entire 12-item lineup of Star Wars: The Force Awakens 3.75" figures. Odd that Darth Vader and Luke Skywalker (in his original trilogy garb) are part of the lineup...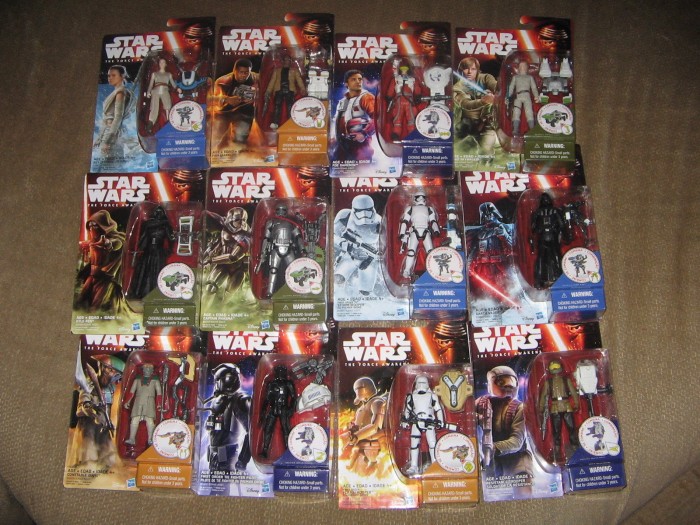 ... or is it? It's possible that their presence here hints at some original trilogy flashbacks in Episode VII. Or maybe they have something to do with Luke's lightsaber playing a key role, as we've seen in the trailers. Or maybe it's nothing more than a marketing decision.
Darth Vader and Luke Skywalker are two of the most marketable characters in the entire Star Wars universe, and it's practically leaving money on the table not to release new toys for them. Note that their figures are simply labeled as "Star Wars" toys, rather than "Star Wars: The Force Awakens" toys. What do you think — is this a hint of things to come in Episode VII, or just a way to get sell more toys? [Star Wars Underworld]
***
Check out a preview of Kanan: The Last Padawan #5, from writer Greg Weisman and artist Pepe Larraz. The final chapter of Kanan's secret origin sees the Star Wars Rebels character — then known as Caleb Dume — trapped in an Imperial cruiser at the mercy of Clone Troopers Grey and Styles.
Kanan: The Last Padawan #5 goes on sale August 19 from Marvel Comics. [StarWars.com]
***
The first look at Star Wars #8 from writer Jason Aaron and artist Stuart Immonen teases a rather awkward encounter. No one dies (or at least not yet) but you kind of get the feeling Han Solo wishes he could have.
Star Wars #8 goes on sale August 19. [ComicBook.com]
***
Sorry, Star Wars comics fans: It looks like Shattered Empire #1, from writer Greg Rucka and artist Marco Checchetto, has been delayed a week from September 2 to September 9. #2 is out on October 7, #3 on October 14, and then #4 will wrap up the limited series on October 21. The collection hits November 17 and can be pre-ordered now at Amazon. [Previews World, Star Wars Comic Books]
***
Oh, and speaking of Shattered Empire, here's a variant cover by Pasqual Ferry.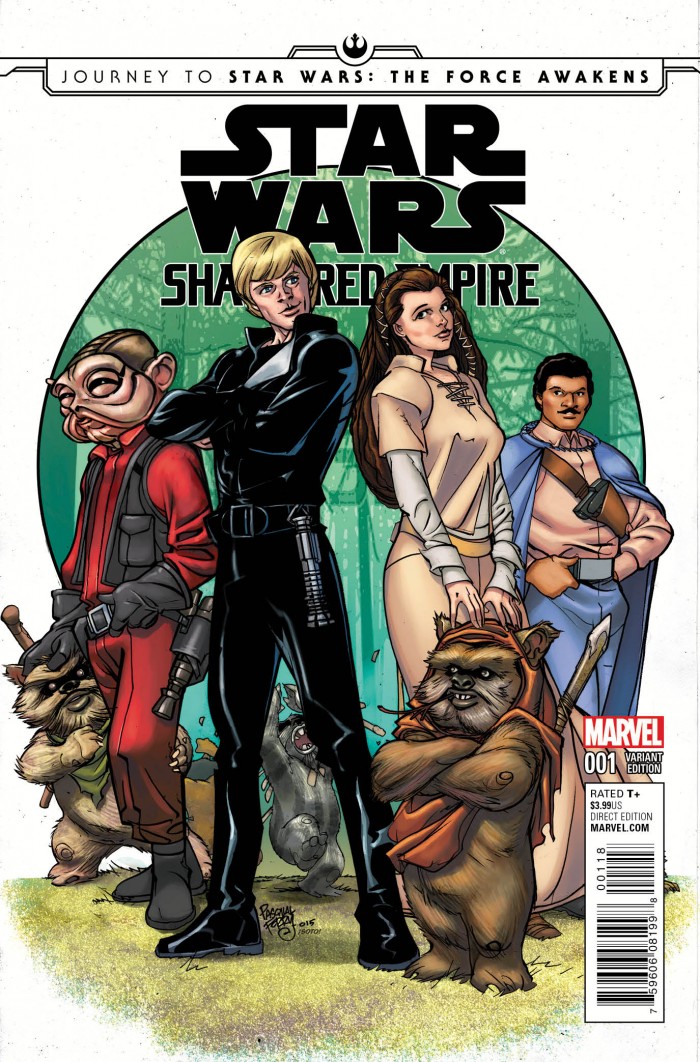 It'll be given away to attendees of the Baltimore Diamond Retailer Summit in Baltimore on September 23-25, just before Baltimore Comic-Con kicks off. [Bleeding Cool]