'Wolverine 3': Patrick Stewart Confirms Professor X Plays A Significant Role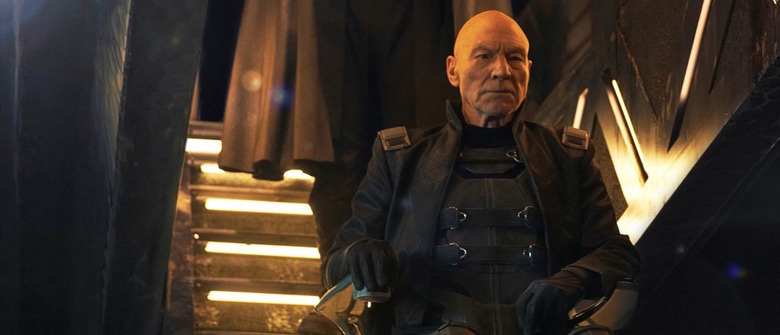 When Hugh Jackman brings out the claws one last time for Wolverine 3, it looks like he'll do so with an old friend by his side. X-Men star Patrick Stewart has confirmed Professor X has a significant role in the upcoming film, believed to be based on the Old Man Logan storyline from the comics. Read the Wolverine 3 Patrick Stewart news after the jump. 
Collider sat down with Stewart to ask if reports of Professor X appearing in the Old Man Logan arc for Wolverine 3 were true. Stewart's response:
I think what you say is true. There is a project in development. I understand that Professor Xavier will be making more than an appearance, however, and that intrigues me. And the idea of an old Wolverine – I'm really looking forward to Hugh Jackman getting old. You know, damn him. He looks so great! So I'm hoping to see him covered in prosthetics, you know? And then he'll make me look better if that's the case.
Stewart told press several months ago that he had been "talking about a Wolverine movie, which would team Hugh Jackman and myself together," so this latest update doesn't come as a huge shocker. It's nice to hear, though, that we'll be getting more than just a small cameo from Stewart.
Written by Mark Millar and drawn by Steve McNiven, the Old Man Logan storyline unfolds in a dystopian future taken over by supervillains. Logan himself has long since retired the Wolverine persona in favor of a simpler life with his wife and kids. But he's desperate for money, so when a blind Hawkeye approaches him for help delivering a package, Logan agrees.
In the comics, Professor X does not have a significant role in the Old Man Logan arc. But the plot will require a lot of retooling before it makes it to the big screen anyway, as many of the characters who do have significant roles are owned by other studios. (Hawkeye, for starters.) Given that, it shouldn't be too difficult to work Professor X in somehow.
James Mangold is directing Wolverine 3, which will be Jackman's final performance as the iconic character. The new Wolverine opens March 3, 2017.