A Close-Up Preview Of Disney World's Avatar Land From D23 Expo 2015 [UPDATED]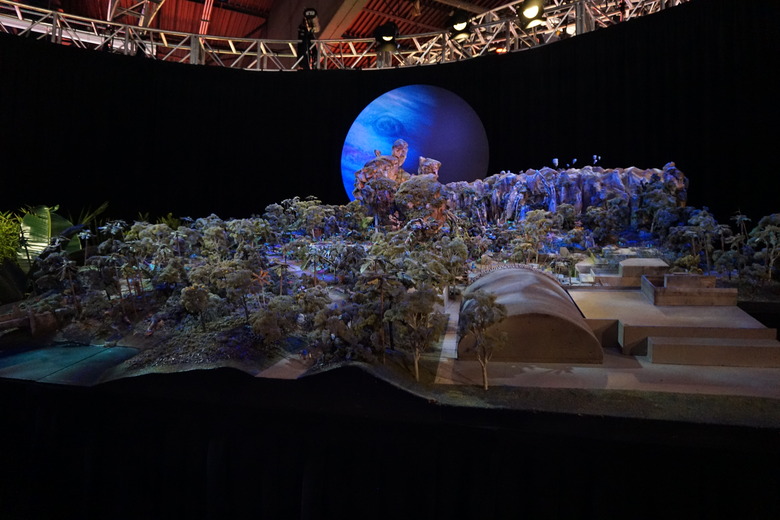 Update: New details have been revealed about the Pandora: The World of Avatar rides. Get the new info and see some concept art after the jump.
At the last D23 Expo in 2013, Disney didn't have much to reveal about Disney World's upcoming theme park land based on James Cameron's epic Avatar franchise, offering just a vague tease of props and photos from Imagineering's research scout to Pandora.
In February we got a bit more information when Walt Disney Imagineering released a video of the filmmaker visiting the Bioluminescent Forrest behind closed doors. Later that year, Disney finally revealed their plans and concept art for the upcoming project, with construction begining on Pandora in January 2014 in Disney's Animal Kingdom in Orlando Florida.
At D23 Expo 2015, Walt Disney Imagineering finally let fans get a close-up look at what they're planning for Avatar Land. Hit the jump to see photos from the show floor exhibit and learn more about the upcoming theme park land.
Avatar Land posters on display at D23 Expo 2015:
On display at D23 Expo 2015 is the gigantic Avatar Land miniature model that we've seen in photos and behind the scenes videos. The model might look epic in photos, but it looks even cooler in person. Photos by Kitra Remick:
The storyline for Avatar Land is that your trip is operated by ACE, aka Alpha Centuri Expeditions. Academy Award-winning Avatar producer Jon Landau appeared as Marshall Lamm, founder of ACE, in a two-minute video at the entrance of the booth. The video is like an informercial for your trip to Pandora, acting like it is a real place and not just a land in a theme park. They even passed out pamphlets with more information about your future expedition.
A few observations:
The bridge (formerly the bridge to Camp Minnie Mickey) looks to be the main entrance. Another entrance, from Africa Land, looks to be right of the cliff.
The cliffs in the back of the model hide the show building for the Soarin'-style Banshee ride. Guests will "climb up the mountains of Pandora" in the queue for the ride before entering the show building where they will take off the cliff on a Banshee. Pretty cool thematic queue idea.
The boat ride is located in the far back left corner of this model, but is very hard to see.
The buildings in the very bottom right corner of the model are "buildings that were used by previous human travelers to the planet, which have been retrofitted into food and supply source," i.e. restaurants and merchandise locations. Its cool that they have a thematic way of putting the shops and food locations in the Avatar land.
Everything I saw at the Avatar Land experience booth was super impressive and I can't wait to see this world brought to life two years from now. I was able to get a photo with Walt Disney Imagineering executive Joe Rohde, who has created so many fantastic attractions and themed lands and is heavily involved in Avatar Land.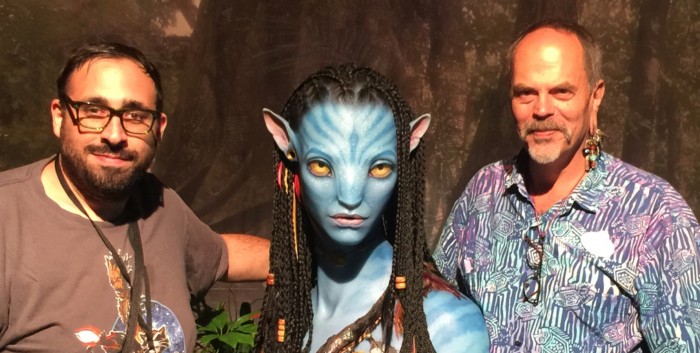 ***
Click on to the next page for ride details and more...
Here are the previously released Avatar Land concept art  pieces and other images:
A projected opening date for the land is still being touted for 2017, with no specific date. "Guests will encounter awe-inspiring floating mountains and wander through a nighttime jungle of bioluminescent plants that are alive with light and sound." The land will offer the following experiences:
A Pirates of the Caribbean-like water ride.
And a flying simulator ride which will let guest "discover what it feels like to soar into the sky riding a Banshee."
A walk through a bioluminescent jungle experience.
Outside Avatar Land, the Tree of Life will be transformed into the "Mother Tree" from Avatar at night using electronics and light projections during a new nighttime spectacular experience.
Update: At the Disney Parks D23 panel, it was revealed that the flying ride will be called "The Flight of Passage," and serve as the centerpiece of Pandora: The World of Avatar. Guests will be able to experience the thrill of flight firsthand, "soar[ing] on Banshee over a vast alien world."
The boar ride (which has not yet revealed a name) is described as "fluid, romantic, lyrical" and "emotional." It'll take guests through a glowing bioluminescent forest, populated by animatronic animals.
Finally, there's a show called "Rivers of Light" opening next spring,which will combine live music, floating lanterns, water screens, and swirling animal imagery for an experience "unlike anything ever seen in Disney parks."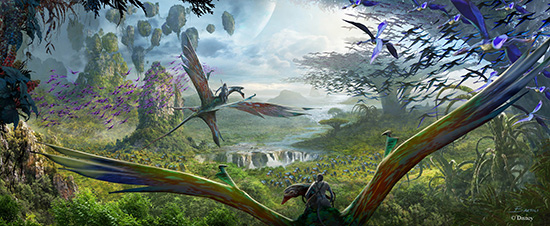 The new Avatar-themed land will be located between Africa and the Oasis and will encompass and expand beyond the area currently known as Camp Minnie-Mickey.  The new expansion will also include "all-new entertainment experiences, including a new nighttime spectacular where live music, floating lanterns, water screens and swirling animal imagery all combine to bring a show to Discovery River that will delight our guests and truly cap off their day at Disney's Animal Kingdom. The park will introduce more nighttime entertainment as well, including live performers on Discovery Island (pictured below) and a new nighttime version of the Kilimanjaro Safaris."