Han Solo Will Be A Young Adult In Spin-Off Movie; Former Josh Trank Film Still Developing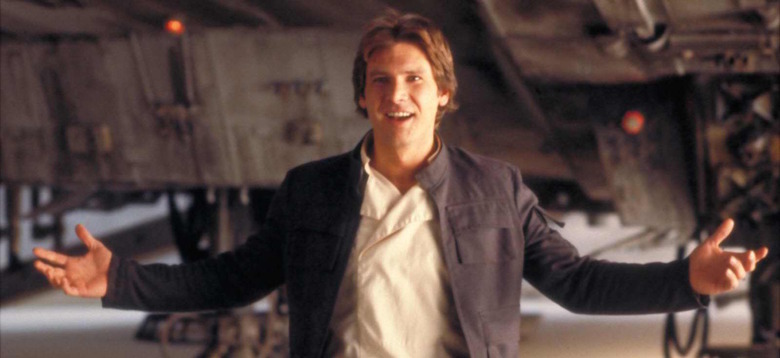 Han Solo is coming back to movie screens, and it won't just be through the return of Harrison Ford to the role in Star Wars: The Force Awakens. Lucasfilm is also developing a Star Wars Anthology movie focused on a younger Han Solo. And, given that the Star Wars prequels featured a very young, perhaps too-young Anakin Skywalker, we've wondered what the story will be for the Han Solo film, and how old he'll be.
While we still don't know the story for the film that Phil Lord and Chris Miller (The LEGO Movie, 21 Jump Street) will direct for a 2018 release, we do know that Han will likely be in his late teens or early '20s in that film. Kathleen Kennedy of Lucasfilm has a lot to say about the spin-off, even at this early stage, and we've got her comments, along with talk from co-writer Lawrence Kasdan, below. 
EW has two big pieces on Han Solo's return to the Star Wars films, and one delivers a some info about the spin-off movie. Kathleen Kennedy pretty quickly pushes back concerns that the Han Solo of this spin-off film will be played by a pre-teen actor.
He'll definitely be probably in the high teens, low 20s. We're not introducing you to a 10-year-old Han Solo.
Beyond that, what's the story? We don't know right now, and with the film almost three years away we aren't likely to know much for a while. But the concern is simple: why do this movie? Kennedy says,
Those are exactly the questions we're asking. There's got to be a reason for [the stand-alone film] to be. And obviously the thing that Star Wars has always done so well is it doesn't spend a lot of time [explaining] the stories that have come before. We don't want to do that either. We don't want to spend time going back and answering a lot of questions that, quite frankly, I don't think people want answered.... I think the key here is that we are identifying an event or events in Han Solo's life that gives you some idea of who he is and why he is the character we have all known to love.
There are no shortage of story possibilities based on what we already know from the core films, with possibilities to include Chewbacca and Lando Calrissian, and possibly Jabba the Hut and/or rivals like Greedo. (There's also the recent revelation about his wife.)
We hope this won't just be limited to stuff we already know something about — why bother, if that's the case? Since the Han we know from the original trilogy is in his early to mid '30s, there's a lot of time to play with if he's around 20 in the spin-off movie.
Lawrence Kasdan, screenwriter on The Force Awakens, The Empire Strikes Back, and Return of the Jedi, recruited his son Jon Kasdan (Freaks and Geeks) to help write the film.
Since I did not expect to be sidetracked like this [by the demands of The Force Awakens script], when I came back to it I said to Kathy, you know, I would like Jon to write this with me. I could use some inspiration and Jon is really good, and he's full of energy for the project, and I said, I think Jon would be a good one to do this. And we went forward that way.
Han Solo's Star Wars Anthology movie is scheduled for release on May 25, 2018.
But that isn't the only Anthology movie on the way. In addition to Rogue One, which will be released in 2016, there's also the movie — supposedly about Boba Fett — that Simon Kinberg has been developing, and which Josh Trank was going to direct. That was before all the Fantastic Four problems happened, anyway.
That film is still in development, and in fact EW even says there was nearly the same sort of teaser shown for that movie at Star Wars Celebration that we saw for Rogue One.
Kathleen Kennedy says the film is still moving forward, perhaps for a release around 2020.
It's still one of the stories that we absolutely want to tell. There is a lot of innovative technology in and around what it is we're doing with that story, so for a lot of reasons, we were comfortable postponing that. But we're definitely still developing it.