'Frozen' And 'Tarzan' Co-Director Addresses That 'Frozen' / 'Tarzan' Theory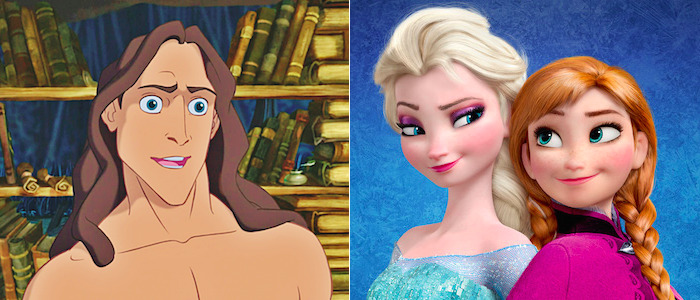 Disney's animated films aren't really a "shared universe" the way Disney's Marvel films are, but that hasn't stopped fans from making connections between them all the same. One popular theory posits Tarzan is actually the younger brother of Elsa and Anna from Frozen, born after the King and Queen of Arendelle embark on their ill-fated trip.
It's a cute idea, but could it possibly be true? In a new interview, Chris Buck — who co-directed both Frozen and Tarzan — addresses the Frozen Tarzan theory, and adds another new wrinkle to consider. Read his comments on the Frozen Tarzan theory after the jump. 
Last year, Frozen co-director Jennifer Lee got fans talking when she revealed new details about the King and Queen of Arendelle's deaths during a Reddit AMA. "According to Chris, they didn't die on the boat. They got washed up on a shore in a jungle island. The queen gave birth to a baby boy. They build a treehouse. They get eaten by a leopard..."
Speaking more recently to MTV, Buck explained where that idea came from. "When you're working on a feature, you have a lot of time to think about stuff because it takes four years to make one," he said. "I think Jen [Lee] and I were walking to a meeting, and I just start to tell her the entire story."
He continued:
I said, of course Anna and Elsa's parents didn't die. Yes, there was a shipwreck, but they were at sea a little bit longer than we think they were because the mother was pregnant, and she gave birth on the boat, to a little boy. They get shipwrecked, and somehow they really washed way far away from the Scandinavian waters, and they end up in the jungle. They end up building a tree house and a leopard kills them, so their baby boy is raised by gorillas.
Just for fun, here's what the two sets of parents (or maybe single set of parents?) look like in their respective movies.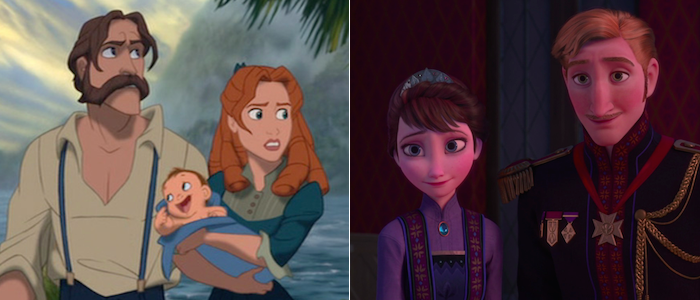 I suppose you could make it work if you're willing to believe the King of Arendelle dyed his hair brown (or was never a natural blond to begin with? Those brows and sideburns are awfully dark, after all. How deep does this conspiracy go??) and grew out a sweet mustache while he was on that boat.
But Buck's version of the Frozen Tarzan theory doesn't end there. He also figured out a way to link it to yet another movie he co-directed, Surf's Up.
So in my little head, Anna and Elsa's brother is Tarzan — but on the other side of that island are surfing penguins, to tie in a non-Disney movie, Surf's Up. That's my fun little world.
It's pretty clear Buck isn't talking about official canon here, since as he points out Surf's Up isn't even a Disney movie. And his wording suggests the Frozen Tarzan connection isn't really official either. But in a way, maybe it doesn't really matter. "I say, whatever people want to believe, go for it," he said. "If you want to tie them all together, then do it. That's the spirit of Disney."