Ed O'Neill Voices A New 'Finding Dory' Character [D23 Expo 2015]
Andrew Stanton's Finding Nemo sequel Finding Dory was heavily teased on the D23 Expo show floor, and at Friday's big animation presentation Stanton revealed some of the thinking behind the film, and offered some new footage to the crowd. Basically, his core questions were about Dory and her family. Could she find her way home if she was lost again? Who makes up her family?
In addition to talking up some of those ideas, the presentation revealed a new character: an octopus, voiced by Ed O'Neill. See an image of that newcomer and learn more below.
Finding Dory marks Andrew Stanton's return to Pixar, helming the sequel to his directorial debut Finding Nemo alongside veteran Pixarian Angus MacLane (Toy Story of Terror). The story (which I predicted months before it was announced) begins six months after the events of Finding Nemo and sees the return of Ellen DeGeneres as the title character.
The story begins with Dory living with Marlin and Nemo on their reef. But a minor trauma triggers a memory she can't quite pin down. It's something important... she doesn't quite know what. Something about feeding time? No... oh wait, it was about churros! No, that's not it either. We realize Dory is having a nightmare. "Don't cry, Lilly," she says in her sleep. We see that Dory is sleep-swimming, saying something about Monterey, California.
The next day, she remembers something. Nemo thinks her instincts are trying to get her to go home, to migrate, something he learned in school. Dory has a vision of her parents, realizes they don't know where she is. While Marlin thinks going all the way to Monterey is a bad idea, Dory appeals to his sense of familial responsibility. Wouldn't he know what it is like to feel fear about the safety of a family member?
The clip shown at D23 ends with Nemo pleading to his father, "dad you can get us all the way across the ocean, right?" Marlin responds, "No... but I know a guy."
Once the characters get to Monterey Marine Life Institute, we'll meet a whole new cast of characters. One is Hank, an octopus who helps Dory in some way, voiced by Ed O'Neill. This is Hank: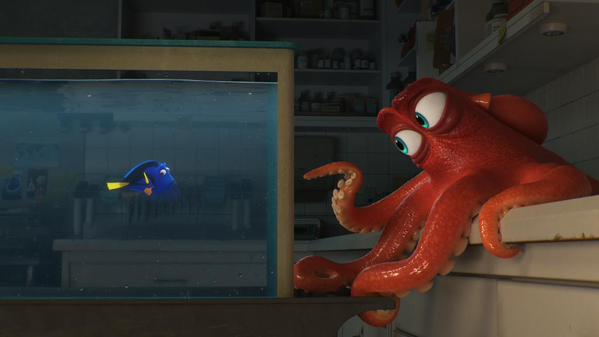 There's also Bailey, a white beluga whale, voiced by Ty Burrell, and Destiny, a somewhat confused whale shark who thinks she's a whale but is really a shark, voiced by Kaitlin Olson. Bailey and Destiny are neighbors, and they have an adversarial sibling-like relationship
In one final clip from the film, Dory is accidentally scooped up by institute staffers, and meets Hank for the first time. She's tagged by the staff, and Hank, using his camouflage, is able to get near Dory to explain that she has been tagged to be transported to an aquarium in Cleveland. Hank offers to take her tag, allowing him to take her place on the transport truck. He's not eager to be released back into the ocean, and Dory's short-term memory failings lead to some comedy in the scene.
Albert Brooks returns as Marlin. Willem Dafoe will be reprising his role as Gill, the scared Moorish Idol who previously lived in an Australian dentist office. Dory's parents Charlie and Jenny will be voiced by Eugene Levy and Diane Keaton. The Wire co-stars Dominic West and Idris Elba are also part of the voice cast.
Stanton has said Dory's family might be bigger than we expected, with an accompanying concept shot of a creature that looked like a whale. So there's speculation that we'll get an explanation for Dory speaking Whale in Finding Nemo.
You can watch a video of Ellen announcing the sequel on her television show in 2013. The movie will also soon become a ride at Tokyo Disney.
***
Finding Dory will hit theaters on June 17, 2016. Here's the official line on the movie:
DORY DIVES IN — Ellen DeGeneres ("The Ellen DeGeneres Show"), the voice of everyone's favorite forgetful blue tang, took a dip with D23 EXPO attendees this afternoon, celebrating Disney·Pixar's upcoming film "Finding Dory." Joining DeGeneres on stage this afternoon were Ed O'Neill ("Modern Family"), who lends his voice to Hank, a cantankerous octopus; Ty Burrell ("Modern Family"), the voice of Bailey, a misguided beluga whale; and Kaitlin Olson ("Always Sunny in Philadelphia"), who voices Destiny, a kind-hearted whale shark. Oscar®-winning director Andrew Stanton ("Finding Nemo," "WALL•E"), co-director Angus MacLane and producer Lindsey Collins (co-producer "WALL•E") offered new details of the all-new story, which reunites Dory with friends Nemo and Marlin on a search for answers about her past. What can she remember? Who are her parents? And where did she learn to speak Whale? Also featuring the voices of Albert Brooks, Diane Keaton and Eugene Levy.