First 'Star Wars: Rogue One' Photo Revealed; New Cast Members Announced [D23 Expo 2015]

Gareth Edwards' Star Wars: Rogue One is still over a year away, but thanks to D23 we have a tantalizing taste of the upcoming film today.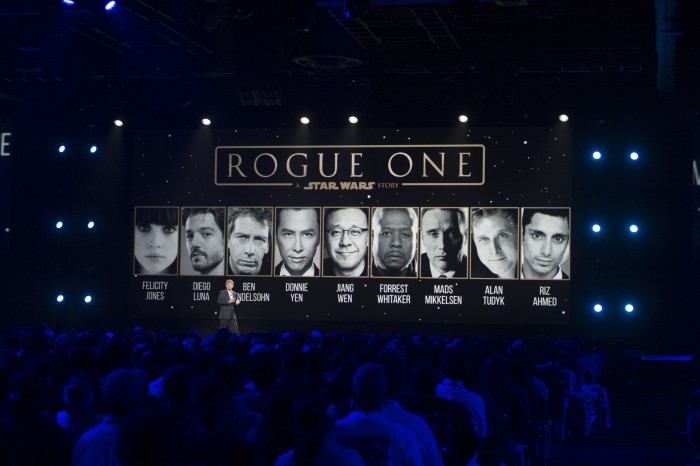 The very first official photo has just been revealed, featuring Felicity Jones, Diego Luna, Riz Ahmed, Jiang Wen, and Donnie Yen (the latter two of whom were recently rumored for the cast).
And that's not all. Mads Mikkelsen and Alan Tudyk are also announced to be joining Star Wars: Rogue One, while Forest Whitaker and Ben Mendelsohn were confirmed. See the first Star Wars Rogue One photo, and get more casting details.
The press release gave us this info about the cast:
The filmmakers have assembled a stellar cast, including Felicity Jones, nominated for an Academy Award for her leading role in The Theory of Everything; Diego Luna, who was featured in 2008's Oscar-winning Milk and 2013's Elysium; Ben Mendelsohn, recently nominated for an Emmy for his leading role in Bloodline and co-starring in the upcoming Mississippi Grind; Donnie Yen, Hong Kong action star and martial artist who starred in Ip Man and Blade II; Jiang Wen, who co-wrote, produced , directed and starred in the award-winning Let the Bullets Fly and Devils on the Doorstep; Forest Whitaker, recently featured in the critically-acclaimed Lee Daniels' The Butler and winner of an Academy Award for his leading role in 2006's The Last King of Scotland; Mads Mikkelsen, who starred in The Hunt and was the memorable villain from 2006's Casino Royale; Alan Tudyk, who plays a performance-capture character in Rogue One, stars in the soon-to-be-released Con Man series and Trumbo, which releases this November; and Riz Ahmed, who was recently featured in Nightcrawler and starred in the BAFTA-winning film Four Lions.
The film marks a change in Disney and Lucasfilm's classification of the standalone spin-off movies as Star Wars Anthology films, announced at Star Wars Celebration. The films will instead be released under the "A Star Wars Story" banner.
We were the first to tell you
 that 
Star Wars: Rogue One
 would be a heist movie about a group of bounty hunters hired by the rebel alliance to try to steal the plans to the Empire's greatest weapon: the Death Star.
"Rebel spaceships, striking from a hidden base, have won their first victory against the evil Galactic Empire. During the battle, Rebel spies managed to steal secret plans to the Empire's ultimate weapon, the DEATH STAR, an armored space station with enough power to destroy an entire planet." – from the opening crawl of Star Wars: Episode IV A New Hope
We've since heard rumblings that the second Star Wars Anthology film (the one Josh Trank was previously attached to) would've focused on bounty hunter Boba Fett, and it seems (for now) we may have been wrong about the bounty hunter part of our report (more on that later).
Jones stars as a Resistance soldier, and Ahmed and Luna will play Resistance characters as well. Mendelsohn is expected to play a villain. Tudyk will play a mo-cap character. In addition, Jonathan Aris (BBC's Sherlock, The World's End) might have a role in the film. Alexandre Desplat, and not John Williams, will write the score for Rogue One. We don't know the film's main antagonist yet, but it's been reported that Darth Vader will make some sort of appearance in the film.
There have been rumors that Felicity Jones' character is related to a Star Wars character we already know, and the rumor mill thinks she could be (possible spoilers coming up, invisotext) the daughter of bounty hunter Boba Fett or Sabine from Star Wars Rebels. We're not sure if this is true, but this would line up with our initial report that it would be a bunch of bounty hunters pulling off the heist for the death star plans. (invisotext ended)
Rogue One is set between the films Star Wars: Episode III: Revenge of the Sith and Star Wars: Episode IV: A New Hope, during the Age of the Empire. Gary Whitta and Chris Weitz wrote the screenplay based on an idea by John Knoll. Filming has begun in London at Pinewood Studios, and the first set photos have leaked online.
Unlike the previous live-action Star Wars films, Rogue One will not revolve around the Jedi or the Force. Edwards described the film at Celebration Anaheim as existing in a more "gray" area than the black and white of the original trilogy, touting that the film would feel "Real...This is a real place that we're really in."
Star Wars Anthology: Rogue One opens December 16, 2016.