Will Smith Is Working On A 'Fresh Prince Of Bel-Air' Reboot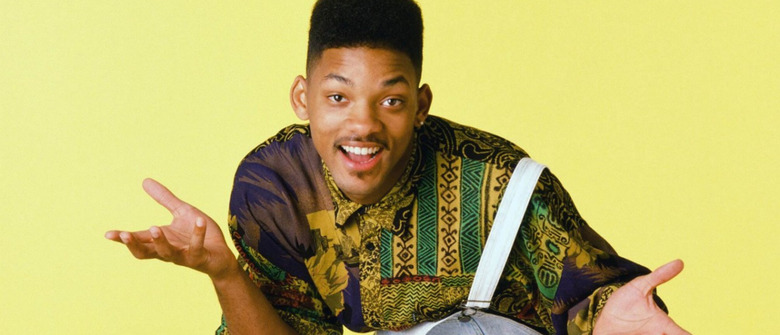 The Fresh Prince of Bel-Air is following fellow '90s family sitcoms Full House and Boy Meets World back to the small screen. Will Smith is reportedly working on a modern-day revival of his early hit show, albeit only as a producer and not as a star. Get all the details on the Fresh Prince reboot after the jump. TVLine broke the news about the Fresh Prince reboot. According to their sources, Smith "is in the very early stages of developing a present-day Fresh Prince reboot that puts a new spin on the fish-out-of-water tale while maintaining the spirit of the original series."
It's not clear wither the new Fresh Prince will be a full reboot (like CBS' newish Hawaii Five-0) or a sequel/spinoff set in the same continuity (like Fuller House and Girl Meets World). In any case, it joins a growing pile of 1990s shows getting reworked for the 2010s, along with The X-Files, Twin Peaks, Coach, Xena: Warrior Princess, and Married... With Children.
Smith is producing the Fresh Prince reboot through his production shingle Overbrook Entertaiment, along with partners Jada Pinkett-Smith, Caleeb Pinkett, and James Lassiter. No writers or stars have been announced.
The original Fresh Prince of Bel-Air ran for six seasons on NBC, from 1990 to 1996. Its popularity has far outlasted its actual run; nearly 20 years later, reruns still play regularly on cable television. Having caught some of those syndicated episodes recently, I'm happy to say it holds up surprisingly well compared to other shows of the era (looking at you, Full House).
In part, that's because Smith is endlessly charming. Fresh Prince was where he pivoted from a successful rap career into an even more successful acting career. But it's also because the show was uncommonly smart in its handling of thorny issues like race and class. All of which means the new Fresh Prince will have a lot to live up to, if and when it ever gets off the ground.