'Dad's Army' Teaser: The UK TV Film Adaptation Enlists Some Kooky Soldiers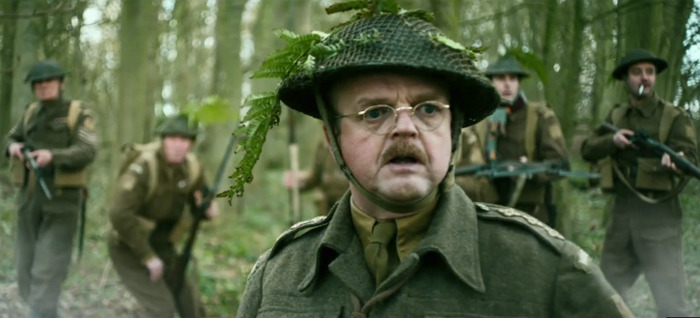 This week the 1960s television series The Man from U.N.C.L.E. gets a big screen update starring Armie Hammer (The Social Network) and Henry Cavill (Man of Steel), and yet another 1960s television adaptation is on the way in 2016 with the British comedy Dad's Army.
Based on the series of the same name from the 1960s and 1970s, the movie features quite the impressive cast, including Bill Nighy, Catherine Zeta Jones, Toby Jones, Daniel Mays, Michael Gambon, Bill Paterson and Tom Courtenay. And now the first Dad's Army teaser trailer has arrived, showing off humor that fits with the title in that it might be better suited for your parents.
Here's the first trailer for Dad's Army from Universal:
For those who don't know, the story follows the Home Guard (volunteers ineligible for military service) in Walmington-on-Sea with the mission of patrolling the Dover army base as a way to raise their spirits. Shaking things up is the arrive of a lovely journalist named Rose Winters who is doing a story on their work, which puts everyone on high alert, especially the local women. But things take an even more interesting turn when MI-5 learns that there's a spy on their base and could help win the war.
This looks like a pretty broad, British comedy which can be hit or miss for some people, but I supposed that's not surprising with Johnny English Reborn director Oliver Parker at the helm. This basically feels like a British version of Sgt. Bilko, the 1996 movie starring Steve Martin, Phil Hartman and Dan Aykroyd, which was also based on a classic TV series, so do with that perception what you will.
It is 1944 and World War II is reaching its climax. The Allies are poised to invade France and finally defeat the German army. But in Walmington-on-Sea morale amongst the Home Guard is low. Their new mission then – to patrol the Dover army base – is a great chance to revive spirits and reputation, that is until glamorous journalist Rose Winters arrives to write about their exploits, setting the pulses racing and putting the local women on red alert. MI5 then discover a radio signal sent direct to Berlin from Walmington-on-Sea. There's a spy on the loose! The outcome of the war is suddenly at stake, and it falls to our unlikely heroes to stand up and be counted.
Dad's Army hits theaters on February 6th, 2016.