'Ride Along 2' Trailer: Kevin Hart And Ice Cube Reunite In Miami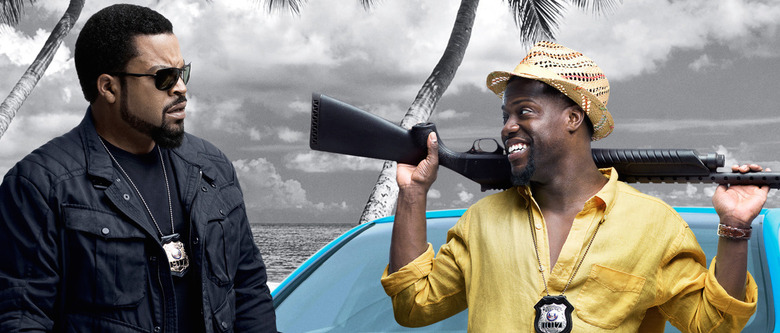 This weekend's Straight Outta Compton takes us back to Ice Cube's roots as a gangsta rap pioneer. This week's Ride Along 2 trailer brings us back to his present as an actor (among other things) who's really good at playing cranky cops.
The action-comedy sequel reunites Ice Cube's James with Kevin Hart's Ben, who is now a full-fledged cop. The two stumble onto a big case that takes them to Miami, where Ben proceeds to screw things up as usual. Director Tim Story and co-star Tika Sumpter return, Ken Jeong, Olivia Munn, Benjamin Bratt, and Sherri Shepherd tag along for the ride. Watch the Ride Along 2 trailer after the jump.
Universal Pictures dropped the Ride Along 2 trailer on YouTube.
The first Ride Along was riddled with cliches and lazy jokes, and might've been just another forgotten January castoff if it weren't for the leads. But Hart's manic energy, played off against Cube's constant glower, turned Ride Along into a mostly entertaining bit of fluff. In the end the $25 million picture made $153 million at the box office, making a sequel inevitable.
Ride Along 2 brings back the same odd-couple dynamic, but seems to throw more stuff into the mix. The trailer starts out looking like a Fast & Furious entry (right down to a Tyrese Gibson cameo) before introducing a Miami drug plot, a wedding planning subplot, and second pissed-off cop played by Munn.
The jokes aren't really any better — "good cop, sex cop!" is what passes for a witty one-liner around here — but Cube and Hart made it work the first time. Maybe they'll pull it off a second. Ride Along 2 drives into theaters January 15, 2016.
Kevin Hart and Ice Cube lead the returning lineup of Ride Along 2, the sequel to the blockbuster action-comedy that gave us the year's most popular comedy duo. Joining Hart and Cube for the next chapter of the series are director Tim Story, as well as Cube's fellow producers—Will Packer, Matt Alvarez and Larry Brezner—who will produce alongside Cube.