David Oyelowo Is The New James Bond (In An Audiobook)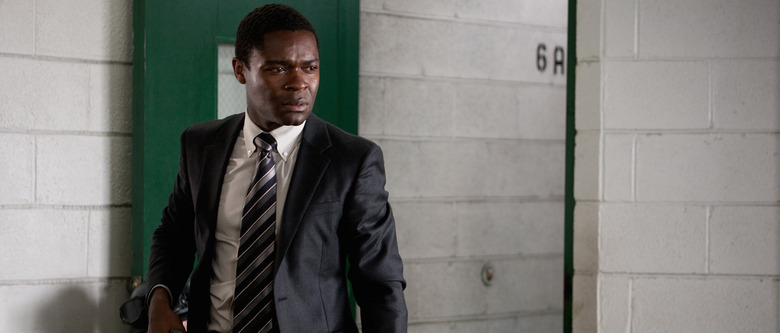 David Oyelowo is the new James Bond. As far as picks go, he's a pretty great one: handsome, dashing, talented, and blessed with the ability to rock the hell out of a midnight blue tuxedo (in glittery fabric, even). However, there's a catch. Oyelowo isn't playing 007 onscreen, but rather in an audiobook. More on the David Oyelowo James Bond news after the jump. 
As reported by The Guardian, Oyelowo will play the iconic spy in the audiobook version of the next official Bond book Trigger Mortis, written by Anthony Horowitz. The novel was commissioned by the estate of Bond creator Ian Fleming, which also hand-picked Oyelowo for the project.
The British actor gushed that he was "very honored" to be chosen. "I am officially the only person on planet Earth who can legitimately say: 'I am the new James Bond' – even saying that name is the cinematic equivalent of doing the 'to be or not to be' speech," said Oyelowo in a statement.
Incorporating never-before-published material by Fleming, Trigger Mortis sends Bond racing to foil a nefarious plot by SMERSH in the 1950s. Classic Bond characters like Pussy Galore, M, and Moneypenny return, and Bond also teams with a new American female agent. Oyelowo described his take on Bond as "a man who is very self-assured" yet flawed.
James Bond has never been played by a non-white actor on screen, persistent rumors about Idris Elba notwithstanding. (For his part, Elba has tried to downplay the Bond talk.) However, Oyelowo won't be the first black actor to portray Bond in an audiobook. That would be Hugh Quarshie, who had the role in a 2012 audiobook version of Dr. No.
Oyelowo was the first black actor to play an English king in a major Shakespeare production, starring as Henry VI in the Royal Shakespeare Company's 2000-2001 season. (Unsurprisingly, and depressingly, he says he got a lot of hate mail for it.) He was last seen on the big screen in Selma, in which he played civil rights icon Martin Luther King Jr., and he starred in the HBO film Nightingale earlier this year.
Trigger Mortis arrives September 8.