'Spectre' Featurette: Monica Bellucci, Léa Seydoux, And Sam Mendes Tease The New Bond Women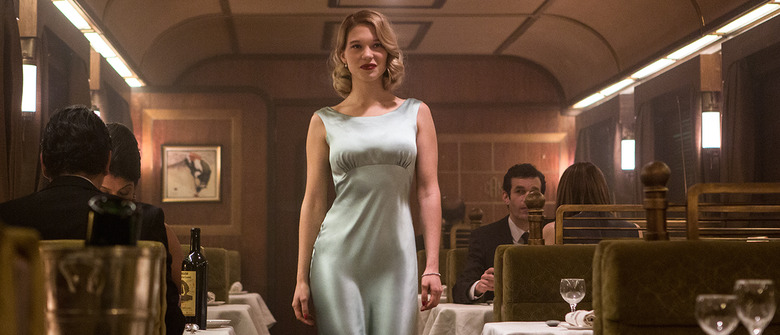 We got to know the women of Spectre a little bit last month, when the production dropped a bunch of new stills and details about the characters played by Monica Bellucci, Léa Seydoux, and more. Now a video featurette reveals even more about the ladies Bond will be tangling with in his next adventure. Watch the Spectre Bond women fetaurette after the jump. 
The Spectre Bond women featurette was unveiled on YouTube.
Just in case you didn't catch the earlier introduction to their characters, Bellucci and Seydoux offer a brief summary. Bellucci describes her character Lucia Sciarra as "an Italian widow with secrets. Her mafioso husband is killed and she risks the same thing happening to her," she said. Seydoux said of her character Madeleine Swann, "She's a doctor. She's intelligent and a very sensitive and human character."
Naturally, the Spectre Bond women featurette offers plenty of opportunities for director Sam Mendes to gush about his actresses. "In Spectre the two women who [Bond] hooks up with both have great mystery, they both have depths, and for that you need fantastic actresses," he said. "[Bellucci] is an incredibly seductive presence in life and in the movie, and I'm thrilled she's in it."
He continued: "Madeleine [...] needed to be soulful, feisty, and complicated. It probably couldn't have been a total newcomer. We needed someone with a certain amount of life experience and maturity, and she's the whole package, really."
Spectre arrives in theaters November 6, 2015. Daniel Craig, Ralph Fiennes, Naomie Harris, Stephanie Sigman, Ben Whishaw, Rory Kinnear, Andrew Scott, Dave Bautista, and Christoph Waltz.
A cryptic message from Bond's past sends him on a trail to uncover a sinister organization. While M battles political forces to keep the secret service alive, Bond peels back the layers of deceit to reveal the terrible truth behind SPECTRE.