VOTD: Supercut Of Every Single Explosion From All Of Arnold Schwarzenegger's Movies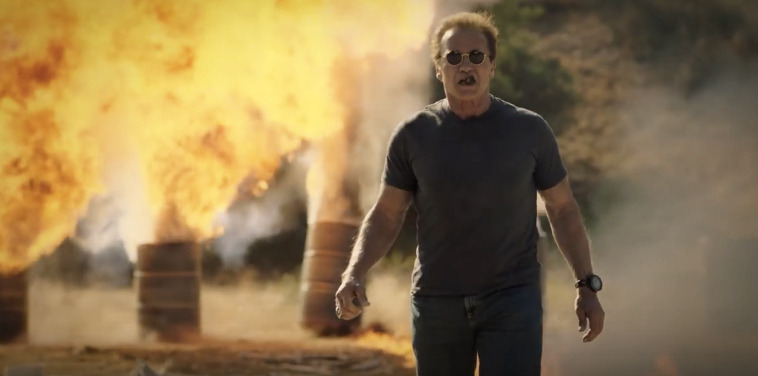 You might remember that last year, action icon Arnold Schwarznegger offered fans the chance to ride around crushing things with his own personal tank in an effort to raise money for charity. And now he's back being philanthropic all over again, this time offering fans a chance to come to Los Angeles and blow sh*t up with The Terminator himself.
And in honor of this fantastic chance for fans, Schwarzenegger has released a supercut featuring every single explosion from all of the films that he's starred in over the years. From Hercules in New York to Sabotage and everything in between, even Twins and Jingle All the Way. Watch the Arnold Schwarzenegger explosions supercut!
Here's the video straight from Arnold Schwarznenegger's YouTube page:
If you need a full list of the films used in this video, you can check it out at the video's YouTube page, which explains how they counted the explosions you see in the video:
Explosions were counted frame by frame based on every instance of an actual explosion. This includes repeated explosions, as well as explosions within explosions. Explosions that continued through an edit were only counted once. An honest attempt was made to count every explosion based on these rules. In some cases an educated guess was made.
In other words, if you have a problem with the explosions counted in this video, you'll just have to deal with it. And if you want to chance to make more explosions yourself with Arnold Schwarzenegger, you can enter at the official Omaze site right here. Here's Schwarzenegger explaining more about the situation here, along with a guide to blowing stuff up:
The money raised goes to help After-School All-Stars, a program who strives to "provide comprehensive after-school programs that keep children safe and help them succeed in school and in life." Sounds like a pretty great cause to me. So donate, and see if you win a chance to blow stuff up with The Terminator.