First Look: 'Alice Through The Looking Glass' Posters And Costumes At D23 Expo 2015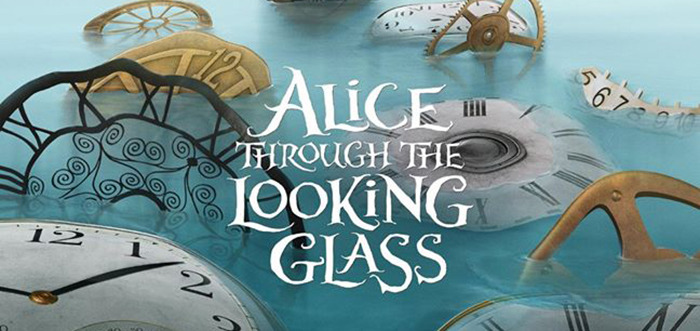 Disney has revealed our first look at some of the costumes for their Alice in Wonderland sequel Alice Through the Looking Glass on the show floor of D23 Expo 2015. Hit the jump to check out images of the first Alice Through the Looking Glass posters and costumes.
Here are some photos from the Alice Through the Looking Glass costume display. Photos by Kitra Remick:
We haven't really heard anything about the Alice in Wonderland sequel Alice Through the Looking Glass since it began filming in August 2014.
Finally, here are the posters:
Directed by James Bobin (The Muppets) with a screenplay by Linda Woolverton (Maleficent, Alice In Wonderland, Beauty and the Beast), the film "revisits Lewis Carroll's beloved stories with an all-new new tale that travels back to Underland—and back in Time." Sacha Baron Cohen (Borat) as Time and Rhys Ifans (The Amazing Spider-Man) as the Mad Hatter's father Zanik Hightopp, join the returning cast, which includes Johnny Depp as the Mad Hatter – Hatter Tarrant Hightopp, Anne Hathaway as the White Queen – Mirana, Helena Bonham Carter as the Red Queen – Iracebeth, Mia Wasikowska as the title character of Alice Kingsleigh, Matt Lucas as Tweedledee and Tweedledum, Ed Speleers (Downton Abbey) as James Harcourt and voice performances by Stephen Fry as the Cheshire Cat, Toby Jones as Wilkins, Alan Rickman as Blue Caterpillar, Michael Sheen as White Rabbit, Paul Whitehouse as the March Hare, Barbara Windsor as Dormouse and Timothy Spall as Bayard.
The creative team also reteams Alice in Wonderland composer Danny Elfman, costume designer Colleen Atwood and VFX supervisor Ken Ralston.
Alice Through the Looking Glass will hit theaters on May 27th, 2016.