'The Reflektor Tapes' Trailer: Arcade Fire Documentary Goes To TIFF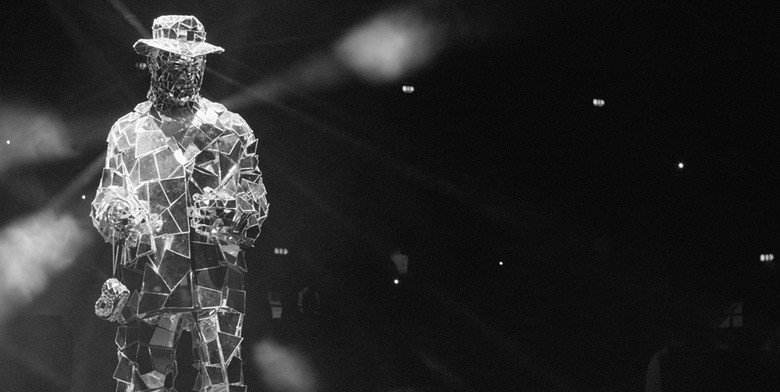 Arcade Fire is known for intense, theatrical shows, and also for an interest in the integration of film into its presentation. The Reflektor Tapes is a document of the bands 2013 tour, and the film will premiere at this year's Toronto International Film Festival.
Directed by Kahlil Joseph, whose arresting video/short film Until the Quiet Comes won a Special Jury Prize at Sundance 2013, the band has said the film captures the point where "we, Arcade Fire, came the closest in our careers to putting on stage what we imagined in our heads." Check out the trailer below, which shows some of what they're talking about, and which shows some of the locations in which the band wrote their most recent record, and conceptualized the tour before taking it on the road.
The Reflektor Tapes has its world premiere at TIFF, which also provided the trailer, and will hit theaters on September 23. This is what the film's official site has to say about the movie. Precisely what "recontextualizing the album experience" means is open to question, but that is a very Arcade Fire thing to say, so we'll roll with it.
Directed by 2013 Sundance Grand Jury Prize for Short Films winner Kahlil Joseph, The Reflektor Tapes is a fascinating insight into the making of Arcade Fire's international #1 album Reflektor.
The film recontextualizes the album experience, transporting the viewer into a kaleidoscopic sonic and visual landscape. It charts the band's creative journey as they lay foundations for the album in Jamaica, record in Montreal and play an impromptu gig at a Haitian hotel on the first night of Carnival, before bringing their breath-taking live show to packed arenas in Los Angeles and London.
The Reflektor Tapes blends never before seen personal interviews and moments captured by the band to dazzling effect, and features 15 minutes of exclusive unseen footage, filmed only for cinema audiences.