Star Wars Bits: Rise Of The Empire, Rogue One Shooting Location, Art Awakens, Mark Englert, Disney World, Celebration Europe Hotels And More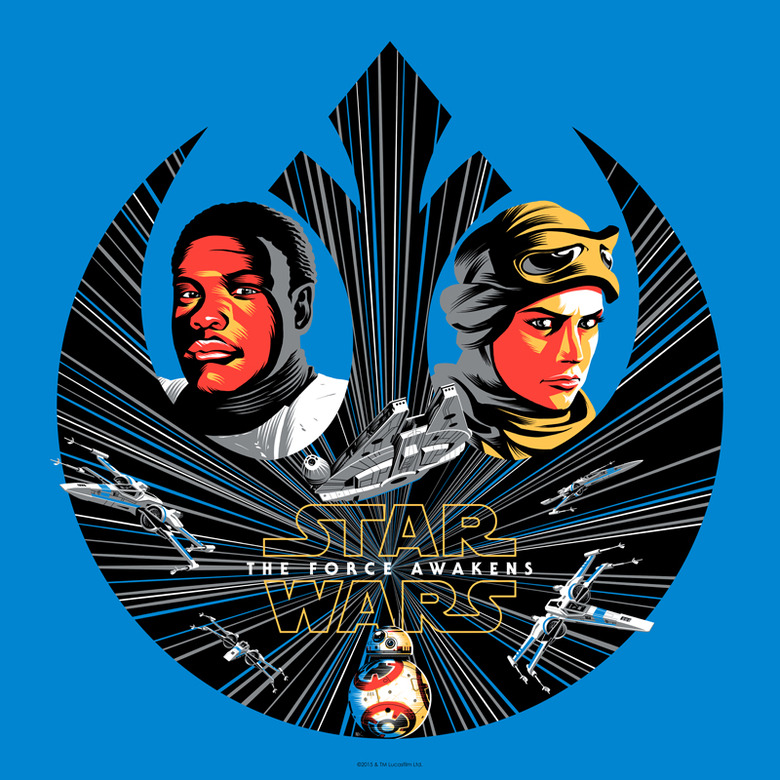 We may receive a commission on purchases made from links.
Okay, so I know we might be in Star Wars news overload right now with Entertainment Weekly yesterday releasing new Force Awakens photos, details on the film's villain Kylo Ren, details on why JJ Abrams wanted to direct Episode 7 and talk of mapping out the new Star Wars trilogy of films. But the Star Wars bits must march on. Here is what you can find it today's edition of Star Wars Bits:
Details about the upcoming Star Wars: Rise of the Empire anthology of novels, which includes three new short stories.
Star Wars: Rogue One is set to shoot on location at Pymmes Park, Edmonton, London
Star Wars: Art Awakens competition and art show announced for November at Gallery 1988 in Los Angeles.
Rumors that a new Star Wars ride could be coming to Tomorrowland in Disney World's Magic Kingdom.
ILM shows off their Star Wars virtual Reality experience at Siggraph.
How we will be handling coverage of Star Wars toys in the future.
Watch an official Disney unboxing of the Star Wars Disney Infinity starter box.
Hotel Reservations for Star Wars Celebration Europe.
And a first look at the first piece, a mini metal prints from Gallery1988's Star Wars: Art Awakens and artists Mark Englert and DKNG.
All that and more, in today's Star Wars Bits!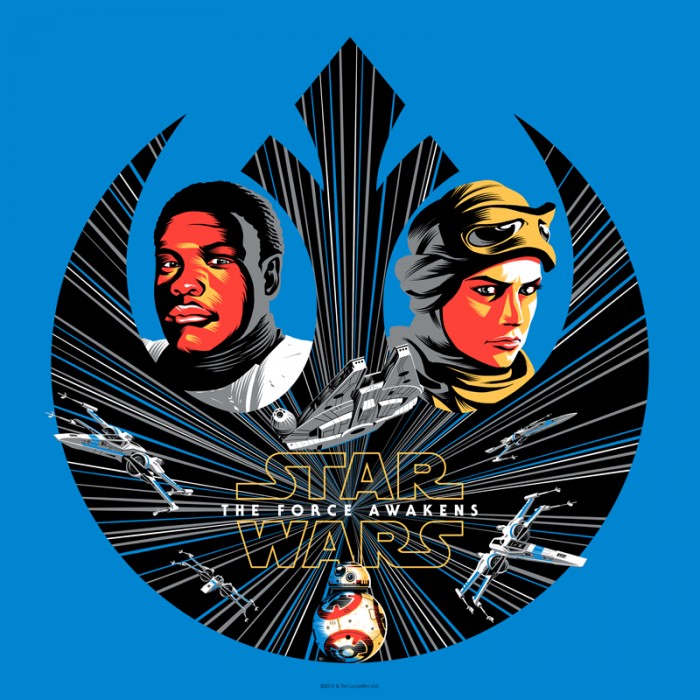 The above Force Awakens print by artist Mark Englert will be available to fans at D23 Expo 2015. The 20 inch by 20 inch metal limited edition print (with the gray colors showing through to the metal) will be available at the Art Awakens booth (#1415). Proceeds benefit UNICEF Kid Power initiative in the name of Star Wars: Force for Change. We've covered Mark Englert's art many times in the past, which includes work based on Jurassic World, Jaws, Simpsons, Star Wars and more.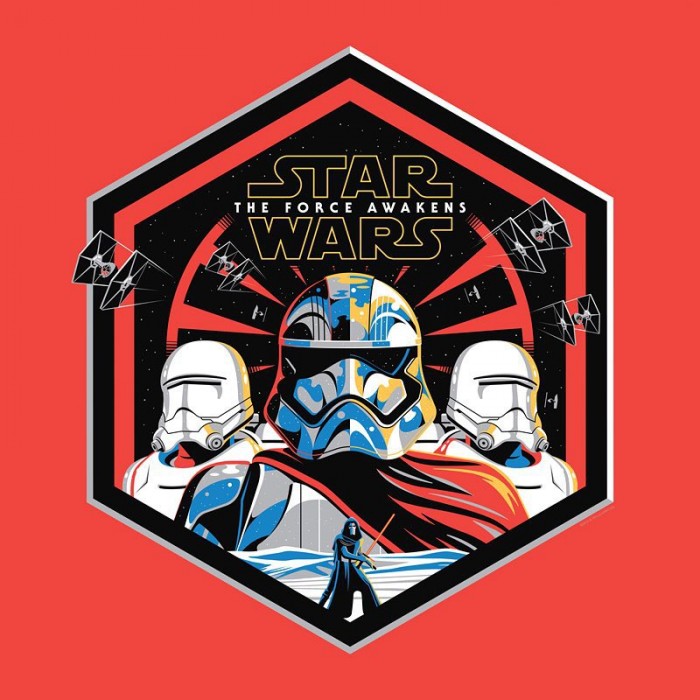 Another 20x20 metal print which will be available to a lucky few at D23 is the the First Order version by DKNG Studios, which will also be available at booth #1415. DKNG is yet another one of our favorite artists who we've written about many times over the past few years.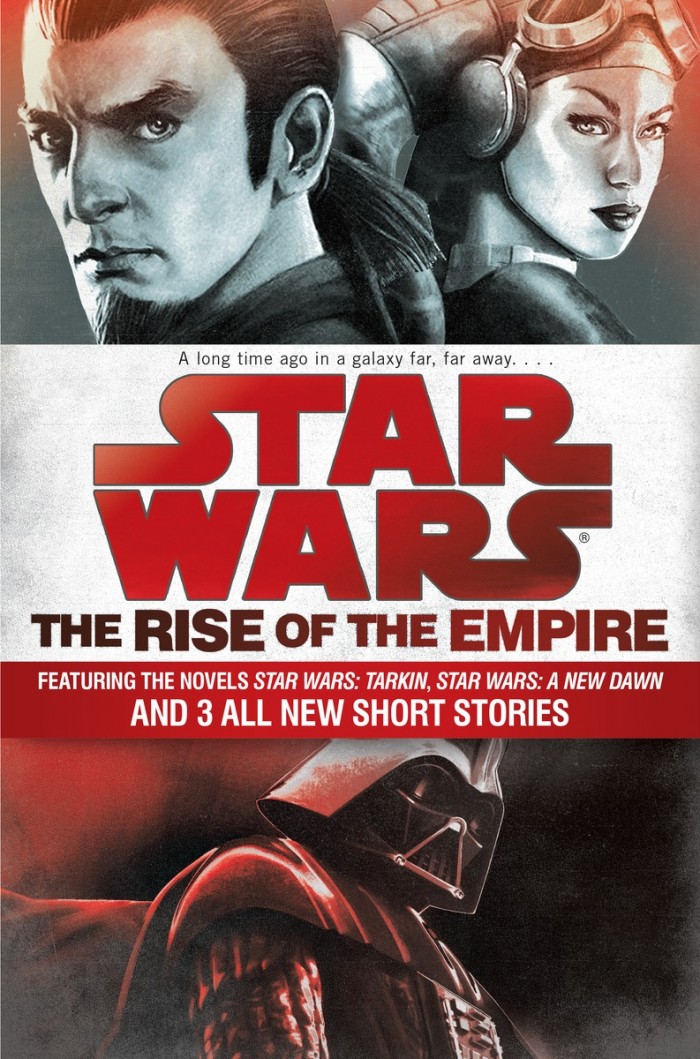 Del Rey has revealed details about the upcoming Star Wars: Rise of the Empire anthology of novels. The series, which will hit book stores on October 6th 2015, will feature two previously published novels, Star Wars: Tarkin by James Luceno, and Star Wars: A New Dawn by John Jackson Miller­, alongside three original short stories. Lucas film promises that "Together, these five works will chronicle events and provide readers with new insights into the scope and power of the formidable Galactic Empire." Here are the  titles and plot synopses for the three short stories that will be included in this anthology:
MERCY MISSION by Melissa Scott
Years before she led the crew of the Ghost, Hera Syndulla was a young pilot looking to make a difference in the galaxy. Hera sets out with Goll — a close ally of her father, Cham Syndulla — on a dangerous mission to help the citizens of her homeworld, Ryloth, now languishing under the might of the Empire.
BOTTLENECK by John Jackson Miller
When Grand Moff Tarkin is tasked by Emperor Palpatine to investigate a dispute slowing Imperial production on a backwater planet, he expects an easy mission. Instead, Tarkin must forge a tense alliance with Count Vidian, the Empire's newest rising star and a most capable rival. Matching wits and risking betrayal at every turn, the two powerful Imperials duel to gain the upper hand...and elude, at all costs, the price of failure.
THE LEVERS OF POWER by Jason Fry
As Imperial and Rebel forces clash on and above the Forest Moon of Endor, Admiral Rae Sloane commands from the bridge of the Star Destroyer Vigilance. At a time where the stakes could not be higher, Sloane works to protect the Death Star and ensure Imperial victory, all too aware of the uncertain future for the Empire that may lie in the aftermath of the battle.
Sounds like some fun stories, but I'm not sure this Anthology will be worth buying if you already own the hardcovers of the recently released Tarkin and A New Dawn novels. Either way, you can preorder now on Amazon.

Gareth Edwards' Star Wars anthology film Star Wars: Rogue One is currently shooting in the UK. Earlier this week we saw the first photos from set. JediNews has learned that some exterior filming for the movie will be taking place at Pymmes Park, in Edmonton, London. Word has gotten out because local residents have been contacted and "are being compensated for any disruption caused."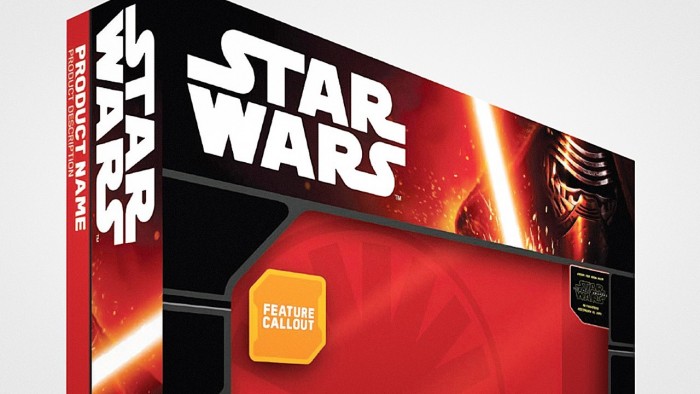 As Force Friday is quickly approaching us, we will be seeing more and more Star Wars toys and merchandise leak onto the interwebs.  We can't possibly cover all the new toys, nor would we want to — its just not that interesting. So in future editions of Star Wars Bits, we will only cover Star Wars toys if they offer some kind of news value (provide information on the film, locations, characters) or are interesting or cool in some way.
Watch an official Disney unboxing of the Star Wars Disney Infinity starter box.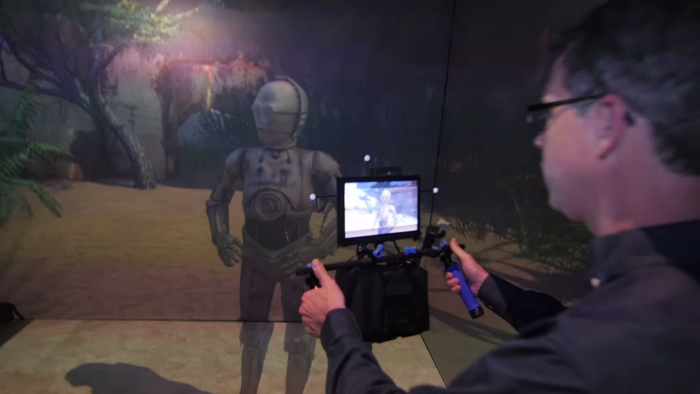 At the visual effects conference Siggraph this week, Industrial Light and Magic took a look back at their 40-year history which as you expect is filled with Star Wars goodness. You can read a report on The Hollywood Reporter, but I wanted to point out just a segment of the presentation where ILM showed a test for an upcoming Star Wars virtual reality experience.
ILM continues to innovate. ILM's vp new media Rob Bredow discussed the recently launched ILM Experience Lab, aimed at creating immersive entertainment such as virtual reality and augmented reality. He showed a short test for an upcoming Star Wars-based VR experience that sets up the story of Stormtroopers beginning a search for rebels on Tatooine. Bredow added that the company also is working on navigational tools including the ability to tap on a character and watch the story from his or her perspective. In the demo, that was a Stormtrooper. "It's neither a game or a movie, it's something else," said Breddow of VR. What's next? Muren summed up that "we need the risk-taker filmmakers. We all want to do something that's new."
Fans are already making their own Star Wars virtual reality experiences.
The Disney Blog
 has a rumor about the Disney board approving  $300-400 million for improvements to Disney World Resort's Magic Kingdom. One of the rumored improvements is a new Star Wars ride in Tomorrowland. Here is what they say:
There is also a rumor that the Magic Kingdom will be getting a Star Wars themed attraction in Tomorrowland. This is based on the theory that Bob Iger wants to spread the wealth of Star Wars around to each of the parks rather than ghetto it all at DHS. I personally like this theory, but doubt its veracity.
I also doubt the theory as we already have heard that the makeover of Disney's Hollywood Studios will likely see a huge expansion of Star Wars land, including new attractions.

Hotel Reservations for Star Wars Celebration Europe are now open. The 3-Day badge for the 2016 fan convention is already sold out, but individual days are still available.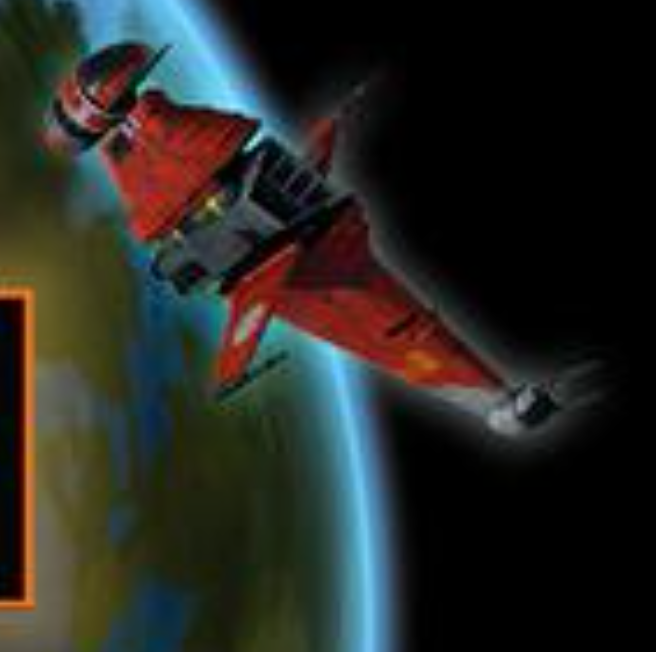 The German cover of Star Wars Rebels: Epic Battles – The Visual Guide shows us another look at the series' new red B-Wing Fighter. MSW provides the above image.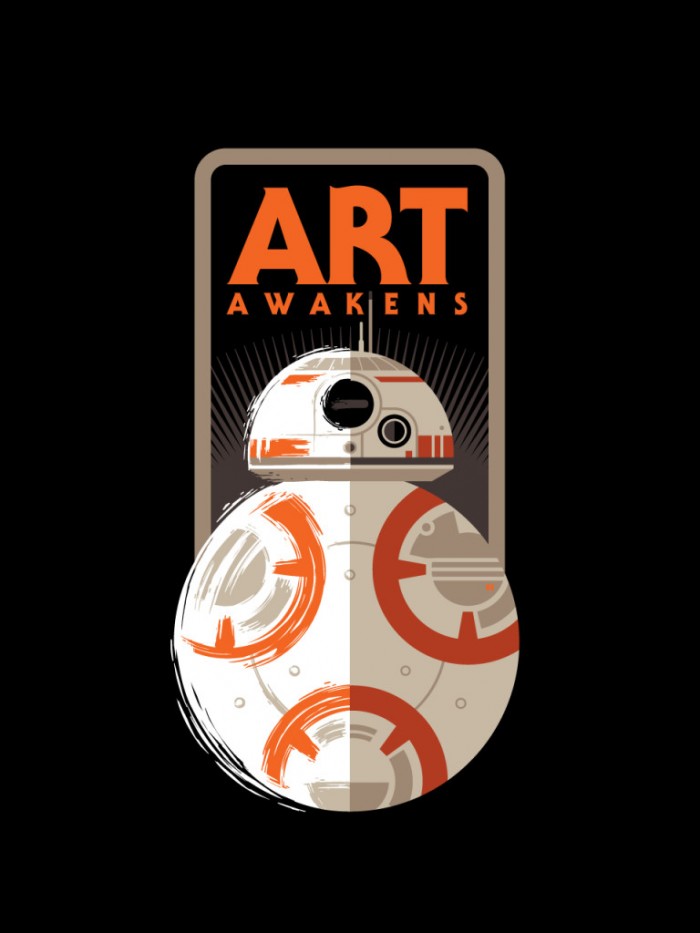 Disney has announced a new program called "Art Awakens", which will kick off with a two-month-long nationwide fan art competition. Winners will have their art exhibited alongside professional artists at a three-day-long Star Wars: The Force Awakens art show in November at Gallery 1988. Very exciting. I hope some of my favorite artists might be making some screen printed artwork for this show. Gallery1988 of course has a long history with JJ Abrams and Bad Robot, first with the Lost viral and art show (which is credited with helping to make the screen printed pop culture poster movement mainstream) and also the Bad Robot art show. Read the full press release below.
LUCASFILM AND HP CELEBRATE STAR WARS: THE FORCE AWAKENS WITH "ART AWAKENS" PROGRAM
AMATEUR ARTISTS CAN SUBMIT STAR WARS: THE FORCE AWAKENS-INSPIRED FAN ART FOR A CHANCE TO BE SHOWCASED IN A STAR WARS PROFESSIONAL GALLERY EXHIBIT, AMONG OTHER PRIZES.
In celebration of Star Wars: The Force Awakens, Lucasfilm and HP proudly present "Art Awakens."
"Art Awakens" is an exciting new program for Star Wars fans old and new, across the country to revitalize creativity by "Bending the Rules" of the Force, themed around a galaxy far, far away.
"Art Awakens" kicks off August 11th with the launch of a two-month-long nationwide fan art competition across the US. Amateur artists can submit their Star Wars: The Force Awakens inspired art on ArtAwakens.com for a chance to be featured in an upcoming professional art exhibit later in the year.
Additionally, coming this November to Gallery 1988 in Los Angeles is a three-day Star Wars: The Force Awakens art exhibit featuring top professional and emerging contemporary artists. All new original pieces will be auctioned off in the name of Star Wars: Force for Change to benefit UNICEF Kid Power, which gives kids the power to save lives. By getting active with the UNICEF Kid Power band, kids earn points which unlock food packets for malnourished children around the world.
Five lucky winners of the Star Wars: The Force Awakens Fan Art Contest, chosen by a judging committee that includes members from Disney, Lucasfilm and the legendary visual effects house Industrial Light & Magic, will have their art featured in the professional gallery exhibit. The winners will also have the opportunity to be flown out to Los Angeles to attend the VIP opening night, among other prizes from HP.
Additionally, an HP "Bend the Rules" Award will be granted to one of the five grand prize winners upon completion of a questionnaire with the highest score in the Innovative Use of Technology category. The HP "Bend the Rules" Award winner will receive an HP Notebook Computer to help them push the boundaries of art and creativity.