'Rick And Morty' Renewed For Season Three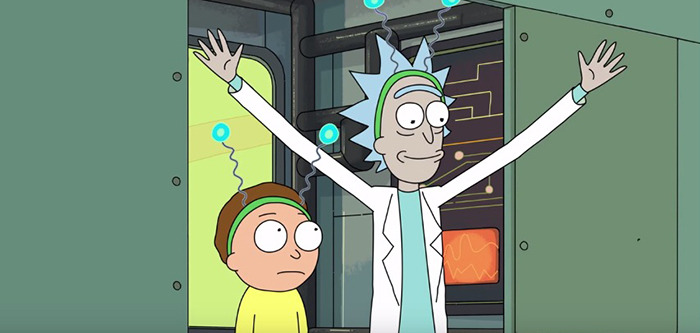 We're only three episodes into the second season of Rick and Morty, but Adult Swim has smartly moved to renew one of the best shows on TV. Rick and Morty is created by Justin Roiland and Dan Harmon, with Roiland also voicing both the young Morty and his genius, possibly insane, definitely alcoholic grandfather Rick.
Together they journey to alien planets, into dreams, through alternate dimensions, and into their own fears and insecurities. OK, that last part is meant to be kind of sarcastic, but it is actually true, and part of the reason this show is so good.
Deadline reports on the renewal, and the great ratings for the show. The second season premiere was ranked top in its time slot "among all key adults and men," and there were big audience gains from the first to second episode of this season.
In other words: people are watching, and they should be. No other show on TV has Rick and Morty's combination of amazingly out-there science fiction, uncomfortable comedy, and genuinely effective character arcs. For a show that started as an outgrowth of an obscene parody of Back to the Future, and has zero reluctance to indulge the weirdest aliens and story concepts, it has gone far.
Here's the second season trailer, to give you just a taste of the show.
New episodes of Rick and Morty air Sundays at 11:30 PM on Adult Swim, and the current episodes are available to stream (provided your cable company has a deal with Adult Swim) on AdultSwim.com.
Rick and Morty is Adult Swim's most scientifically accurate animated comedy. Created by Justin Roiland and Dan Harmon, it catalogues the bizarre misadventures of a bored scientific genius/drunkard and his socially awkward grandson, Morty. Their exploits tend to have unintended consequences for Morty's dysfunctional family, especially his unfailingly mediocre father, Jerry. Watch Rick and Morty battle everything from interdimensional customs agents to Cronenberg monsters now, only at http://AdultSwim.com.