'Lion King' Sequel Series Adds Rob Lowe As Simba; James Earl Jones To Return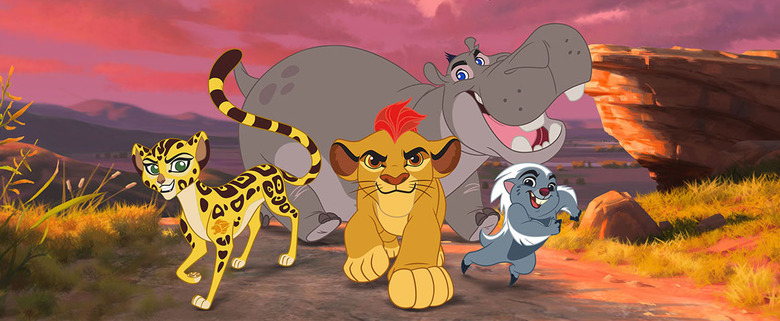 The Pride Lands are ready to welcome a new generation of heroes. Disney Channel is making plans for The Lion Guard: Return of the Roar, a Lion King spinoff TV movie intended to launch a new TV series.
The Lion Guard will bring back some familiar faces, and even some familiar voices to go along with them. Rob Lowe and Gabrielle Union will play Simba and Nala, and James Earl Jones and Ernie Sabella return from the original film as Mufasa and Pumbaa. Max Charles (young Peter Parker from The Amazing Spider-Man) plays the new lead, Simba and Nala's second-born cub Kion.
Get all the latest details about The Lion Guard after the jump.
As we reported last year, The Lion Guard follows Kion as he takes leadership of the titular team, charged with protecting the Pride Lands. Rather than recruiting the strongest, fiercest, and fastest lions, as is tradition, he brings on a varied group of animal friends he believes are worthy.
Kion's eclectic new crew includes fearless honey badger (and Kion's best friend) Bunga (Joshua Rush), intellectual egret Ono (Atticus Shaffer), confident cheetah Fuli (Diamond White), and friendly hippo Beshte (Dusan Brown). Think of it as basically "The Lion King meets The Avengers," as Disney Junior general manager Nancy Kanter put it.
Other characters returning from The Lion King are Rafiki, now played by Khary Payton, and Timon, voiced by Kevin Schon of Timon and Pumbaa. Howy Parkins directs the TV movie, and Ford Riley serves as executive producer. Christopher Willis and Beau Black provide new music.
The new series is clearly aimed at kids — earlier reports pegged the target audience in the 2-7 range — but the hope is that parents nostalgic for the original Lion King will be drawn in as well. The 1994 animated feature remains one of Disney's most beloved properties, and has spawned two direct-to-video sequels, a '90s cartoon series, and a long-running Broadway musical.
The Lion Guard: Return of the Roar premieres on the Disney Channel in November. The Lion Guard TV series will follow in early 2016. Get a first look at the The Lion Guard movie below, which reveals how Kion got his signature pawprint tattoo.