'Life' Trailer: Dane DeHaan And Robert Pattinson Hit The Road In James Dean Biopic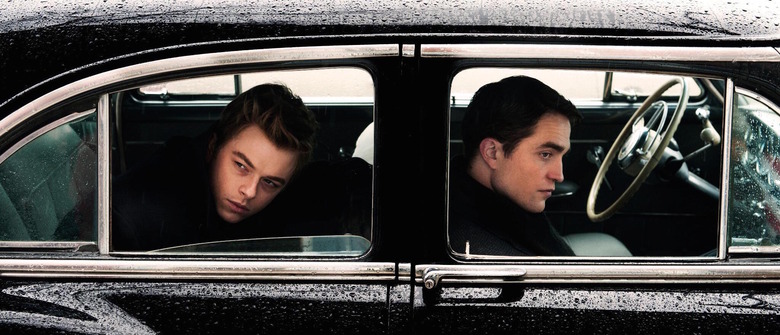 Dane DeHaan plays James Dean in the first trailer for Anton Corbijn's Life, alongside Robert Pattinson as the Life magazine photographer sent to profile him.
The premise is not unlike that of the recent David Foster Wallace biopic The End of the Tour: the two embark on a road trip just as the tragically short-lived superstar is beginning his ascent, revealing and rediscovering themselves along the way. Watch the Life trailer after the jump.
Dazed debuted the Life trailer on YouTube.
The real-life Dennis Stock (the character played by Pattinson) was responsible for some of the most iconic images we have of Dean, including that rainy Times Square photo. The pair met at a party in 1955, shortly before East of Eden launched Dean's high-flying career. As the pair traveled together to Los Angeles, New York, and Dean's home state of Indiana, they developed a friendship.
The Life trailer certainly looks good, and DeHaan and Pattinson look like an intriguing combination. Unfortunately, Life has gotten so-so reviews on the festival circuit so far. Some have described it as "engaging [and] elegiac," while others found it "worryingly and ironically lifeless."
Cinedigm is releasing Life in the U.S., but hasn't yet set a date. The film opens September 9 in France and September 25 in the U.K. Ben Kingsley and Joel Edgerton also star. Luke Davies (Candy) wrote the script.
Corbijn's follow-up to A Most Wanted Man, LIFE captures the nuances and complexities of the relationship between photographer and subject in a way rarely seen or understood by someone outside the business. In a nod to Corbijn's own past experience, the film is told from the perspective of the Life photographer Dennis Stock (played by Pattinson) who meets and profiles Dean (DeHaan) for the magazine, turning out some of Dean's most iconic photographs.