Sequel Bits: The X-Files, Beetlejuice 2, Ice Age, Mortal Kombat, Pirates Of The Caribbean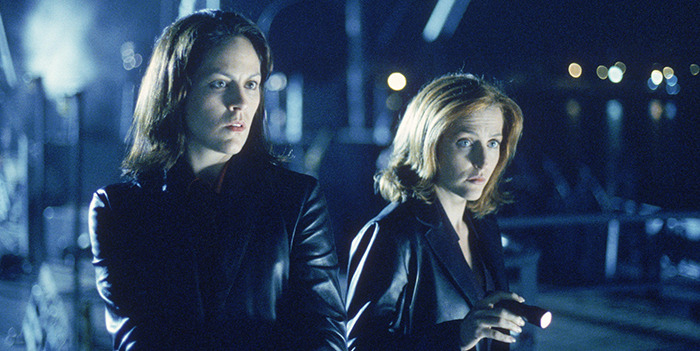 Annabeth Gish has joined the cast of the X-Files event series to reprise her role from the original series run. Fox announced that Gish will return as FBI Agent Monica Reyes, appearing alongside Gillian Anderson as Dana Scully and David Duchovny as Fox Mulder. The new six-episode series premieres on Sunday, January 24, and we may have to wait that long to see how Gish factors in.
Along with that news, this edition of Sequel Bits contains the following stories:
Winona Ryder talks Beetlejuice 2,
A trailer announces the home video release of The Toy Story That Time Forgot,
The new Ice Age movie gets a new date and title,
James Wan will produce the new Mortal Kombat film,
Maybe you've heard about a Harry Potter TV series? It's not a thing.
William Sadler would like a Bill and Ted 3 part, please.
There's a poster for Ride Along 2...
...and one for Kung Fu Panda 3,
And Pirates of the Caribbean 5 wraps principal photography.
Winona Ryder has spoken up on the possible Beetlejuice sequel, confirming what we already mostly knew — that Tim Burton and Michael Keaton are game to do it – and in so doing has raised a bit of new interest in the film. During Late Night with Seth Meyers appearance, Ryder seemed free to confirm that there have been talks about the film, since Burton has talked about it publicly, but she admitted that she probably doesn't know much more about it than anyone else. 
***
Toy Story That Time Forgot, the 22-minute TV special that aired around Christmas in 2014, will be on home video in November of this year. Here's a trailer for the release.
***
The next Ice Age movie has a new title. It's called Ice Age: Collision Course, and the series' fifth movie has just moved its release date slightly, to July 22, 2016. (That's a push of one week.) Denis Leary, Ray Romano, Queen Latifah, and John Leguizamo will be on hand for voice work. Collision Course will be directed by Mike Thurmeier and Galen T. Chu.
***
James Wan most recently the director of Furious 7, is now reportedly set to produce the new Mortal Kombat movie. So says The Tracking Board. It's taken a while to build any momentum on a new movie, despite some persistent fan interest, and perhaps if the very in-demand Wan is on board it will move forward a little faster.
Wan is directing The Conjuring: The Endfield Poltergeist, which is set for release on June 10, 2016, and he will then make the Warner Bros. Aquaman film, starring Jason Momoa, for release on July 27, 2018.
***
It seems like everything gets a TV show these days, but Harry Potter is not everything, and there's no Harry Potter TV show in the offing. Maybe there has been speculation, even rumor, about such a thing, but JK Rowling is here to set the record straight:
Right after the opera, Potter-on-ice and the interpretative dance version of Beedle the Bard #NotActuallyHappening https://t.co/fJgy5rlwBc

— J.K. Rowling (@jk_rowling) August 8, 2015
***
William Sadler played the Grim Reaper in Bill and Ted's Bogus Journey, and he'd like to come back for Bill and Ted 3, and having seen Die Hard 2 a few times I'm inclined to think Mr. Sadler should just get what he wants. So, Alex Winter and Keanu Reeves and whoever else, if you're listening, maybe just give him the role? (OK, Sadler isn't exactly demanding, but don't let it get to that point, please.)
Sadler told TheHollywoodNews,
I would do it in a heartbeat. I would love to, and I've told them. I think Alex [Winter] said that the Grim Reaper is in the script that they're working on. But as I understand it, the biggest problem to overcome is that now that George Carlin has passed, because he was the catalyst, he was their host or their guide on these journeys that they took... He always turned out to be the one who was helping them along, and now that he's gone, you have to write around him, or something. I haven't seen a script, I hear there is one, but I loved the project. If they get it together to do it, I'd be happy to come on board.
***
A trailer will arrive on Thursday, but for now here's the poster for Ride Along 2, which stars Ice Cube, Kevin Hart, Ken Jeong, Benjamin Bratt, Olivia Munn, Bruce McGill, Tika Sumpter, and Sherri Shepherd. The film opens on January 15, 2016.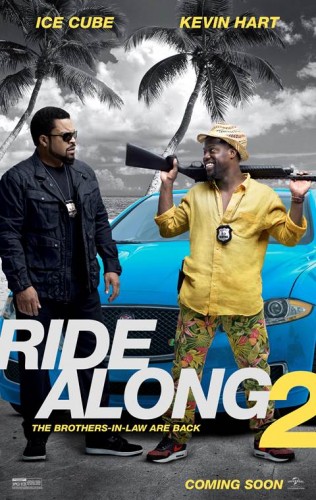 Kevin Hart and Ice Cube lead the returning lineup of Ride Along 2, the sequel to the blockbuster action-comedy that gave us the year's most popular comedy duo. Joining Hart and Cube for the next chapter of the series are director Tim Story, as well as Cube's fellow producers—Will Packer, Matt Alvarez and Larry Brezner—who will produce alongside Cube.
***
Here's the poster for Kung-Fu Panda 3, which opens on January 29, 2016. Image via Moviefone.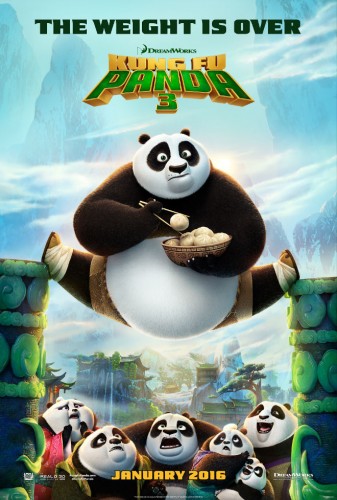 The film features the voices of Jack Black, Bryan Cranston, JK Simmons, Dustin Huffman, Angelina Jolie, Jackie Chan, Seth Rogen, Lucy Liu, David Cross, and mor
In 2016, one of the most successful animated franchises in the world returns with its biggest comedy adventure yet, KUNG FU PANDA 3. When Po's long-lost panda father suddenly reappears, the reunited duo travels to a secret panda paradise to meet scores of hilarious new panda characters.  But when the supernatural villain Kai begins to sweep across China defeating all the kung fu masters, Po must do the impossible—learn to train a village full of his fun-loving, clumsy brethren to become the ultimate band of Kung Fu Pandas!
***
Finally, the newest Pirates of the Caribbean film has wrapped principal photography. But there's a lot of post-production work left to do, and the film won't be in theaters until July 7, 2017.