The CW President Explains Passing On 'Supergirl' And Developing DC Hero Slate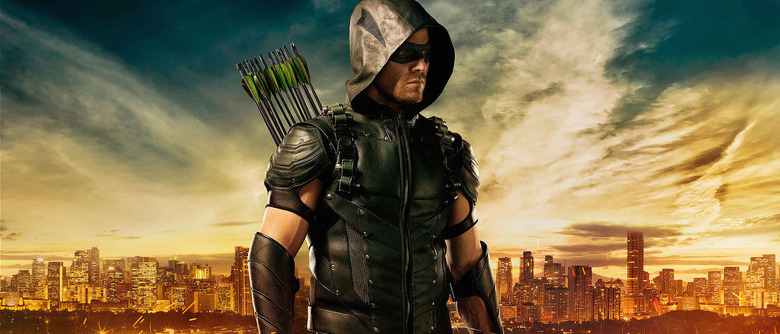 In addition to confirming that Matt Ryan will appear on an Arrow episode as John Constantine, Mark Pedowitz, President of The CW, spoke to the Television Critics Association today about the reasons the company passed on Supergirl, and how The CW's superhero lineup has evolved to include three shows.
All told, his comments give some insight into the evolution of The CW slate, and also caution us not to take the Constantine/Arrow crossover news as indication of a back door pilot plan. 
First, just to catch up on the Constantine news, Pedowitz said "The [Constantine] series is no longer on the air. Luckily one of our parent companies, Warner Brothers was the production company for Constantine. We worked with them and it's a great one shot episode."
But what about Supergirl, which ended up on CBS? Yesterday, CBS president Nina Tassler said she was not interested in crossovers between her network's new Supergirl series and The Flash and Arrow on The CW. Even though the shows share producers in Greg Berlanti and Andrew Kreisberg, Tassler saw Supergirl as a standalone show and Pedowitz was not getting involved.
"I leave that to Greg Berlanti and his team," Pedowitz said. "If they can make it work, great. If they cannot, that's fine. As you know we are going to do some cross promotion together, but that's Greg's call because he understands his shows better than I do in some ways because he's there."
Some were surprised Supergirl did not simply join the network that already had all the DC shows. Now The CW has a third on the way, Legends of Tomorrow, but Pedowitz said at the time Supergirl was developed, he didn't imagine doing a third comic book show.
"Last summer Flash had not been on the air yet," Pedowitz said. "We had Arrow and Flash and we were not planning to do another DC character. Supergirl was talked about by Warner Brothers to us. Because we weren't planning to do another DC character at that time, they took it out and did the right thing. I hope they're a great success."
Now that Legends is joining The CW schedule, Pedowitz shared why he decided to go for it. "Last year at this time we had no intention of doing another DC project," he said. "What happened was as characters were introduced [on The Flash and Arrow], Peter Roth, myself and Greg Berlanti started having conversation [about how] this is a great opportunity and DC agreed to create the third leg of the stool."
That all makes it sound like The CW is being very cautious when it comes to creating new superhero shows, which suggests caution in assuming that Constantine's appearance on an Arrow episode might be taken as an indication that the character will have a permanent home on the network.
***
The Flash returns Tuesday, October 6 and Arrow Wednesday, October 7. Legends of Tomorrow is coming soon on The CW.