Matt Ryan Will Bring Constantine To 'Arrow' For "One-Shot Episode"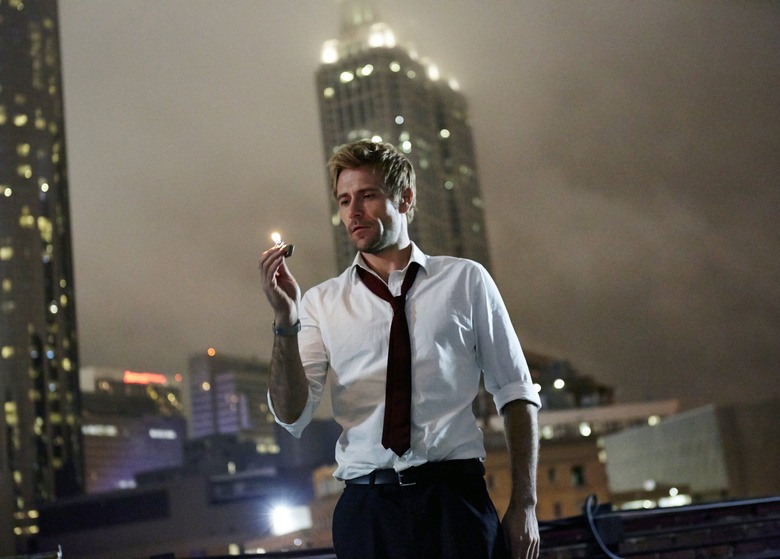 Constantine, the show, may be cancelled, but John Constantine, the character, isn't dead. And thanks to a new deal that confirms a rumor that began in the past few weeks, we'll see John Constantine on Arrow, at least briefly. Once again, he'll be played by actor Matt Ryan, who starred in the short-lived NBC series. The CW announced the Constantine/Arrow crossover as set for an episode of Arrow's fourth season.Variety has info out of The CW TCA panel, noting that Arrow showrunner Marc Guggenheim previously said that "everyone" wanted to bring Constantine into Arrow, and that the idea "comes up in the writers' room constantly."
At the time of Constantine's cancelation, after its 13-episode first season, he said,
It would be wonderful and we certainly have a million ideas — it's hard for me to say mainly because A: it's not my decision to make and B: with 'Constantine' being shopped around to other networks... it's really hard to make plans when a show's kind of in limbo.
The show isn't exactly in limbo any longer — it was canceled outright by NBC, and didn't find a new home. But that left room for The CW to step in and bring the guy into Arrow. Granted, the tone of the original show and the tone of Arrow aren't quite the same, so we'll see what slight changes are made to the character.
The CW head Mark Pedowitz says "It will be a great one-shot episode" that features Constantine.
That comment seems intended to head off any potential speculation about a continuing role for the character. But TV is dynamic, and can shift to follow audience tastes. And even the single episode, "one-off" or not, will inevitably lead to supposition about a spin-off Constantine show on the new network. We've already seen one Arrow spin-off become successful (The Flash) with another (Legends of Tomorrow) planned for a debut within the next year.