'Men & Chicken' Trailer: Mads Mikkelsen Gets Really Weird In TIFF Comedy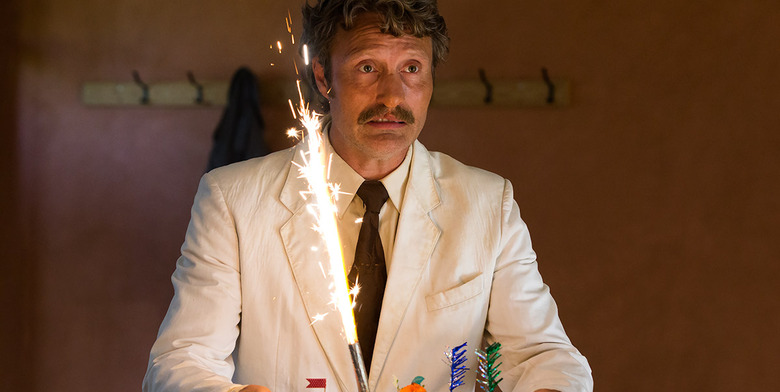 I'm so thankful for Mads Mikkelsen. He can make serious films, and take big genre stuff like Hannibal as seriously as anything else, and then he can make a really weird-looking movie like Men & Chicken, a Danish comedy that will have its North American premiere at the Toronto International Film Festival.
The first English-subbed Men & Chicken trailer is here via TIFF, and it shows Mikkelsen as a troubled and guy who, with his half-brother, journeys to an island sanitarium to meet their real father. There, they encounter three other guys who may be additional half-brothers. All bear the same distinctive harelip, and all are a bit, uh, quirky. Have a look at the trailer below.
Is this satire, or grotesque comedy, or a philosophical musing? At the very least, the film directed by Anders Thomas Jensen like it could either be a comedy for those looking for something eccentric and gonzo, or a bit of a mean-spirited misfire. (But at least one where Mads has to deal with intimations of unusual sexual practices, which should count for something.)
Judging by reviews of the original Danish release, this may have a lot to offer, at least when it comes to ambition. For example, Variety's half-baffled review concludes, "this tonally astounding, genre-confounding movie offers a variation on the famous chicken-and-egg debate, being a twisted inquiry into the characters' origins and mankind's own search for meaning."
Men & Chicken will premiere in September at TIFF. Trailer via TIFF.
Men & Chicken revolves around two special-natured brothers, Elias and Gabriel (Mads Mikkelsen and David Dencik). Upon their father's passing, they find out through their father's will that they are adopted. Elias and Gabriel decide to seek out their natural father and set out for the island Ork, where their biological father lives. Here they discover a most paralyzing, yet liberating truth about themselves and their family.