Watch: Heath Ledger's Joker Diary Revealed In Documentary Clip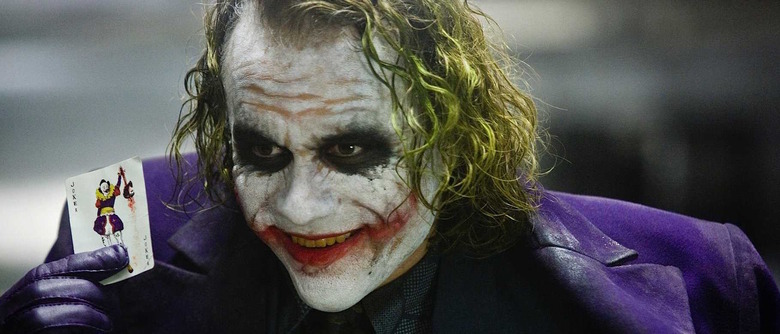 Heath Ledger's final performance as the Joker in The Dark Knight may be the most beloved of his too-short career. A recently resurfaced clip from a documentary titled Heath Ledger: Too Young to Die offers a little peek into his chilling mindset as he prepared for that iconic role. See the Heath Ledger Joker diary clip after the jump.
Broadview Pictures posted the Heath Ledger Joker diary scene, which shows the late actor's father Kim Ledger flipping through the pages.
Although it's a short clip, there's a lot of detail to take in. The diary includes photos of wild animals, bugs, and clowns; stills from A Clockwork Orange; comic book panels of the Joker; a list of "Things that make me laugh" (including "land mines," "AIDS," and "brunch"); and various scribbled notes like "It's simple. Kill the Batman." Meanwhile, you can see the Oscar Ledger posthumously won for his performance in the film.
While The Dark Knight was Ledger's last completed performance, he'd already begun shooting his next project when he passed away — Terry Gilliam's The Brothers Grimm. Below is a clip of Gilliam from the same documentary, talking about Ledger.
You can watch the full 50-minute documentary right now on Vimeo. Here's the synopsis:
He only lived to be 28 years old. The news of Heath Ledger's death spread like wildfire. The first major Hollywood star to have died so young in the age of the Internet, his death deeply touched all of Hollywood as well as fans around the world. But Heath Ledger was a reluctant celebrity, a star that didn't really want to be one. By opting to play character roles in small films and declining major offers such as the leading role in "Spiderman", he deliberately made "unwise" choices and risked his career on several occasions. He was far more interested in the serious art of acting than in becoming famous as a Hollywood superstar.
The film traces Heath Ledger's evolution from the young Australian actor, who very early on displayed an enormous gift for acting, to the complex character actor he became, revealing above all an as yet unknown side to this multitalented actor: Beside his work as an actor, Heath Ledger was also a very talented photographer, created collages and produced innovative music videos. Film clips from Heath Ledger's films as well as interviews with his early school day friends, fellow artists from the film industry such as Terry Gilliam, and especially Heath Ledger's father paint a very personal picture of the century talent Heath Ledger.