Rumor: Steven Spielberg Trying To Convince Gene Wilder To Un-Retire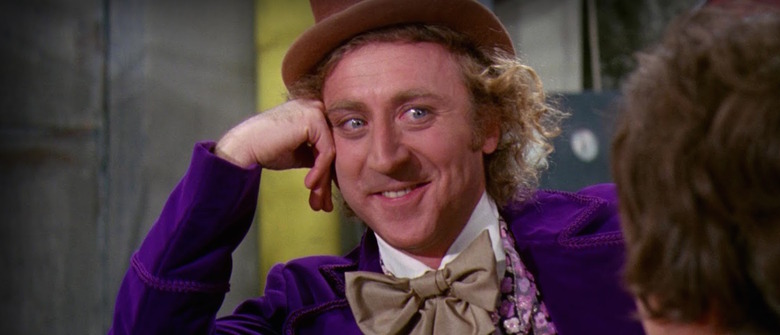 Gene Wilder hasn't been seen onscreen since an Emmy-winning guest spot on Will & Grace in 2003, and in 2008 he publicly announced his retirement. He's said he'd be willing to return for Mel Brooks, but otherwise it'd probably take something huge to get him to un-retire. Like, perhaps... a Steven Spielberg movie?
Rumor has it Spielberg is trying to coax Wilder back in front of cameras for one of his upcoming projects — perhaps The BFG, or even Ready Player One. More on the Steven Spielberg Gene Wilder rumor after the jump. 
AICN originally reported the Steven Spielberg Gene Wilder rumor. According to their sources, "meetings will be or already have taken place," so we may not be just talking about idle fantasy-casting here. Still unclear is which project Spielberg wants Wilder for, as there are two on his plate that seem pretty perfect for Wilder in different ways.
Their source suggests The BFG, based on the book by Roald Dahl. The film has already wrapped production and is set for a summer 2016 release, but it's not too late for Wilder to contribute a voice role. One of Wilder's iconic performances was as Willy Wonka in Willy Wonka and the Chocolate Factory, another Dahl adaptation. Should Wilde return for The BFG, it'd make for a pretty sweet callback.
However, AICN also floats the Ernest Cline adaptation Ready Player One, due out in late 2017. Specifically, they point out he'd be perfect for the role of James Halliday, a virtual reality universe creator whose will promises his massive empire to the gamer who discovers a certain Easter egg. Sound a bit like a certain candy magnate we know?
Of course, those are just theories. Nothing's been confirmed by Spielberg or Wilder at this point, and for all we know they're discussing a completely different part. And whatever the role, there's no telling whether Wilder will actually say yes. But for now, count us among the great many fans hoping Spielberg is part of the very short list of people who could convince Wilder to come out of retirement.