'Amy Schumer: Live At The Apollo' Teaser: Amy Schumer Loves Her Fans (And Money)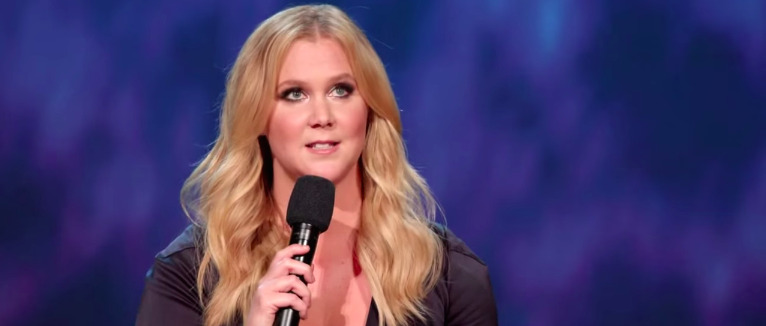 Between her first feature lead role in Judd Apatow's Trainwreck and the critically adored third season of her Comedy Central series, Amy Schumer is having one hell of a 2015. And her winning streak will continue into the fall with Amy Schumer: Live at the Apollo, a standup comedy special coming to HBO. Chris Rock directed. Watch the Amy Schumer HBO special teaser after the jump. 
Here's the Amy Schumer HBO special teaser via YouTube:
It's a short teaser, but why ruin all the jokes now, right? Schumer's big enough at this point that most people probably already know whether or not they plan on watching this particular standup special. And for the few that have been living under a rock and aren't at all familiar with her, the teaser does a solid job of demonstrating her irreverent, TMI sense of humor.
Speaking to GQ earlier this summer (for that infamous Star Wars-themed cover), she gushed about how excited she was to land Rock as her director. "I just texted him: 'Will you direct it?' He was, 'It's possible,'" she recalled. "And then he called me and said, 'Let's do it.' I started jumping up and down in my hotel, screaming."
Schumer also told the magazine how the new special compares to her earlier material. In typical Schumer fashion, her explanation is kinda raunchy. "I think I have more of a pointed message," she said. "My special, Mostly Sex Stuff, and the stand-up I've done on TV, is like pulling back the curtain, and this special's like pulling up my dress."
Amy Schumer: Live at the Apollo airs Saturday, October 17 at 10 PM on HBO.
With her unique blend of honesty and unapologetic humor, Amy Schumer is one of the funniest, freshest faces in the industry today. This October, Schumer's provocative and hilariously wicked mind will be on full display as she headlines her first HBO stand-up comedy special: 'Amy Schumer: Live at the Apollo.' Directed by Chris Rock, the one-hour special features the comedian talking about her life and was taped before a live audience at New York's iconic Apollo Theater.