CBS Rules Out Supergirl/Flash/Arrow Crossover, Not Worried About Airing Opposite 'Gotham'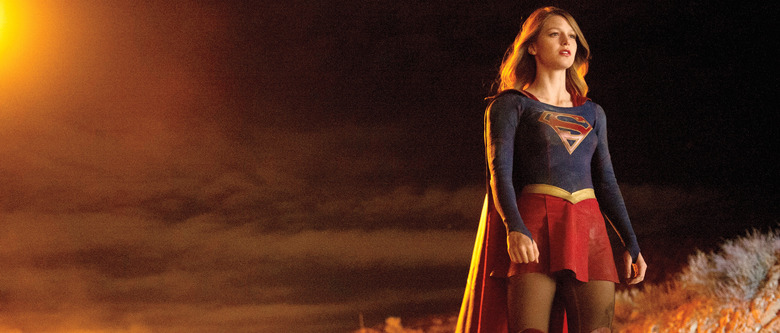 CBS Entertainment chairman Nina Tassler gave an executive session for the Television Critics Association on Monday, August 10th. Speaking about the networks' fall premiere of Supergirl, Tassler said the casts of Supergirl and the CW's DC superhero shows The Flash and Arrow will promote their shows together, but ruled out any possible Supergirl crossover with those shows. And producer Andrew Kreisberg teases the arrival of a character seen in Superman II, who will be realized a bit differently on the show.
After the panel, Tassler elaborated to a group of reporters asking followup questions about any possible Supergirl crossover.
"I'm a little bit of a superhero geek and I have a lot of respect for what characters inhabit certain universes," Tassler said. "You can't just] just pick up one character and let them fly over and appear in another setting. You really have to be respectful and mindful of what each universe says you can and can't do. Obviously working very closely with DC and our producers, Greg Berlanti is the poster child for this field. Right now we're not doing it. We're doing it promotionally, but we'll always stay open. They're very inventive about what they can and will do."
Even Superman is an ambiguous presence in the Supergirl pilot. He is seen from behind, and referenced by James Olsen (Mehcad Brooks) and Kara Danvers (Melissa Benoist). To be clear, they are not indicating whether Supergirl exists in the same world as Starling and Central Cities. "They're not right now, no," Tassler said.
Producer Andrew Kreisberg had a few things to say about the villains coming to the show.
In the first 9 episodes, Lucy Lane, also her father general Sam Lane, will be coming to town with an agenda. We're also going to have The Red Tornado. We're also going to be introducing Non, a Kryptonian villain memorably played in Superman II. We have a slightly different take on the character.
Kreisberg also says that Supergirl has some real power limitations, because that leads to more drama and tension on the show.
In the comics Superman takes more punishment than just kryoptine. It was important for a weekly TV show to put her in situations where she's not all powerful.
Supergirl will air Monday nights at 8 on CBS. Another DC comic book show, Gotham airs Mondays at 8 on Fox. For working closely with DC, Tassler was asked if they were upset she scheduled a show to compete with their. Tassler felt there was no competition.
"I think that they're different audiences," Tassler told reporters. "I think Supergirl has a much bigger, broader audience. It's more family entertainment. They look different ,they feel different. Judging by the 14.1 million streams of the trailer, I don't think anybody is worried about oh my God, there is not enough audience out there to watch both those shows. I think there will be."
During the panel, Tassler spoke about why she picked up Supergirl on CBS in the first place.
"First of all, when Greg Berlanti and Ali Adler came in, they had a fantastic pitch," Tassler said. "We were really excited and interested to hear the pitch. By the end of it, literally we fell in love with the character and the story. She was imminently relatable. The journey they were taking the character on we felt just spoke to where today's generation is. We also really responded to the fact that it had a very broad appeal. So we felt we could have genre fans but we also felt the relationship of this young woman to the people at work, it was a great workplace comedy, and more importantly we thought this was a genre and a franchise that would open up and bring in new viewers, as well as being very appealing to our CBS fans."
Supergirl premieres Monday, October 26 at 8:30 and moves to its regular timeslot at 8 November 2.