'Fantastic Four' Is Worst Reviewed Marvel Movie But Fox Still Committed To Franchise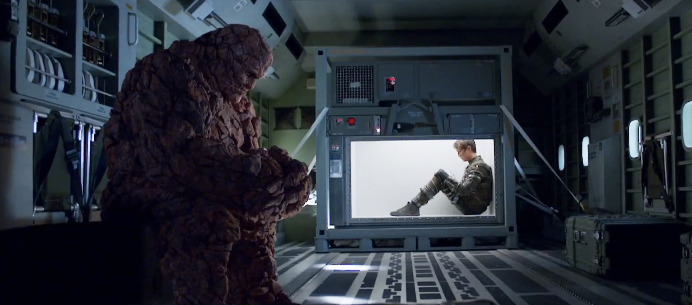 This past weekend brought the release of 20th Century Fox's latest iteration of Fantastic Four, and we already knew the first reviews weren't very good, but no one was expecting it to be this bad.
First of all, the film landed at #2 at the box office behind Mission: Impossible – Rogue Nation in its second week of release. It pulled in just over $26 million domestically and another $34 million internationally for a total of $60 million, hardly a runaway hit, especially for a comic book movie with a built-in fanbase, even outside of he Marvel cinematic universe.
Secondly, the reboot of Fantastic Four has actually turned out to be the worst reviewed Marvel film ever, even falling behind duds like Elektra and Ghost Rider: Spirit of Vengeance. However, Fox isn't yet giving up on the franchise. Find out more about Fantastic Four reviews and the future of Marvel's first family after the jump!
Over on Rotten Tomatoes, Josh Trank's reboot starring Miles Teller, Kate Mara, Michael B. Jordan and Jamie Bell has gotten a 9% after 159 total reviews, putting it below Elektra at 10%, previously the worst-rated Marvel comics adaptation. Among the "Top Critics" the movie only has a 6% with an average review score of 3.4/10.
In addition, the CinemaScore from audiences on Friday night gave the movie a C-, making it the worst grade that any superhero movie has received. And CinemaScore audiences are usually more forgiving, with previous duds Elektra, Catwoman and Daredevil landing a B. Even Ghost Rider: The Spirit of Vengeance and Batman and Robin earned a C+ with Superman IV: The Quest for Peace previously being the worst graded with a C score.
But despite all the negative buzz, Fox is still trying to stay committed to the future of the Fantastic Four franchise, which previously had a sequel dated for June 9th, 2017. 20th Century Fox's domestic distribution chief Chris Aronson hasn't commented on Josh Trank's since-deleted Twitter update distancing himself from the final cut of the movie that you can see in theaters now, but he did tell THR that "studio fully supported Josh Trank's vision for the film, as we do with all our filmmakers."
In addition, despite the box office flop, which didn't even meet expectations, Aronson also told THR, "While we're disappointed, we remain committed to these characters and we have a lot to look forward to in our Marvel universe." But that's exactly what someone in Aronson's shoes has to say, just to make sure he doesn't hurt the box office return even more by denouncing the movie. After all, they still have Blu-Ray and DVD product to sell later.
However, there's already a rumor from The Daily Superhero that Fox might be pulling Fantastic Four 2 from the planned 2017 release date. Take this with a grain of salt for now, but there may be discussions of fast-tracking a Deadpool sequel to fit into that 2017 release date instead.
But if that's true, then the sequel would need to start shooting immediately after the first movie is released in February 2016. And while fans are excited after the recent trailer release, the studio likely wants to wait to see how the box office results are with that R-rated risk before getting a sequel together so quickly.
In reality, it would be much easier for 20th Century Fox to just move up War of the Planet of the Apes from the July 14th, 2017 release or even push back Gambit from the October 7th, 2016 release. Those are just two other possible options, but Fox shouldn't have any problem moving their schedule around instead of taking a potential risk by arrogantly planning a fast-tracked sequel for a movie that isn't a guaranteed success.
Either way, don't count on seeing a new Fantastic Four movie anytime soon. That doesn't mean that you can expect a Marvel Studios deal to come about the way it did for Spider-Man and Sony Pictures, but at this point, that might be the only way to get fans back on board with Marvel's first family.
What do you think about all this?