David Fincher's 'Utopia' And 'Video Synchronicity' Both Dead At HBO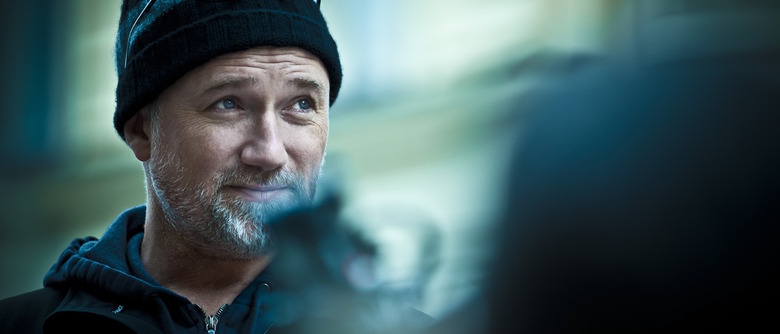 The combination of David Fincher and HBO sounds like a match made in heaven, but so far the reality has proven much more disappointing. Weeks after we heard that his shows Video Synchronicity and Utopia were in trouble at the network, new reports have emerged claiming they're both dead, with the actors released from their contracts. Get the latest unfortunate updates on the David Fincher Utopia and Video Synchronicity projects after the jump. 
Let's start with Utopia. A couple of weeks back, word got around HBO and Fincher were butting heads over the budget. (One source said the pilot was "way over budget," while another said Fincher was demanding $100 million whereas the network wouldn't go above $95 million.) Now Deadline reports that the two sides have been unable to reach an agreement, and that the project has consequently been cancelled.
Fincher had planned to direct the entire first season of Utopia from a script by Gone Girl scribe Gillian Flynn. It's a remake of a British show of the same title, about the fans of a cult graphic novel. When they get their hands on a manuscript for the sequel, the fans get wrapped up in a dangerous conspiracy.
Although the cast was never officially confirmed by HBO, it was said to include Rooney Mara, Colm Feore, Eric McCormack, Dallas Roberts, Jason Ritter, Brandon Scott, and Agyness Deyn. The actors had been rehearsing for weeks when HBO officially released them late last week.
HBO retains the remake rights to the original U.K. series, so Fincher can't take the project to another network. Instead, HBO may mount another attempt with a different director. The network reportedly likes the cast, and could bring some of them back pending the new director's approval.
As for Fincher's other HBO project, The Playlist has heard Video Synchronicity has released its actors as well, and is now "beyond dead." The series had halted production in June, midway through the season, for additional script work. In late July HBO president Michael Lombardo acknowledged that Fincher's divided attention (between the two shows) was an issue, but insisted they'd "figure it out."
Video Synchronicity was a drama about an aspiring filmmaker (Charlie Rowe) who moves to Hollywood in the the 1980s. He secures a job as a PA for a music video company, just as the industry is blowing up. While not entirely autobiographical, Video Synchronicity was informed by Fincher's own experiences, as he also got his start helming music videos in the 1980s.