'About Ray' Trailer: Elle Fanning Plays A Trans Teen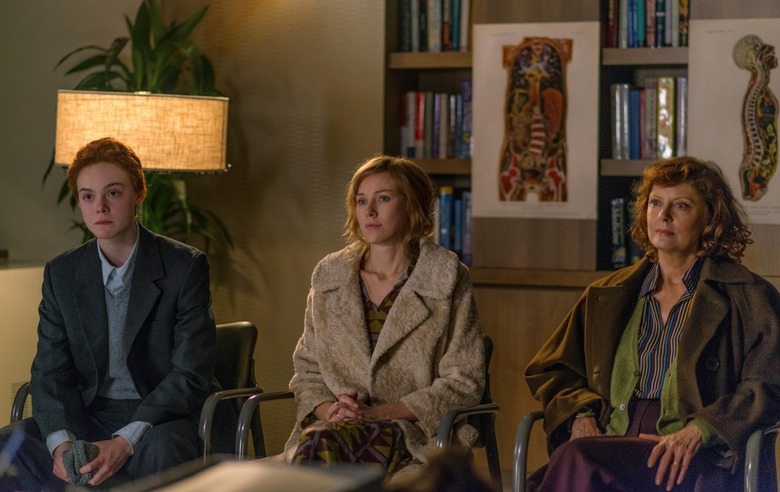 The Weinstein Company has released the first trailer for About Ray (formerly Three Generations). Elle Fanning stars as Ray, New York City teenager embarking on the process of transitioning from female to male.
Naomi Watts plays Ray's mother Maggie, who accepts his decision but nevertheless worries about her child, and Susan Sarandon plays Ray's grandmother Dolly, who just doesn't seem to get it ("Why can't she just be a lesbian?" she asks). Tate Donovan also stars as Ray's absentee father, who's reluctant to sign off on Ray's medical forms. Watch the About Ray trailer after the jump.
Trans people have become much more visible in pop culture over the past couple of years, between shows like Orange Is the New Black, Transparent, and I Am Cait and films like Tangerine and the upcoming The Danish Girl. But those are mostly about adults, so it should be interesting to get a younger person's perspective in About Ray. For one thing, characters like OITNB's Sofia and Transparent's Maura weren't legally required to get their family on board before transitioning.
Overall, About Ray looks like a moving (if somewhat predictable) family drama. If there's one thing about it that seems a tad problematic, though, it's the casting of Fanning as Ray. That's not a knock against Fanning, who looks to be in fine form as usual here. However, trans characters are still few and far in between in mainstream entertainment, and it's unfortunate that roles like these don't seem to open up more opportunities for actual trans actors.
About Ray opens September 18, 2015.
ABOUT RAY tells the stirring and touching story of three generations of a family living under one roof in New York as they must deal with the life-changing transformation by one that ultimately affects them all. Ray (Elle Fanning) is a teenager who has come to the realization that she isn't meant to be a girl and has decided to transition from female to male. His single mother, Maggie (Naomi Watts), must track down Ray's biological father (Tate Donovan) to get his legal consent to allow Ray's transition. Dolly (Susan Sarandon), Ray's lesbian grandmother is having a hard time accepting that she now has a grandson. They must each confront their own identities and learn to embrace change and their strength as a family in order to ultimately find acceptance and understanding.