Exclusive: 'The Purge 3' Didn't Have A Script Until Frank Grillo Signed On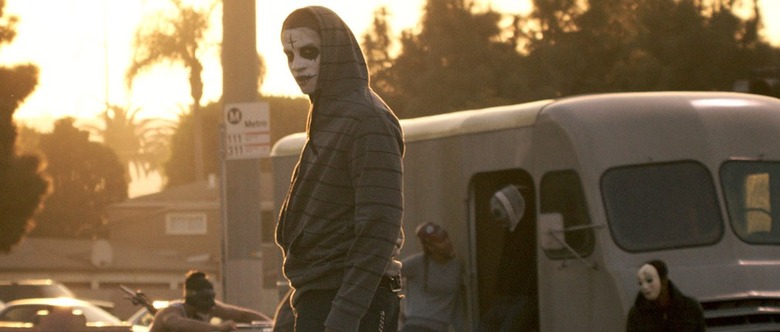 Last week, Universal announced that Frank Grillo would return for The Purge 3. Grillo starred in the second film in the series, The Purge: Anarchy, which was the sequel to the surprise hit The Purge starring Ethan Hawke. Spoiler alert, but Hawke was not available for the sequel due to plot-related incidents in the first movie, although producer Jason Blum has said he would like to do a prequel which could revisit Hawke's character before the incidents of The Purge.
I had an interview with Grillo on Sunday, August 9 for his DirecTV series Kingdom at the Television Critics Association summer press tour. He told me he was asked back before they had a script featuring his character, and then writer/director James DeMonaco wrote another story for Sergeant (Grillo).
"They didn't have a script," Grillo said. "They just called and said, 'Would you be interested if we had a great script?' DeMonaco called and said, 'If it's with you, I'll do it.' He and Universal came up with this, he's wonderful at this. He wrote a script. I didn't think it would be better but I think it's better than the second one."
The Purge movies don't necessarily need to have recurring characters. The premise is that in the future, one day a year, all crime is legal, giving society a chance to purge their violent instincts and be good the other 364 days. There are presumably infinite characters who could experience exciting and scary things on purge night, but Grillo's Sergeant was a heroic character worth exploring further. Grillo confirmed he thought The Purge: Anarchy was a one-time job.
"We did Purge 2 and I was really doing it as a one off," Grillo said. "I loved the script. I love James DeMonaco and I'm a big fan of that genre of movie. The kind of action/thriller '70s B movie, if done right, is my kind of movie, is why I used to go to the movies when I was a kid. Then the movie was a real big success and people seemed to like my character. Universal said, 'Let's do it again.'"
Sergeant went out on purge night armed to the teeth looking for the man who killed his son. When some innocent people get stranded after the purge begins, he helps them and ultimately experiences some growth about his own quest for vengeance. I told Grillo we're glad to have him back, but asked if this means Sergeant learned nothing from purge night.
He didn't really have anything to add, but he laughed and said, "Right."
***
The Purge 3 is set to open July 1, 2016. Kingdom returns Wednesday, October 14 at 9PM on DirecTV.