Exclusive: Frank Grillo Says Casting Delayed 'The Raid' Remake, Comments On 'Civil War'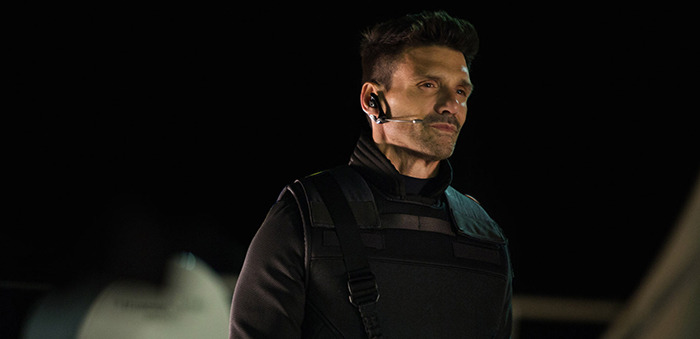 On Sunday, August 9, Grillo was giving interviews for the Television Critics Association on behalf of his DirecTV original series Kingdom, in which he plays the owner of a MMA gym and trainer to a fighter. During a one on one, I had a chance to ask him if he's just in Captain America: Civil War to fight, or if he gets to do some drama too.
I also asked if The Raid remake had been delayed to allow him to film the role in Civil War, but it turns out that wasn't the case. Grillo said the studio never found a lead with whom they were happy, and suggests the film has been stalled as other projects intervene.
When The Raid swept Midnight Madness at the 2011 Toronto International Film Festival, Sony Pictures bought the film to distribute under their prestigious Sony Pictures Classics arm. They also began developing an English language remake for their Screen Gems arm. Frank Grillo and Taylor Kitsch were attached to star with Patrick Hughes set to direct. Then... nothing.
Grillo explains,
The Raid was a go movie and there was one character, the critical character, that they were just not happy with. There's not a lot of 30-something guys out there that... there's a lot of training, a lot of martial arts training. They weren't going to remake The Raid, which is a beloved film, if they couldn't find a guy who could find the physical stuff and they hadn't been able to do that. So I think we're going to come back around after I'm done with the second 10 [episodes of Kingdom]. We're going to come back around to that.
The Raid: Redemption, as the original was subtitled in the U.S., starred Iko Uwais as Rama, a SWAT officer on a raid in a crime lord's drug house. When the crime lord locks them in the building, only a few officers survive to fight their way out. The American remake would feature Grillo as one of three main characters. He did confirm that Kitsch was offered the role and officially passed.
"They came kind of close," Grillo said. "Then he took True Detective."
If The Raid keeps getting pushed, Grillo still has a busy slate. He has his DirecTV show Kingdom entering its second season with a third on the way, and a role in Captain America: Civil War as well as the lead role in The Purge 3 and several other films.
Back in May, Grillo posted a set photo from Civil War on his Instagram account with the text: "I'm out.Atlanta. I came I fought I conquered." Text on the photo also read "I am done with this marriage," in all caps. This and other set photos confirmed his return in the Winter Soldier sequel and Marvel movie crossover. It also confirmed he had a relatively short shoot. In The Winter Soldier, Grillo played Brock Rumlow, seen at the end (spoiler alert) badly burned but still alive, prime for transformation into the villain Crossbones.
"It's a lot of physical stuff, without giving too much away, but there is a little bit of everything," Grillo said. "It's a big movie. There's a lot of characters in the film so it'll be interesting to see what it looks like all cut together. There's so many people in the movie."
Taken at a distance, Grillo's Instagram photo made it hard to see any scarring on his face. However, other set photos got a better glimpse at Rumlow's burn scars around the eyes. Other shots show him in full Crossboes mask filming fight scenes with Chris Evans as Steve Rogers/Cap. Grillo reconfirmed the scarring and seeing Rumlow without the Crossbones mask.
"The scars are not healed," Grillo said. "The scars are terribly bad but the helmet comes off and you get to see that."
Captain America: Civil War marks the beginning of Marvel Phase Three. Avengers: Age of Ultron left many of the core avengers separated from one another, with a new team of avengers training at the new facility which Scott Lang (Paul Rudd) broke into in Ant-Man.
Derived from the 2006-2007 crossover series "Civil War," the Marvel Cinematic Universe Civil War sees Tony Stark and Steve Rogers facing off over a government proposal to register superheroes, with the rest of the MCU picking sides behind them.
***
Kingdom returns to DirecTV Wednesday, October 14 at 9PM. Captain America: Civil War is in theaters May 6, 2016.