Guillermo Del Toro Clarifies 'Pacific Rim 2' Roles, Talks 'Haunted Mansion' And 'Hellboy 3'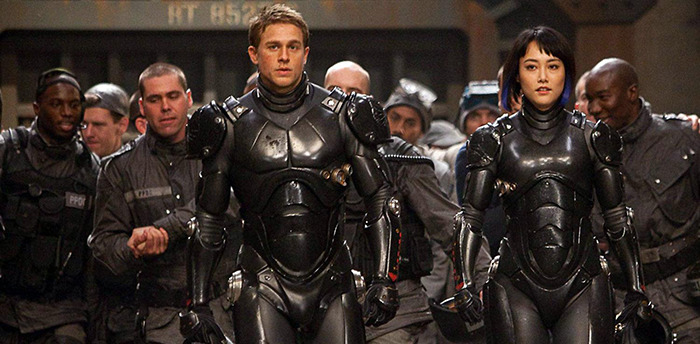 When Guillermo del Toro said that Charlie Day and Burn Gorman's scientists were the main characters of Pacific Rim 2, it suggested a drastic shift in focus from the Jaeger pilots who lead the first film, such as the one played by Charlie Hunnam.
Today del Toro was on a Television Critics Association panel for the second season of his FX series The Strain. After the panel I asked del Toro to clarify whether Hunnam would return, and/or take a backseat to Pacific Rim 2 characters played by Day and Gorman.
"No, no, no, Charlie Day has a great part but so does Charlie Hunnam," del Toro said to a group of reporters asking followup questions. "I think that everybody or most everybody that survived is back. The rest we killed. We killed half the cast."
Another del Toro project that came up was the Haunted Mansion film he was set to direct and produce, with Ryan Gosling starring. The response del Toro gave sounds like a bit of development hell.
All you can do is develop the screenplays, send them in, get a reaction, get the budget, agree or disagree on budget and so forth. Every project goes through the same thing. People say why do you have five [movies in development]? I have five because one happens. Whenever I have dedicated myself to a single project for any length of time, I end up having three, four years where I don't shoot. It's happened twice already, so I live in a life of realities. I have to have these projects alive to hope and pray that one of them happen.
One potential franchise that left del Toro's hands is a Justice League Dark film that could feature Swamp Thing. "I love Swamp Thing but that's in Dark Universe," del Toro said. "I'm out of that one."
Last week Ron Perlman was at the TCA press tour for his Amazon show Hand of God. Speaking about Hellboy 3, Perlman said he keeps talking about it to force the conversation, so the fans can get their conclusion to the story. Reiterating his lament that they've lost the home video market, del Toro said Hellboy 3 remains stalled.
Same status. I think that the fans want it, we want it, but studios... it's a big movie, bigger than the first one and the second one. The numbers on the Hellboys made a lot of sense because of video. Hellboy II exists not because a studio head said. 'I'm a big fan.' The first one made money, made much more money on the Blu-ray and DVD than it did theatrically. It made money. Now that market is done.
There is still a digital streaming market that should correspond to the sales a movie would formerly make on DVD and Blu-ray, but del Toro said they're not tracked well enough to give studios confidence in ancillary sales.
"We live in an era where getting those exact numbers is still not that easy," del Toro said. "I think that by the time you catch up with the numbers, the platforms have changed. The way you distribute movies is faster and faster evolving into something different."
***
The Strain airs Sunday nights at 10PM on FX.