William Friedkin Developing Don Winslow's 'The Winter Of Frankie Machine'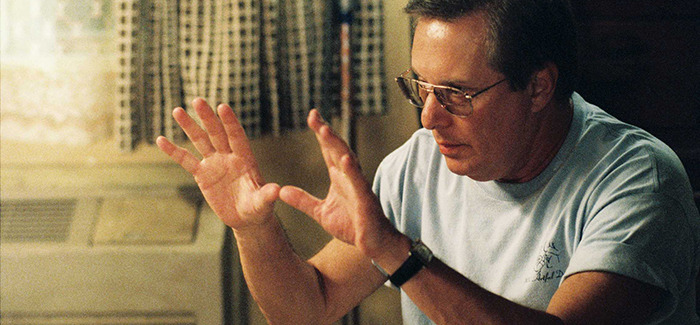 It's a thrill to see William Friedkin developing new projects. He's got his hands in a TV show based on his own film To Live and Die in L.A., and now he's moving forward with a film based on Don Winslow's novel The Winter of Frankie Machine, about a retired mob killer with a new life as a low-key seaside entrepreneur who is drawn back into mob violence.
This one has been percolating for a few years, with a number of different directors attached. With new heat on Winslow thanks to his recent novel The Cartel, it's no wonder this one is moving forward again. 
Deadline says that there's no studio involved at this point, and that previous script drafts are being set aside. (Previous development efforts were from Martin Scorsese and Michael Mann, with Robert De Niro once attached to star.) There'll be a new script draft either written by or with the participation of Winslow.
Friedkin tells Deadline he wants to take a Killer Joe-stye approach to The Winter of Frankie Machine, crafting a down and dirty adaptation. And Winslow says having Friedkin direct is ideal, given that Winslow "made the decision to become a writer after seeing The French Connection."
Here's the basic plot of the novel:
Frankie Machianno, a hard-working entrepreneur, passionate lover, part-time surf bum, and full-time dad, is a widely recognized pillar of his waterfront community. He is also a retired hit man. Once better known as Frankie Machine, he was a brutally efficient killer. Now someone from his past wants him dead, and after a botched attempt on his life, Frankie sets out to find his potential killers. However, the list of suspects is longer than the California coastline. With the mob on his heels and the cops on his tail, Frankie hatches a plan to protect his family, save his life, and escape the mob forever. Then things get really complicated.
Don Winslow also has a high-profile adaptation of The Cartel set up at Fox, with Ridley Scott to direct and eyes on Leonardo DiCaprio to star. But if Frankie Machine might end up being a film in the vein of Killer Joe, this is the one I'm most looking forward to.