In 'The Last Man On Earth' Season 2 Will Forte Goes To The White House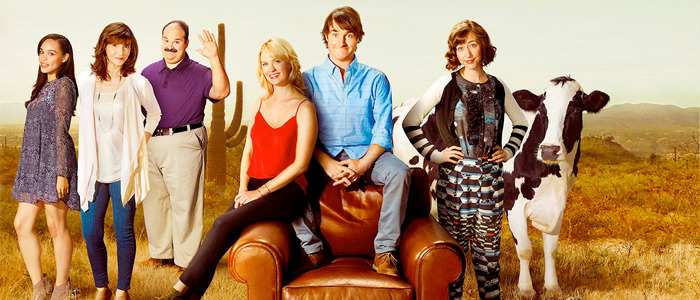 The cast and creators of The Last Man on Earth mingled with the press at the Television Critics Association summer press tour yesterday. Fox execs announced Jason Sudeikis is going to be added to the cast, but the mere attendance of January Jones at this even suggests that the show has not abandoned its Tucson-based characters, even though (spoiler) Phil Miller (Will Forte) and Carol Pilbasian (Kristen Schaal) left Tucson in the season finale.
Executive producer Chris Miller was careful not to spoil too much of the upcoming season, but hinted at how the split works out. "I will say that Phil and Carol are in one place at the very beginning," Chris Miller said. "January is in another place. I will also say that the majority of this season does not take place in Tucson."
That move means all-new locations and sets, so Chris Miller dropped info on one hot new locale. (I love that I have to specify which Miller now, thanks to the name of the show's main character.) "I can say that the White House will be involved in some way," he said.
I later spoke to Forte about his character Phil Miller running rampant in the White House. "There are some definite hijinks going on at the White House," Forte said. "Not the typical stuff you probably see in the White House. It's our version of what would happen in the White House if you were two of the only people on Earth."
So it's the interior of the White House, which can be shot on a set in California where shows like 24 filmed. "It's the marquee White House rooms that we all know about," Forte said.
"We have a fun series of things we're doing in there. It's so crazy to see the White House in Chatsworth, CA. We're two blocks down from a huge dildo factory so it seems disrespectful but that's where we are."
Forte has his scraggly beard fully grown again. Forte confirmed the new season picks up six months after the finale, hence the time it took him to grow it back. More so than the passage of time, the beard is back for artistic reasons.
"We did it for the story and it just felt like the right thing to do," Forte said. "A lot of season two has to do with Phil grappling with what he became and trying to be a better person. So it just seemed like growing the beard back was a symbol of that attempt to be a better person. We don't start shooting until Monday, so if we decide at the last minute that I'm going to shave it off, then that's what I'll do. It does feel a little bit like it's the right way to go."
When I ask Forte questions about Phil Miller, he likes to correct me that his character is still going by Tandy. Tandy is his middle name, which he had to assume when another Phil Miller (Boris Kodjoe) joined the survivors. So I asked Chris Miller why he's still being called Tandy in the second season.
"It depends on who he's with, I'll say that," Chris Miller said. "He is Phil Tandy Miller."
***
The Last Man on Earth returns Sunday, September 27 at 9:30 on Fox.