Exclusive: Phil Lord And Chris Miller Will Only Produce '23 Jump Street'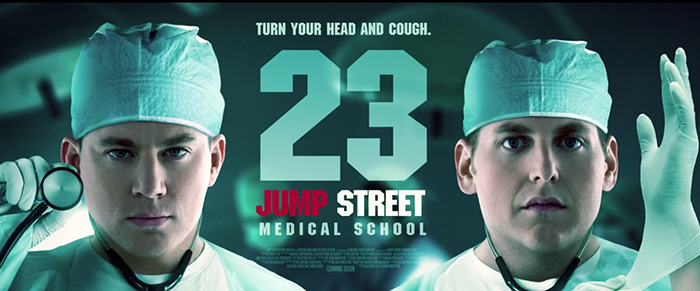 The prospect of Phil Lord and Chris Miller writing the Flash and animated Spider-Man movies, and directing Han Solo's Star Wars Anthology film, is very exciting. We'd suspected that these commitments would prohibit them from directing the third entry in the Jump Street franchise that, against all expectations, they helped turn into a blockbuster series. They'd already decided to produce Lego Movie sequels and spinoffs for other directors while concentrating on other big-screen projects and TV series like The Last Man on Earth.
Chris Miller was at the Fox day for the Television Critics Association summer press tour representing The Last Man on Earth, and he confirmed for me that he and Phil Lord are likely only going to produce 23 Jump Street.
"We are hard at work on 23 Jump Street, which I think we will probably just produce from a time standpoint," Miller said. "But we've been working really hard. We've got a really good first draft of a script in and we're really excited about it."
As for those other big projects, he couldn't even answer the vaguest of vague questions about the direction of his film career. "I'm not really allowed to talk about those projects," Miller deflected, which is totally fair.
We know that Rodney Rothman is writing the scripting the next film, with Jonah Hill and Channing Tatum expected to reprise their roles as Schmidt and Jenko, respectively.
Previously, Phil Lord had revealed that the wild credit posters at the end of 22 Jump Street, such as the one above, could be incorporated into the third film.
We've found a way that we love that makes those imagined sequels canonical and yet does something that we haven't told you about yet. The sequels are canon.
There was also this very nebulous hint from Lord about the possible structure for the third film:
[Rodney Rothman] had a really outrageous idea for what to do, and how we could take our scorched-earth sequel policy from the end of 22 Jump Street and do something that hadn't been explored in those 22 sequels and simultaneously tell the next chapter in the story.
We'll have much more on The Last Man on Earth shortly, including a tease about one high-profile location that will be used in the show's second season.