'Hitman: Agent 47' Final Trailer: Zachary Quinto Wants An Army Of Agents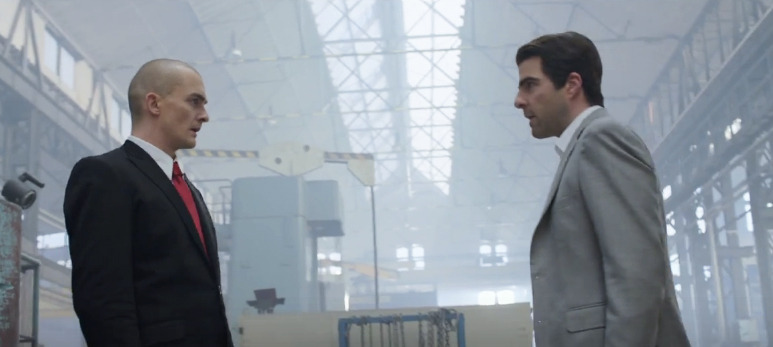 With just a little over a couple weeks until 20th Century Fox brings the video game adaptation Hitman: Agent 47 to theaters, a new global trailer has surfaced online, showing more of the wild action that Rupert Friend has taken over from the franchise's previous star Timothy Olyphant.
This trailer shows a little more of the villainy that Zachary Quinto has in store after initially misleading a targeted woman (Hannah Ware) into thinking that Agent 47 wants to kill. But Quinto doesn't want to protect her, he wants to use her, because she has a secret that she's completely unaware of. Watch the Hitman Agent 47 trailer after the jump!
Here's the trailer from 20th Century Fox:
Undoubtedly the over-the-top action sequences will get some butts in the seats, and this is the first trailer where I wasn't immediately turned off by the movie. Maybe it's just because I like seeing Quinto in straight-up bad guy mode, especially after he gets "subdermal titanium body armor" and takes on Agent 47 himself, even if that line, "Pretty crazy, huh?" is super cheesy. But the use of Hannah Ware as a female agent of the same mysterious program is also a bit of a draw.
Anyway, this is a video game movie, so no one is really expecting too much from this one (though that may not always be the case in the future). But maybe the action is just crazy enough to be entertaining. There's a little bit of a Terminator vibe there in the beginning and some of The Bourne Identity after that, so it's not like we're treading any new territory here, but for a release in late August, it just might be the kind of action movie some people are looking for.
If you want to see more from the flick, check out the previous online trailer right here, and the first teaser trailer over here. Otherwise director Aleksander Bach's Hitman: Agent 47 arrives in theaters on August 21st, 2015.
HITMAN: AGENT 47 centers on an elite assassin who was genetically engineered from conception to be the perfect killing machine, and is known only by the last two digits on the barcode tattooed on the back of his neck. He is the culmination of decades of research – and forty-six earlier Agent clones — endowing him with unprecedented strength, speed, stamina and intelligence. His latest target is a mega-corporation that plans to unlock the secret of Agent 47's past to create an army of killers whose powers surpass even his own. Teaming up with a young woman who may hold the secret to overcoming their powerful and clandestine enemies, 47 confronts stunning revelations about his own origins and squares off in an epic battle with his deadliest foe.