Coen Brothers Scripting, May Direct 'Black Money' Novel Adaptation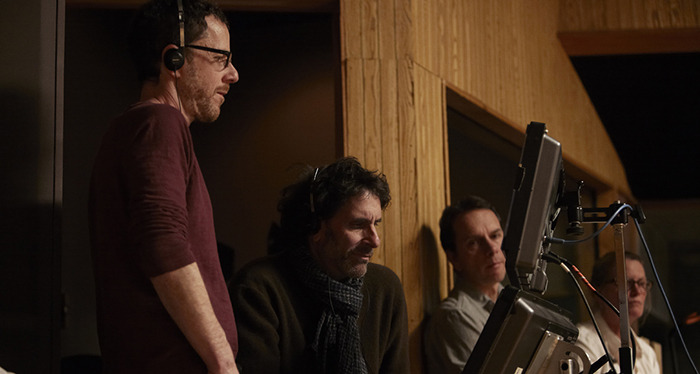 New Coen Brothers alert! The filmmaking siblings have one film in the can — Hail, Caesar!, which will be released in February 2016. Now they've just made a deal with Warner Bros. to write a script adapting the novel Black Money, by Ross MacDonald, which follows McDonald's private eye character Lew Archer into a troubling conspiracy.
Even better, Joel and Ethan Coen might end up directing the movie, too.
Deadline has the report, saying that Joel Silver would be a producer; he'll co-finance with Warner Bros.
Some of the Coens' recent work has been independently financed, though Universal is releasing Hail Caesar!, which was produced by the Universal-owned Working Title. With WB betting on and winning with accessible adult-oriented pictures such as Argo in the past, a Joel and Ethan Coen film seems just right for the studio.
Here's the plot of the 1966 novel Black Money, which stands as a detective fiction classic:
When Lew Archer is hired to get the goods on the suspiciously suave Frenchman who's run off with his client's girlfriend, it looks like a simple case of alienated affections. Things look different when the mysterious foreigner turns out to be connected to a seven-year-old suicide and a mountain of gambling debts.
That's just the beginning of the plot, which is twisty and dense, journeying as it does through layers of moneyed and highly corrupt society. Seems like great material for the Coens, obviously, and a chance for them to use their impeccable casting judgement to bring some great characters to the screen.
The Coens' last direct novel adaptation was True Grit, based on the Charles Portis novel. Before that was the Best Picture-winning No Country For Old Men. They'd previously drawn very heavy inspiration from another classic detective novel for their film Miller's Crossing, which relies significantly on Dashiell Hammett's novel The Glass Key, and also the first film adaptation of that book.