'Solace' Trailer: Psychic Doctor Anthony Hopkins Tracks Colin Farrell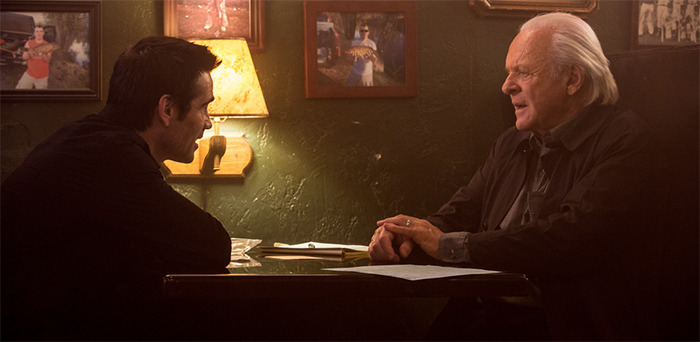 Here's an international trailer for the supernatural thriller Solace, which stars Colin Farrell and Anthony Hopkins as the leads in a plot that features two men, both with psychic abilities, on opposite sides of the law. Hopkins plays the good guy, a former doctor who ends up on the trailer of the killer, played by Farrell.
Interestingly, Solace, which hired Afonso Poyart to direct in 2012 and has been on the shelf for at least a year, was once conceived as a sequel to Se7en. Ted Griffin's original spec script was rewritten so that the character now played by Hopkins could be William Somerset, played in Se7en by Morgan Freeman.
Things didn't work out for that version, and it reverted to something a bit closer to Griffin's original conception. Check out the Solace trailer below.
This film was shot in 2013, so this is a pre-True Detective project for Farrell, even though it will look like a post-True Detective movie by the time most people see it. And yet there's still a scene of Farrell's character meeting his opposite in a bar. Relativity Media was going to release the film in the US, but that company's bankruptcy leaves it without a home.
Solace will be open in France on September 9 and the UK on September 25. There's no US date yet, but we'll likely see the film at least via a VOD release at some point. Trailer via SND. The cast also features Jeffrey Dean Morgan, Abbie Cornish, Matt Gerald, Jose Pablo Cantillo, Kenny Johnson and Sharon Lawrence.
A former doctor with psychic abilities named John Clancy (Hopkins) is drawn into a serial killer case only to find that the killer (Farrell) also is a psychic, leading to a showdown between the two who can detect each other's every move. Jeffrey Dean Morgan (Watchmen), Abbie Cornish (Limitless) and Marley Shelton (Scream 4) co-star. Brazilian filmmaker Afonso Poyart (Two Rabbits) directed the film from a screenplay by Jamie Vanderbilt, Sean Bailey, Peter Morgan and Ted Griffin.