The Leftovers Season 2 Trailer 2: "Uh Oh"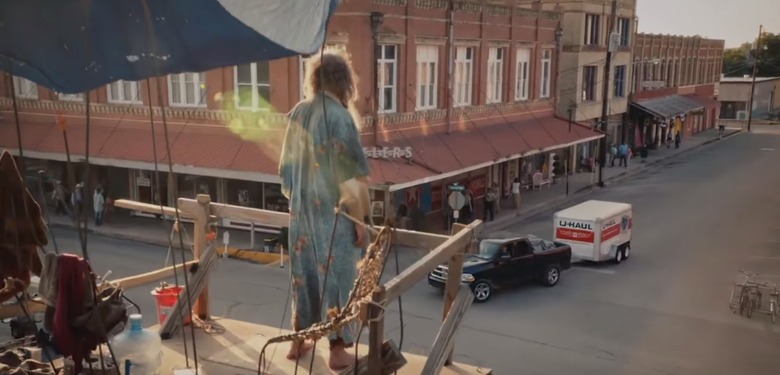 HBO has released the second trailer for season two of The Leftovers, the premium cable drama series created by Damon Lindelof and Tom Perrotta, based on Perrotta's novel of the same name. We previously posted a very brief Leftovers teaser trailer and the first full length trailer. The new trailer focuses on Jarden Texas, a town which had no departures, but also gives us a better look at the characters and story which will be featured in this upcoming second season. Watch The Leftovers season 2 trailer embedded now after the jump. Leave your thoughts in the comments below.
The Leftovers Season 2 Trailer 2
My post from August 5th 2015 follows:
The show has been criticized as being too dark and depressing, and this second season seems to promise a more hopeful future. But we are told: "There are no miracles in miracles."
The Leftovers Season 2 Trailer
I wasn't immediately taken by The Leftovers when I watched the pilot on HBO, but over the course of the first few episodes the show really grabbed me. Created by Damon Lindelof and Tom Perrotta, the show has a very cool mystery set-up (set two years after 2% of the world's population mysteriously disappeared) but focuses more on the characters and drama (and even though I think the character focus works here better than in Lost, I'm still drawn more to the mysterious twists).
Here is official information about The Leftovers Season 2:
More than three years ago, 2% of the world's population inexplicably vanished. 140 million people, gone in an instant. No country, no state, no city was spared, except for one small town in eastern Texas. Population: 9261. Departures: Zero. This is the setting for a tale of two families: the Garveys, who have moved to this special place, and whose lives were forever changed by the Departure, and the Murphys, a local family, who seem to have been spared from an event that shook the rest of the world.
Cast regulars for season two include: Justin Theroux, Amy Brenneman, Christopher Eccleston, Liv Tyler, Carrie Coon, Ann Dowd, Margaret Qualley, Chris Zylka, Regina King, Kevin Carroll, Jovan Adepo and Janel Moloney. Created by Damon Lindelof, Emmy winner for "Lost," and acclaimed novelist Tom Perrotta; executive produced by Lindelof, Perrotta, Mimi Leder, Tom Spezialy and Peter Berg; co-executive produced by Jacqueline Hoyt, Gene Kelly, Ron Yerxa & Albert Berger.
The Leftovers Season 2 will premiere on HBO on October 4th 2015.