Star Wars Bits: Disneyland Plans Rejected? Box Office Expectations, Braintrust, Force Friday, LEGO Star Destroyer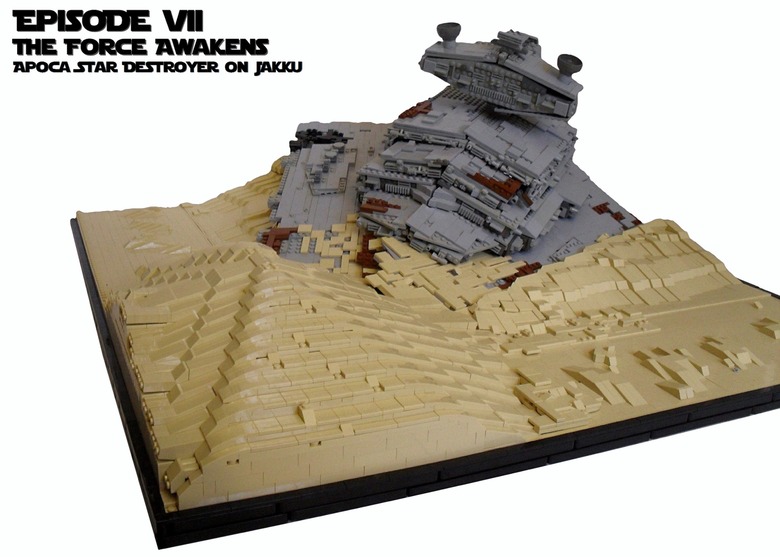 In today's edition of Star Wars Bits:
Have the current Disneyland Star Wars Land plans been rejected by the Disney board?
Disney head Bob Iger tries to temper huge box office expectations for Star Wars: The Force Awakens.
Exclusive extras to come with Star Wars Battlefront and Star Wars Disney Infinity bundles at select retailers.
Simon Kinberg describes how the brain trust plots the new Star Wars films
TOYS "R" US will host a Midnight "Force Friday" Celebration
The header image is a Star Wars: The Force Awakens Apoca Star Destroyer on Jakku created by KevFett2011 with 12,000 lego bricks
Possible Spoilers: A new rumor claims an iconic Star Wars character might be getting a Force Awakens action figure — even if this is true, does it mean anything for the film?
All this and more, after the jump.
Just yesterday in Star Wars Bits we told you that Stifel analysts Benjamin Mogil and Kevin Lee Hon Siong are projecting that Star Wars: The Force Awakens could gross around $2.2 billion globally. Well yesterday during the Disney Quarterly Investor Earnings Call, Disney boss Bob Iger suggested that analysts should temper their expectations.
"On the Star Wars front, we know there is just incredible interest in this film. We put two teaser trailers out, and the response has just been enormous. Anything that moves gets a lot of attention, and the anticipation is obviously huge. We've seen some examples already of Star Wars product going on the marketplace on the consumer products front, including in markets like China, that are very, very encouraging. That said, as enthusiastic as we are for what we know of the film, we have not seen a Star Wars film — an original one — since 2005. And there are markets around the world that are less familiar with Star Wars than, say, the United States, for instance. While the enthusiasm is, I think, rather apparent, we just want to be careful that the world doesn't get ahead of us too much in terms of the estimates, and we've seen them as well. We're making, at this point, no estimates whatsoever in terms of what we believe the film will do.We know we have probably the most valuable film franchise that ever existed. We know we have the ability as a company to leverage it in very compelling ways, whether it's Disney Infinity, whether it's at the parks, whether it's on the consumer products front or TV front. We fully expect the success of this film will reverberate throughout the company, not only in 2016 but in the years beyond, because we obviously have a rich slate of Star Wars films coming. Let's all continue to anticipate the movie and be optimistic about it. But we have to take a wait-and-see approach about what it will do."
I do wonder what the internal Disney projections are for the Star Wars: The Force Awakens box office. Star Wars: The Phantom Menace is the highest grossing Star Wars film ever released, yet it couldn't even cross the $1 billion mark. But that was 16 years ago, and the theatrical marketplace has changed with larger ticket prices thanks to large screen formats like IMAX and 3D and premium experiences. I still believe besting Titanic's $2.186 billion isn't out of the question.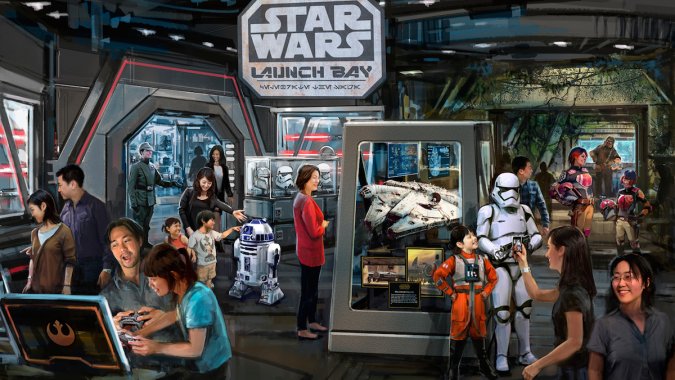 Someone claiming to be in the know says that the Disney board has rejected the current plans for Star Wars land at Disneyland. Because Disney Imagineering is so secretive about future plans, we are unable to confirm this rumor, so take it with a grain of salt for now (but I'm sure we'll find out in just a week and a half at D23 Expo 2015 in Anaheim):
So new I've gotten new information that might disappoint many of you hoping for big announcements at the upcoming #D23Expo Parks Panel...

— Dre (@VashSky) August 4, 2015
The good news is that the board rejected the initial model and proposed concept for Star Wars land at the most recent stage of development

— Dre (@VashSky) August 4, 2015
I say this is good news because the comments from the board were mainly "unimpressive for what it needs to be"

— Dre (@VashSky) August 4, 2015
As a theme park fan, you have to admire a core group of investors who are unwilling to settle for mediocrity and second-rate concepts

— Dre (@VashSky) August 4, 2015
The bad news is that this puts the adjusted timetable (they basically have to start from scratch) out of the window of the #D23Expo

— Dre (@VashSky) August 4, 2015
Still, that doesn't mean that they won't at least hint at Star Wars in the future, Iger has been chomping at the bit for years now...

— Dre (@VashSky) August 4, 2015
But I'd be cautiously optimistic on them giving too much away at this point, expect more Pixar at DHS since its been moved up in development

— Dre (@VashSky) August 4, 2015
Another major comment from the board was that it was "too much of what had already been done before" think Tattooine and Endor forest...

— Dre (@VashSky) August 4, 2015
There's simply too much riding on Star Wars land, it's $4 billion plus at least a $500 million construction tag, it just cannot be mediocre.

— Dre (@VashSky) August 4, 2015
@par995 @ThemePark Both since the development of DHS and DLR versions are linked to offset development costs...

— Dre (@VashSky) August 4, 2015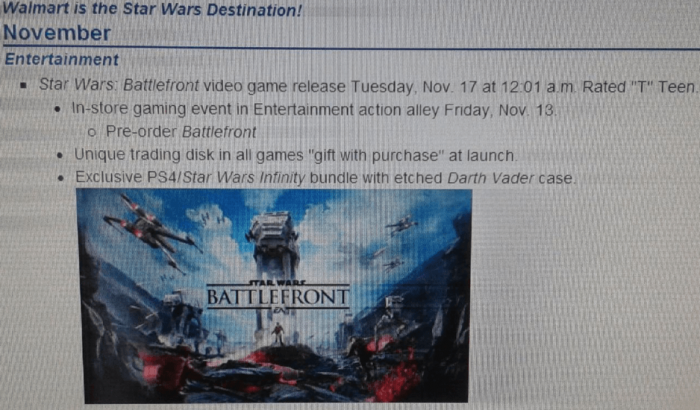 Video gamers who buy Star Wars Battlefront will get some kind of "gift with purchase" at launch. According to MSW, they're calling a "unique trading disk." We have no idea what this means. Also: Walmart will be offering an exclusive PS4 Star Wars Infinity bundle with an etched Darth Vader case.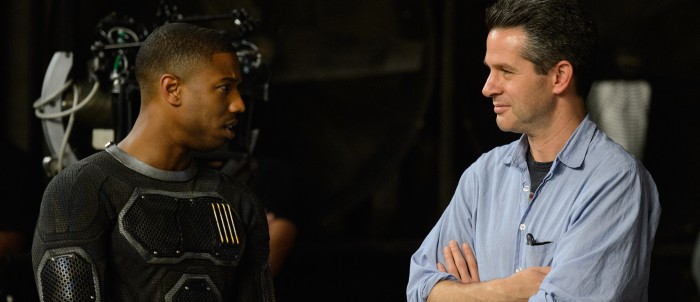 Entertainment Weekly has a cool little article on how the new Star Wars movies were planned, according to writer/producer Simon Kinberg:
Along with writers Michael Arndt (Toy Story 3) and screenwriting legend Lawrence Kasdan, Kinberg spent a week at Skywalker Ranch working on the structure for the next trilogy and standalone spin-offs. "Like a TV writers room, we spent a week with a whiteboard and some pens and were in a conference room all day talking about [movies] VII, VIII, and IX," he says. "But it's a whiteboard covered in our notes. We had a sense of what we each wanted to write. It was the most magical time because we were writing Star Wars movies. Then we would go back to the inn at Skywalker and have dinner and drink a little bit and Larry would tell me and Michael stories about the moment in his life where he wrote Raiders of the Lost Ark, The Empire Strikes Back, The Big Chill, Body Heat all in the span of, I think, five years. So we just had this crazy, magical time together."
Kinberg also clarified that his consultant role on Star Wars: The Force Awakens means that he helped break the story, read drafts of each script and contributed notes to the team.
Strangely the article ends claiming that Simon Kinberg is writing his own standalone Star Wars movie that's due in 2018. As far as we know, Kinberg is not involved in the 2018 Star Wars Han Solo Anthology film which is to be directed by Phil Lord and Christopher Miller. The initial press release had Lawrence Kasdan's son Jon Kasdan as the screenwriter. I believe that the Entertainment Weekly writer has just gotten the information wrong, and mistook the 2018 film for the movie Simon Kinberg was working on with Josh Trank. That project, if not abandoned, has been pushed to 2020. It was rumored to be a western-style film focusing on bounty hunter Boba Fett.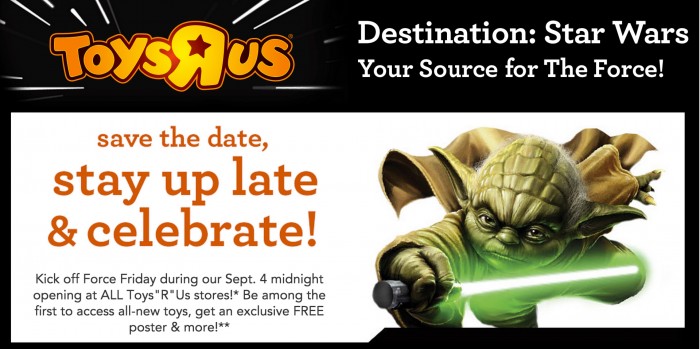 Toys R' Us have announced they will be hosting a Star Wars Force Friday celebration on September 4th 2015, with worldwide midnight opening events, including exclusive giveaways. Also, their international flagship store in New York City's Times Square will host a historic Star Wars toy exhibition with costumed characters, signing events, giveaways, and more on Thursday, September 3rd 2015. The event will feature some collections from Rancho Obi-Wan, and have Steve Sansweet and artist Jeff Carlisle. Read the full press release below:
TOYS"R"US® TO LAUNCH NEW STAR WARS™ SAGA PRODUCTS WITH MIDNIGHT OPENING EVENTS WORLDWIDEThe Next Chapter of the Legendary Franchise Begins at Toys"R"Us Stores Across the Globe on Force Friday, September 4 at 12:01am as Fans Get First Access to New Toys, Exclusive Giveaways and MoreCompany's International Flagship Store in Times Square to Host Historic Star Wars Toy Exhibition and Ultimate Midnight Opening Celebration
WAYNE, NJ (August 4, 2015) – Toys"R"Us® is going into hyperdrive and preparing an out-of-this-galaxy, global celebration for the upcoming debut of toys based on the next chapter of the Star Wars™ Saga at 12:01am on Force Friday, September 4. Counting down to the highly anticipated toy launch and this fall's new theatrical release, Toys"R"Us stores worldwide and Toysrus.com have transformed into Destination: Star Wars, every fan's retail source for The Force with hundreds of new products, including those only available at Toys"R"Us. On Force Friday, Toys"R"Us stores around the globe will open their doors for special midnight opening festivities, providing customers of all ages the opportunity to be among the first to purchase must-have merchandise, receive exclusive giveaways and immerse themselves in all things Star Wars. The company's international flagship store, Toys"R"Us Times Square in New York City, will host a historic Star Wars toy exhibition leading up to the grandest midnight opening celebration of all, welcoming legions of eager fans with costumed characters, signing events, giveaways and more all day on Thursday, September 3.
"Since the introduction of the first Star Wars toy in 1977, Toys"R"Us has served as the ultimate destination for Star Wars playthings, providing millions of kids and collectors worldwide with their most beloved memorabilia," said Richard Barry, Executive Vice President, Global Chief Merchandising Officer, Toys"R"Us, Inc. "Since then, Star Wars has become a time-honored franchise with loyal fan interest, making it a perennial, top-selling licensed property. With the upcoming introduction of the new Star Wars toy line, we're excited to welcome the next generation of fans into our stores around the world with exclusive products, special events, feature shops and giveaways."
Toys"R"Us to Help Fans Worldwide Build Their Toy Empires
With operations in 38 countries, Toys"R"Us is leveraging its global footprint and position as the toy authority to provide an unprecedented Star Wars experience worldwide. On Force Friday, September 4, Toys"R"Us locations in Australia, Canada, China, France, Germany, Japan, Poland, Portugal, Spain and the U.K, will open at 12:01am to welcome eager shoppers. The first customers to line up for the big product debut will receive Star Wars giveaways, including an exclusive poster, as well as the chance to be among the first to purchase exclusive Star Wars merchandise in dedicated front-of-store feature shops.
Leading up to Force Friday, stores in each of these countries will count down the minutes to 12:01am on September 4 with digital clocks, as well as Star Wars-themed microsites on each of their respective e-commerce pages. Social media users can follow the company's worldwide midnight openings on each country's social media channels, as well as via the Toys"R"Us U.S. Twitter channel, @Toysrus.
Midnight Openings Descend on Destination: Star Wars in the U.S.
When the clock strikes 12:01am on September 4, all Toys"R"Us stores in the U.S. will open their doors, giving customers the opportunity to be among the first to purchase hundreds of new Star Wars playthings, including a wide variety of merchandise they can't find anywhere else.* As an added bonus, little Jedi Knights and their families attending midnight opening events will have the chance to receive special giveaways, including a limited edition LEGO® Star Wars Commemorative Brick and an exclusive Star Wars poster, while supplies last.** Also at midnight on Force Friday, shoppers will be able to browse and purchase the new products online at Toysrus.com/StarWars.
Those eager to count down to the highly anticipated toy debut can now find digital clocks at all Toys"R"Us locations nationwide and online at Toysrus.com/DestinationStarWars. Beginning on Force Friday, dedicated Star Wars feature shops will be found at the front of all stores nationwide, featuring a combination of figures, construction sets, accessories and more, plus updated countdown clocks reset to tick off the minutes to the release of the new movie.
Additionally, gamers can now preorder Star Wars Battlefront™, the ultimate Star Wars video game experience, along with Disney Infinity 3.0 Star Wars, at Toys"R"Us stores nationwide and online at Toysrus.com/StarWars.
For the latest Destination: Star Wars news and updates, fanatics can follow @ToysRUs on Instagram and Twitter, as well as Facebook.com/Toysrus. Followers are encouraged to post photos of their Star Wars toy empire, themselves dressed in their best Star Wars cosplay and their midnight opening experience, as well as engage with one another and Toys"R"Us using #DestinationStarWars.
The Force is Strong at Toys"R"Us Times Square
The biggest midnight opening celebration will take place at the company's international flagship store in New York City, Toys"R"Us Times Square, where fans of all ages are encouraged to come dressed as their favorite Star Wars character and take part in dozens of one-of-a-kind activities designed especially for Star Wars aficionados.***
The World's Greatest Toy Store™ is kicking the party off early with a special exhibition featuring prototypes, originals and early editions of some of the best-known Star Wars toys in the world, curated by Rancho Obi-Wan, Inc., a non-profit museum that houses the Guinness World Record-certified largest collection of Star Wars memorabilia. Presented prominently throughout the store, "Destination: Star Wars – The Experience," will be on display from Wednesday, August 26 through Monday, September 7 and will feature dozens of notable collectibles based on all six feature films from the Star Wars Saga, including the original first four mail-away action figures from 1978, a large-sized Chewbacca figure in never publicly-released The Empire Strikes Back packaging from Kenner Products and a rare 2003 LEGO Star Wars Cloud City building set.****
The adventure kicks into high gear on Thursday, September 3, when the store hosts Star Wars activities throughout the day, beginning at 9am****, including:
· A book signing and meet and greet with Steve Sansweet, Chief Executive Officer and President of Rancho Obi-Wan, Inc., storied Star Wars author and former Head of Fan Relations and Director of Content Management at Lucasfilm Ltd.
· An art class and meet and greet with fan-favorite Star Wars and science fiction artist, Jeff Carlisle.
· Star Wars product demonstrations and activations throughout the store, including Star Wars-themed 3-D action figure creation with 3D Plus Me, video gaming on Disney Infinity 3.0 Star Wars kiosks and experiencing intergalactic sound on Star Wars-themed headphones powered by SMS Audio.
· A LEGO Star Wars make and take for rebels looking to build their toy empire brick by brick.
· A Light Saber Academy with members of New York Jedi, a community of cosplayers, martial artists and teachers who share practical stage combat techniques oriented toward Light Sabers.
· Photo opportunities with costumed characters, including Furbacca, a character versioned after the Hasbro® toy that makes wookiee sounds like CHEWBACCA, Geoffrey the Giraffe and more.
· Ice cream flavors inspired by the Star Wars Saga from Scoops"R"Us™, the flagship store's in-house ice cream shop located on the Lower Level.
· Star Wars-themed cookie decorating at a "Wookiee" Cookie Party on Level 1.
· Special giveaways for the first fans in line, including a Collector's Edition LEGO Star Wars Commemorative Brick, an exclusive, limited edition Star Wars poster and a Star Wars Character Flashlight from JAKKS Pacific.***
· Star Wars trivia, a costume contest and a galaxy of excitement and prizes, while supplies last, for those fanatics waiting in line.
· A panel discussion with Steve Sansweet and Jeff Carlisle for select lucky fans, which will also be livestreamed via Periscope @Toysrus on Twitter.
· The ultimate unveiling of the official Toys"R"Us Times Square Star Wars feature shop at 12:01am on Force Friday, September 4.
*Toys"R"Us stores in the U.S. will open at 12:01am local time on Friday, September 4, except for stores in Paramus, NJ, which have varying store open times due to local ordinances. Toys"R"Us Express and Outlet locations generally follow the hours of their respective shopping centers. All store hours can be found online at www.Toysrus.com/StoreLocator.
**Event open to all ages. Parental supervision required at all times. All giveaways and event materials available while supplies last and distributed to event participants only. Limit one per person. Quantities limited; no rain checks. Giveaway quantities vary by store.
***Event open to all ages. Parental supervision required at all times. All giveaways and event materials available while supplies last and distributed to event participants only. Limit one per person. Quantities limited; no rain checks.
****Toy enthusiasts can view the entire listing of products featured in "Destination: Star Wars – The Experience" and a full schedule of Toys"R"Us Times Square events, including times, online at the company's Times Square Store Special Events page.
About Toys"R"Us, Inc.
Toys"R"Us, Inc. is the world's leading dedicated toy and baby products retailer, offering a differentiated shopping experience through its family of brands. Merchandise is sold in 864 Toys"R"Us and Babies"R"Us stores in the United States, Puerto Rico and Guam, and in more than 730 international stores and over 240 licensed stores in 37 countries and jurisdictions. In addition, it exclusively operates the legendary FAO Schwarz brand and sells extraordinary toys at FAO.com. With its strong portfolio of e-commerce sites including Toysrus.com, Babiesrus.com and FAO.com, it provides shoppers with a broad online selection of distinctive toy and baby products. Headquartered in Wayne, NJ, Toys"R"Us, Inc. employs approximately 66,000 associates annually worldwide. The company is committed to serving its communities as a caring and reputable neighbor through programs dedicated to keeping kids safe and helping them in times of need. Additional information about Toys"R"Us, Inc. can be found on Toysrusinc.com. Follow Toys"R"Us, Babies"R"Us and FAO Schwarz on Facebook at Facebook.com/Toysrus, Facebook.com/Babiesrus and Facebook.com/FAO and on Twitter at Twitter.com/Toysrus, Twitter.com/Babiesrus and Twitter.com/FAOSchwarz.
——
The next page will have discussion of possible spoilers for Star Wars: The Force Awakens. Read at your own risk.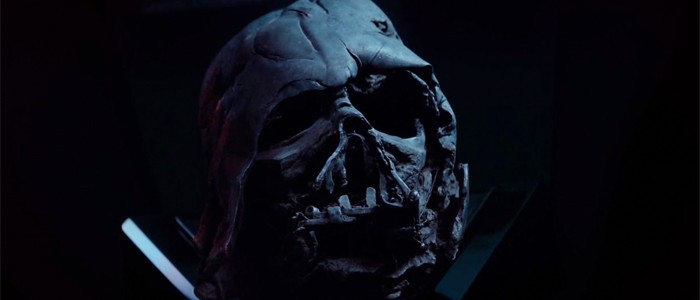 Jedi Temple Achieves is reporting a rumor that one of the new Star Wars: The Force Awakens action figures will be of an iconic character from the original trilogy:
"Of particular note, there is an EPISODE VII Darth Vader 3.75" 5POA figure. More on this soon! (That may just be the spoiler of the year!)"
But why is Darth Vader getting an Episode VII action figure? Does that mean that the Dark Sith Lord appears in the film? Possibly in the form of a flashback? Or maybe a new sith takes on his armor? Probably not.
We know from the second teaser that Darth Vader's helmet is in the film, and toy lines do this kind of thing all the time — including characters and different variant armors that don't appear in the film at all. Its all about selling toys. I wouldn't read too much into it. If anything, it could be a flashback (which the live-action Star Wars series has never done before) showing Vader in a time before he perished.