LOL: Michael Keaton Hosts A Creepy 'Blue's Clues' Ripoff In Cut 'SNL' Sketch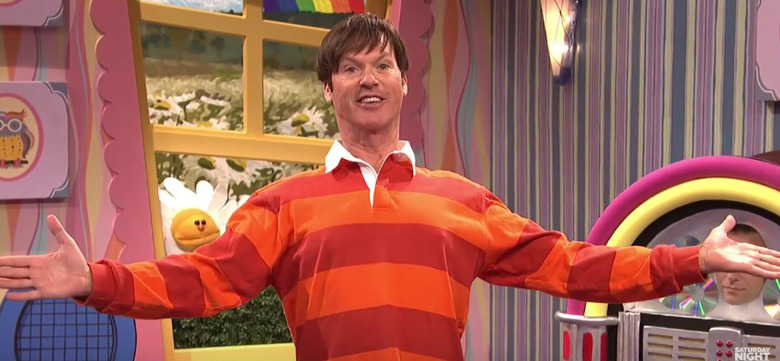 Not too long ago, we featured an amusing sketch from Saturday Night Live featuring Chris Pratt doing an impression of Jason Statham selling Steakums. It was a cut sketch from when Pratt hosted, and while it was worth a laugh here and there, it was easy to see why it didn't make the live episode.
Now another sketch that was cut for time has surfaced from when Oscar nominee Michael Keaton returned to Studio 8H as host of SNL for the first time in 23 years. In the sketch, Keaton plays the host of a show not unlike Blue's Clues, but when he gets some bad news, we learn some pretty weird and twisted things about his TV show. Watch the Micheal Keaton cut SNL sketch after the jump!
The cut sketch comes straight from the Saturday Night Live YouTube channel:
With the exception of some awkward pacing and lulls in the middle, this is a pretty damn funny sketch. Keaton is great at switching from the more chipper version of Toby to the weird, worried man behind the show, which turns out not to be a real program for children at all. And things get really messed up when his acting friends find out he's been having sex with their prop costumes when they're not around.
The premise seems to be a little better than the actual execution of the sketch, but it's still pretty funny, especially when Kenan Thompson pops up at the end as the puppeteer of the not-so-magical flowers.
Saturday Night Live is on hiatus for the summer right now, but it will return for its 41st season sometime in September. We don't know who will host the season premiere, but we'll likely find out sometime in the next month, so stay tuned.