'The Goldbergs' Doing 'Short Circuit' And 'Risky Business' Episodes This Season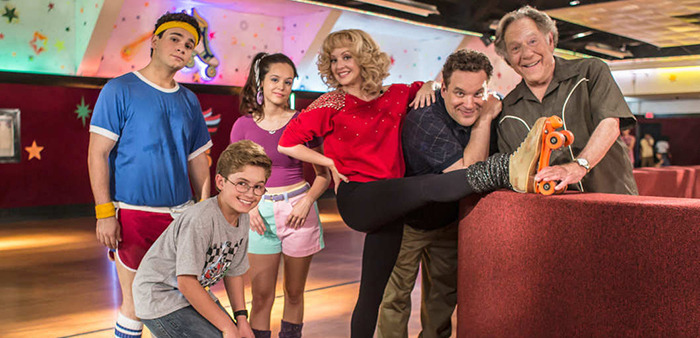 ABC presented a panel on The Goldbergs for the Television Critics Association today. The show is entering its third season and getting noticed for its parodies of classic '80s movies. In particular, last year's Ferris Bueller episode made waves with a guest appearance by Charlie Sheen. So series creator Adam F. Goldberg is not going to stop. The season premiere will be a Risky Business episode.
"The story is Laney is kind of becoming a member of the family," Goldberg told me after the panel. "She's Erica's best friend. She's dating Barry and her parents go out of town for the weekend and Beverly decides she has a new kid to parent, how to take this messy teenage life and clean it up. It's all about Laney giving into Beverly's will and revolting like all the kids do, and throwing a huge Risky Business party. We're going to be sinking cars and sliding in socks and underpants for sure. How could you not?"
And maybe not just one Risky Business tighty-whitey dance! "Tighty-whities will be Barry and Beverly of course, the two go-tos," Goldberg said. "Barry definitely."
Although Charlie Sheen appeared in the Ferris Bueller episode, don't expect a Risky Business cameo. Not even Curtis Armstrong. "If you know Tom Cruise, I would love to have him on the show," Goldberg joked.
"When we do the big blowout one, that's where I feel like we can bring in a cameo. For these other episodes that the movie plays a part in it or a movie affects something in their lives, I try to keep it real. I never met Curtis Armstrong. I would've loved to when I was that age. He's Booger. Why would I not want to meet him? But it just feels like it breaks the reality of the show to put in a cameo every episode."
Putting the fictional, if autobiographical, Goldberg family in '80s comedies is one thing. Now Goldberg has found a way to bring sci-fi into his TV sitcom. In this case, the movie reference was inspired by one of his real life experiences.
"It's not like I go, 'I love Short Circuit, I want to do an episode about it,'" Goldberg said on the panel. "We started an episode where Murray and Adam are forced to build a robot together. That happened to me. That turned into a Short Circuit episode."
During follow-ups after the panel, Goldberg explained how he found an actual Johnny Five toy made by a fan of the film, and bought it from him to use on the show. It's not the actual Johnny Five prop from the Short Circuit movies, though.
"They never made the toy, so some fan built one," Goldberg said after the panel. "The actual movie prop doesn't exist apparently. It's in storage somewhere, and I also thought if that giant 10 foot robot rolled in, it would be a little unrealistic, although a dream."
Now Goldberg is committed to doing at least one movie episode a year. He's already got these two planned for season three. "It started with a Goonies episode no one wanted to do," Goldberg said on the panel. "So I decided once a year I'm doing a big [episode]. It almost operates outside the reality of the show, so I am doing one a year."
That's not even counting the various '80s movie references on any given episode. Goldberg told me to expect another Back to the Future nod this year. "We did a hoverboard one last year but we're going to be revisiting Back to the Future again this year as well," he said.
Another future episode based on a yet unnamed movie is in the works. "We are negotiating with the movie studio," Goldberg said on the panel. "We've decided what the movie is. It's so complicated negotiating with the movie studio."
Some films are completely ruled out, including anything by Steven Spielberg, and a certain musical short starring the late King of Pop. "Just because I want to do Indiana Jones doesn't mean I can get Steven Spielberg to sign off on it," Goldberg said on the panel. "I was told Spielberg's impossible to get. We wrote a 'Thriller' episode for Halloween and we were just told the writer of the song doesn't want his song aired on television. Movies okay, but not TV. So we had to throw away the script."
The writer in question is Rod Temperton. After the panel, Goldberg elaborated, "He just has said no and I've been told he doesn't change his mind. I'm heartbroken. With Journey I was able to tweet them and contact them and form a relationship. They already knew I was a fan so they backed down at the last minute last year and said, 'You could use one of our songs.' It just feels like once we're talking Thriller, I'm out of my element. I don't know how to convince the guy."
So there's no worry that The Goldbergs is going to do a movie a week. Each one is such a challenging process, they'll only go to that trouble for something special. There are also many movies of which Goldberg is a fan, as well are we, but they're too obscure to do a prime time spoof.
"I have talked many times about doing an episode all about Highlander, which I thought is well known," Goldberg told me. "There's been sequels and television shows. In this room I guess [it's known] and amongst the Comic-Con crowd but a lot of people in the room were like, 'Yeah, I've heard of it. I don't know it.' There are so many movies like that. Three O'Clock High, movies that feel appropriate that we could redo. I just think the homage would be lost on people. We're still early in the series so you want to do Indiana Jones, Close Encounters, all those big [movies]."
***
The Goldbergs returns Wednesday, September 23 at 8:30 on ABC. Here's the trailer for Three O'Clock High, from 1987, which should not be an obscure comedy.