Uncle Buck TV Show "Cannot Be More Different" Than The 1989 Movie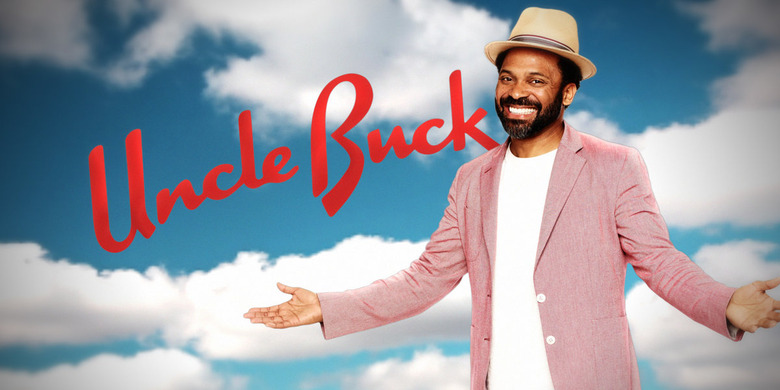 There is not a panel for the new Uncle Buck TV show at the Television Critics Association press tour, because ABC has not set an air date for the show. The show stars Mike Epps as Buck Russell, who moves in with his brother and sister in return for helping out around the house. This show is an update from the John Candy character seen in John Hughes's movie, but ABC President of Entertainment Paul Lee said the show doesn't spend a lot of time reintroducing Uncle Buck to audiences.
"If you watch the pilot, there's not a lot of resetting," Lee said. "You know where you are and you're enjoying yourself in minute one."
John Hughes fans certainly remember Uncle Buck and can probably still quote the 1989 movie. For others, the name recognition might not be as quick as the likes of Ferris Bueller, The Breakfast Club or Home Alone. Lee feels I may be mistaken, and if he's right that's good news for Uncle Buck fans.
"I may be wrong, but I do think there's a real knowledge out there of what Uncle Buck is, what that character and who John Candy was," Lee said. "The reality is Mike Epps' performance could not be more different and his world cannot be more different."
Earlier in the TCA panel, Lee was asked about viewing Uncle Buck with an all black cast as a successor to the network's hit sitcom Black-ish. Lee's comment implies said the new Uncle Buck show is not trying to be another Black-ish.
"We don't have to do the same thing with every show," Lee said. "In fact, we always try not to repeat ourselves and to be fresh, so they're looking for different things."
Here is the previously released Uncle Buck tv show trailer:
There was a short-lived Uncle Buck TV series on CBS from 1990 to 1991 starring Kevin Meaney as Buck Russell. In addition to Epps, ABC's Uncle Buck also stars Nia Long, James Lesure, Iman Benson, Aalyrah Caldwell, and Sayeed Shahidi.